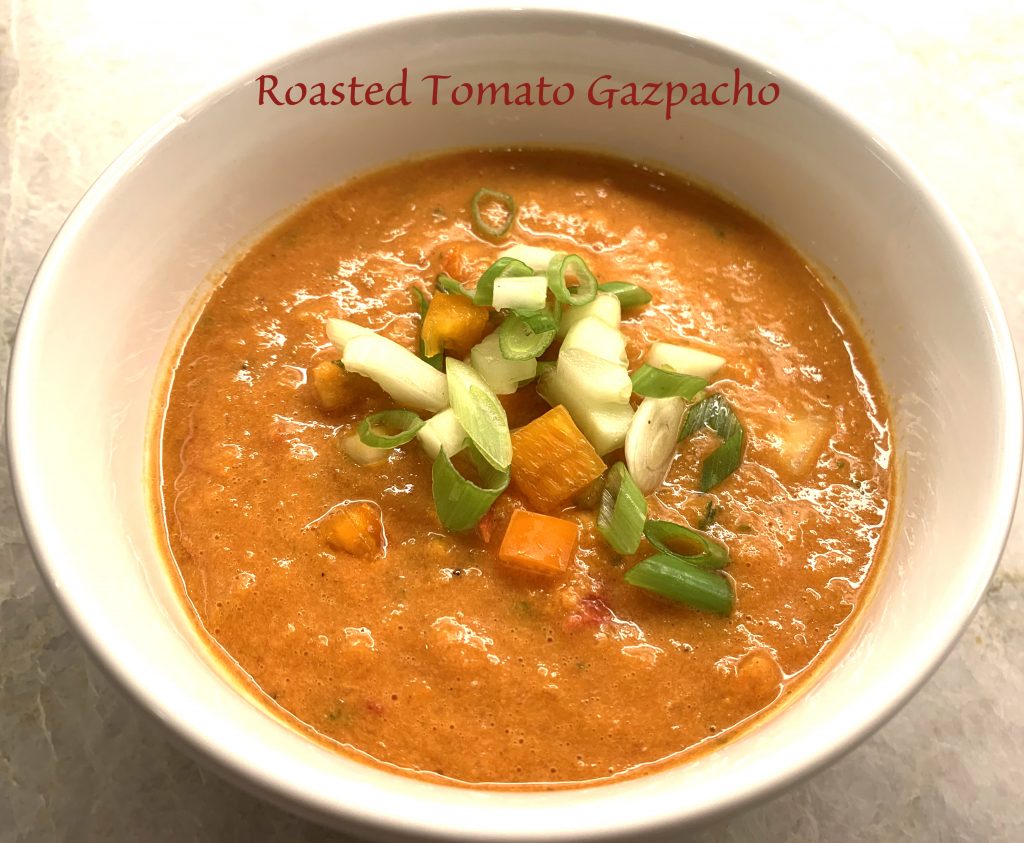 There's nothing like a bowl of cold soup on a hot summer day and when Tony Tomato brings you a flat of his beautiful heirlooms what else can you do but make Roasted Tomato Gazpacho.
This recipe has the extra step of roasting the veggies before putting them in the blender but it is so worth it. The roasting only takes a few minutes and it concentrates the flavors and really makes them shine. Not only that but it takes the sharpness out of the onion for a more mellow flavor.
Now I like my Gazpacho smooth and chunky, so I always save half the pepper and cucumber, dice them up and add them to the mixture after I have blended everything together. I think the texture is just better that way and it gives the soup a bit more body.
Served in a bowl for dinner is always great, but Gazpacho also makes a great appetizer. Make up a big pitcher of it, and grab some shot glasses and you have a wonderful tray of appetizers to enjoy before dinner.
Roasted Tomato Gazpacho is a great meal on a hot summer day, some salad and a bit of bread and your done. How's that for a wonderful meatless Monday night.
Roasted Tomato Gazpacho
Ingredients
4

Small

Tomatoes

1

Orange Pepper

1

Cucumber

1/2

Red Onion

1/2

cup

Torn white bread

A left over hot dog bun works perfect

1

Small clove

Garlic

1

Tbsp

Chopped Parsley

3

Tbsp

Red Wine Vinegar

1/4

Tsp

Cayenne Pepper

1/2

Tsp

Salt

!/4

Tsp

Pepper

2

Tbsp

Olive Oil
Instructions
Place your Tomatoes, Onion, and 1/2 of your Pepper, on a baking sheet and broil for about 8 minutes turning halfway through to get them charred on all sides. Remove and set the onion and tomatoes aside to cool and place the 1/2 pepper in a plastic bag to steam. When cool enough to handle core the tomatoes and add to the blender with the onion. Peel the pepper and add it to the blender as well. Peel the cucumber and cut lengthwise, remove the seeds and add 1/2 of the cucumber to the blender. Chop the other half of the cucumber and the other half of the pepper and set aside. Add the rest of the ingredients to the blender and blend until smooth. Pour into a large pitcher or bowl and add the chopped cucumber and pepper to the mixture. Refrigerate for a couple of hours. Serve cold with a green onion garnish.