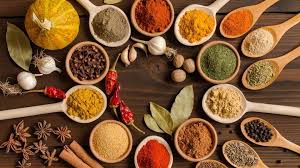 I was talking with one of my friends the other day and he told me that he really wants to experiment with spices but just didn't know what to use with what. I told him that my rule of thumb when trying out a new twist to a recipe is to smell the spice and smell what I'm cooking, if it smells like it would taste good then give it a try. Having said that I realize that it is not necessarily that easy if you haven't tried and failed a few times like I have. So, Jeff this post is for you. Read on for some tips on how to spice up your cooking.
Basil & Marjoram both are rather delicate spices and pair well with a lot of things. Their flavor is subtle so as to enhance without overpowering.  For me they are my go to spices for everything from Italian to soups, stews and roasts.
Oregano is a stronger spice that I use mostly in Italian and Mexican cooking. It has a very distinctive flavor that is perfect for a tomato-based sauce or beans.
Rosemary is one of my favorites. It pairs nicely with beef or chicken and gives a wonderful flavor to roasted or fried potatoes. It is my Mom's secret ingredient in her vegetable beef soup and stuffing.  A little bit of it goes a long way so use sparingly.
Cumin has a wonderful earthly flavor. Not too strong or overpowering, I use it a lot in Mexican and Cajun dishes. I also use it in my roasted red pepper hummus.
Fennel has a licorice flavor to it. It's used a lot in sausage and it can be a bit strong, so you want to use it with heavier dishes that can stand up to it. It's great in an Italian meat sauce, or with beans. It's also good with pork. One of my favorite ways to cook pork chops is to season them with fennel seed and dill and then grill them.
Thyme has an earthy flavor to it and it pairs nicely with chicken or beef. I use it in my chicken soup, and beef stew. I sprinkle just a pinch on every other layer of my scalloped potatoes as I'm putting them together. Dry thyme can be very strong so use sparingly.
Dill is a very delicate yet distinctive spice. You can find it in seed form like fennel or weed which is dried from the fronds of the plant. The weed is more delicate and what I use most often. It's great with fish and pairs well with lemon. I use it with cucumbers and in egg dishes like deviled eggs and egg salad. A lemon dill sauce is wonderful with Salmon.
Tarragon is another one that is very delicate with a slight licorice flavor. It is great in chicken salad, or in a sherry cream sauce. It also pairs well with Dijon mustard.  I use it in a sauce made with beef broth, mushrooms, and Dijon that is fabulous. I have also used dijon and tarragon with a pork roast.
Celery Seed is a great substitute for celery if you don't have any on hand. It gives you all that good flavor without the stalks. I use it in potato salad, pasta salad, chicken salad and bloody mary's.
Red Pepper Flakes are great for when you want to add a bit of heat to a dish, use very sparingly as a little goes a long way. I use them in pasta sauces, beans, corn, soups and stews when I want to give them a bit of a punch.
Cayenne Pepper is much like the red pepper flakes but with a bit sharper taste to it. I use it in chili and black beans but most of the time I prefer the Red Pepper Flakes. Again, use sparingly it's very strong.
Sage comes in a powder form and is what gives thanksgiving stuffing its unique flavor. It is also good with chicken or veal and makes a wonderful sauce with white wine. You can also use it with a bit of butter that you have cooked until it is brown to use over a stuffed pasta such as ravioli. Be careful sage can be bitter and a little bit is all you need.
Bay Leaves are wonderful to use when you braise. They are subtle in flavor but really round out a pot roast or soup. They come in a whole leaf and you use them when cooking with liquid over a long period of time. You have to remember to fish them out before serving.
Paprika comes in several different varieties, most of the time you will find it in a sweet or smoky variety. it's wonderful with beef. I use it in soups, stews and goulash. It is not a strong spice but adds a wonderful rich depth of flavor.
Anise has a very distinct licorice flavor and I use it mostly with Asian recipes. It can be a bit overpowering so use sparingly.
Caraway Seed is what gives rye bread it's distinctive flavor. I use it most often in dishes with sauerkraut as it adds a bit of earthy depth to it. I also use it in German potato salad.
Cinnamon this one I know you are familiar with, but it has a lot more uses than apple pie and snickerdoodles. It is great with a bit of ground ginger on carrots. It's used a lot in middle eastern dishes with beef and although I have never developed a taste for it you may want to give it a try. It is also the secret ingredient in Cincinnati's famous chili.
Nutmeg isn't just for baking either. Anytime you make a cream sauce you should add a pinch of nutmeg to it. It is also good with braised cabbage. A little bit of this goes a long so use sparingly.
Those are the basics that I have in my spice drawer and what I use them for. I hope that you will try some new things and experiment with spices, they really do add a lot of flavor to your cooking. Take a look at my page "Make It Taste Better" for prepackaged spice blends that I use all the time.