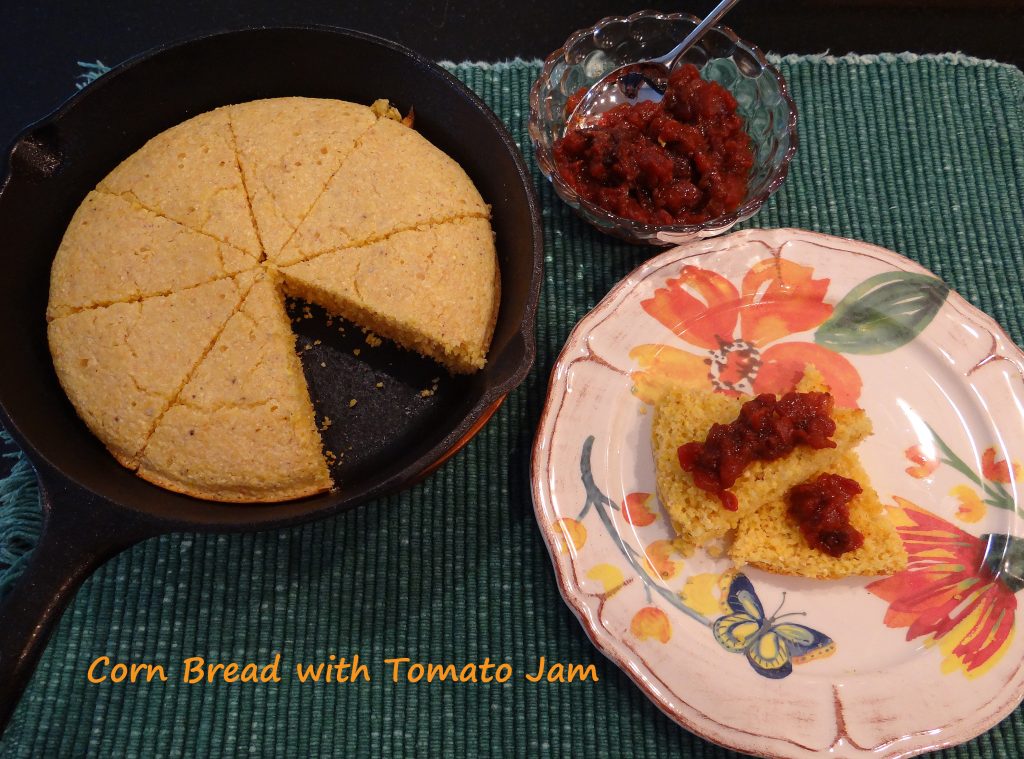 I tried out a new restaurant a couple of weeks ago, Veritas, in west county. Several friends had raved about it. They have the best cheese burger in St Louis one of them said. The other said that they had a lot of new and innovative items on their menu that I would love, so my husband and I decided to give it a shot. They had a lot of interesting "bowls" on the menu with combinations of items I couldn't quite wrap my head around and several appetizers that looked really interesting. The one that stood out was Corn Bread with Tomato Jam. Okay, this is one I have to try, and I wasn't disappointed. The corn bread was baked in a pan that had small triangular sections so it came out thin and crispy. Then there was the Tomato Jam, and it was to die for. Such an unusual and yet simple concept I couldn't help but wonder "Why hadn't I thought of that." Never one to pass on someone else's great idea, I thought, "I bet I can make this."
Friday night we had several neighbors over for dinner; I had my guinea pigs, time to see if I can do this. Tomatoes, bacon, onion, brown sugar and a little red wine was all it took to make this incredible spread that is great on corn bread and would be oh so good on lots of other things. I can imagine it as a topping for a hamburger. You could also use it to dress up a plain ol' chicken breast. You could even use it as a topping for bruschetta. I promise that if you make it to serve with corm bread you will never do it any other way again.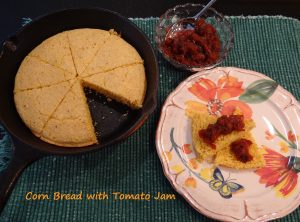 Print
Tomato Jam
Yield 1/2 cup
Ingredients
2 slices bacon
1/2 cup chopped onion
1/4 cup brown sugar
1/4 cup red wine
1/2 t salt
1 14.5 oz can petite diced tomatoes
Instructions
Slice bacon in 1/4" strips and brown in a small sauce pan. When the bacon starts to get brown add the onion and continue to saute until the onion is soft and the bacon is crispy, about 8-10 minutes. Drain most of the liquid off the tomatoes and add them to the pan with the sugar, wine and salt (If you don't have red wine or don't want to use it, don't drain the liquid from the tomatoes before you add them to the pan.) Simmer on medium heat for 20-25 minutes until most of the liquid has evaporated and the tomatoes are soft. It should be about the consistency of jam.
Serve warm.
Notes
This will keep in the fridge for about a week.   Tomato Jam is great on burgers, as a topping for chicken breasts, or bruschetta.