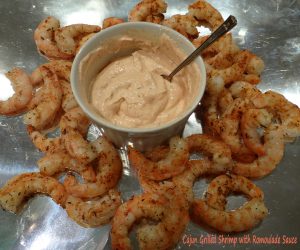 Cajun Grilled Shrimp with Remoulade Sauce
Yield 8 servings
Ingredients
For the Shrimp:
1lb raw shrimp cleaned and deveined
1T Paul Prudhomme's Seafood Magic
For the Remoulade Sauce:
1/2 cup mayonnaise
1/4 cup sour cream
1T tomato paste
2t Paul Prudhomme's Seafood Magic
1t horseradish sauce
Instructions
For the shrimp:
Clean and devein your shrimp and pat dry with a paper towel. Sprinkle the Paul Prudhomme's Seafood Magic all over the shrimp covering well. Grill on high heat 3 minutes per side or until done. Be careful not to over cook them. You want to take them off just before they are completely cooked through because the residual heat will complete the cooking process after you take them off the grill. If you don't want to grill them you can roast them in a 350 degree oven for 10 minutes and they will come out just as well.
For the sauce:
Combine the mayonnaise, sour cream, Paul Prudhomme's Seafood Magic, tomato paste, and horseradish and mix well to combine. Salt to taste.
Courses Appitizer
Cuisine Cajun
Recipe by Marie Cooks at https://www.mariecooks.com/appetizers/cajun-grilled-shrimp-with-remoulade-sauce/