For the annual Mothers Day Cookout I was slated to bring an appetizer and I wanted to do something different. I was tired of all my usual offerings and wanted something bit fancier than bean dip. So I started thinking………….
My brothers standard appetizer is a crostini with a slice of flank steak, some horseradish cream and arugula, and it's wonderful. Every time he brings it to a gathering it's gobbled up in minutes. So simple yet so good.
Then when we were at the Circus in March Scott & Shalene brought smoked pork tenderloin with Apricot Horseradish sauce. It was amazing. The sweetness of the Apricot Jam is countered by the heat of the Horseradish for a tangy, spicy, sweetness that is just perfect with pork. I was even thinking of using this on pulled pork sandwiches or a piece of grilled chicken.
Never one to let a good idea go by the wayside, much less two, I decided to mash these two together, and that's how I came up with Pork Tenderloin Crostini with Apricot Horseradish Chutney.
This is a really simple show stopper if your looking for a great appetizer. All you have to do is grill or roast a pork tenderloin, mix up the Apricot Horseradish Chutney, toast some bread and assemble. The recipe for the Chutney make 3 cups which is a lot because a little bit of this goes a long way. So, if you are making a small batch of this you might want to cut back on the amount of chutney you make. The ratio is 2-1, 2 parts Apricot Jam to 1 part Horseradish.
I talked to Shalene about changing this up when she sent me the recipe, she said they had tried it with Orange Marmalade and some other jams but nothing was as good as the Apricot, so I think I'll stick with this one as it is written. Unusual for me I know, but every once in a while I find something that is perfect as it is and this is one of them.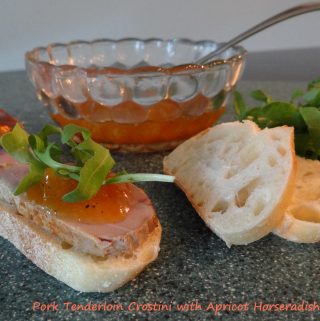 Pork Tenderloin Crostini with Apricot Horseradish Chutney
Ingredients
1

1lb

Pork Tenderloin

2

tsp

Pappy's Choice Seasoning

Or any rib rub you have that you like

2

cups

Apricot Jam

1

cup

Horseradish

2

tsp

Black Pepper

1

small

Baguette

2

cups

Baby Arugula
Instructions
Season your tenderloin with Pappy's or any Rib Rub that you like and roast at 350 degrees for 1 hour or until the internal temperature reaches 165 degrees. You can grill if you choose to. Take it out of the oven and put it into the fridge to cool. You want to wait until it has cooled to slice it, it works much better this way. Combine the Apricot Jam, Horseradish and pepper in a small bowl and whisk until somewhat smooth. Slice your Baguette and brush with a bit of olive oil and bake 10 minutes at 350 degrees to make your Crostini's. When the crostini's come out of the oven you're ready to assemble. Slice the cooled tenderloin into 1/8" slices. Put a good schmear of the chutney on each crostini and top with a slice of the tenderloin, add another dollop of the chutney on top (this helps hold the arugula in place) and top with a couple of pieces of baby arugula.