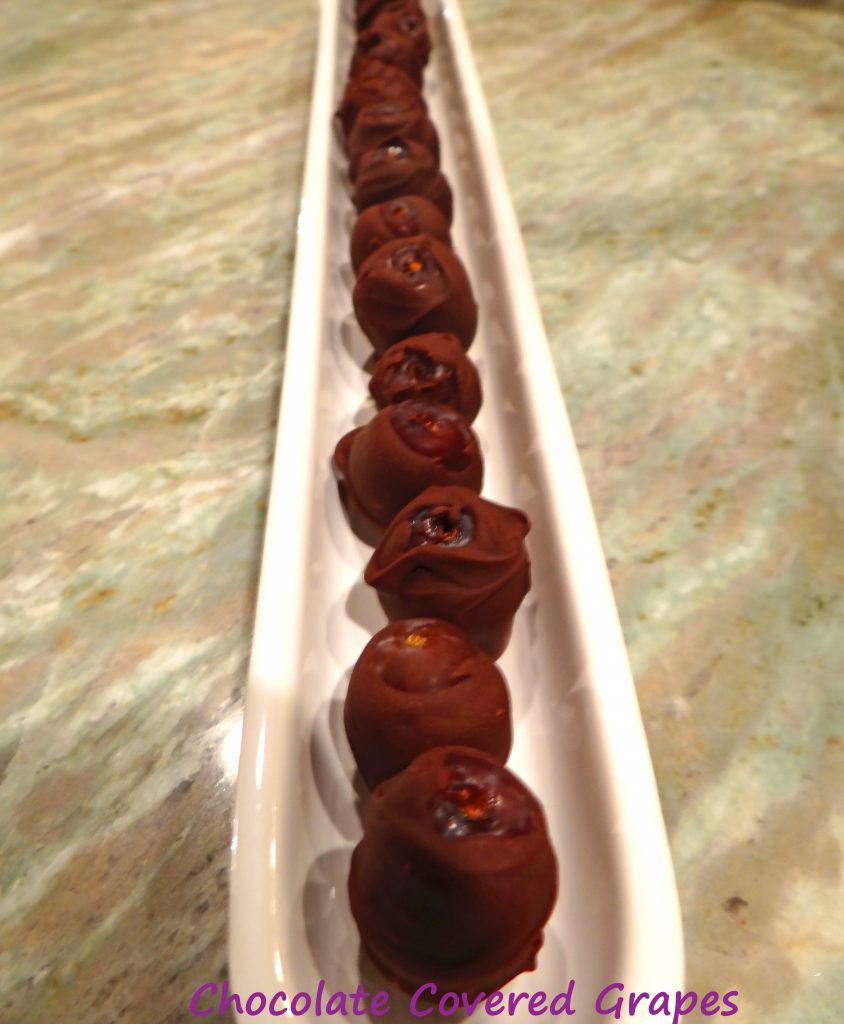 This is one of the wonderful things I enjoyed while on my European Road Trip. We were in Stresa, Italy, a small resort town on Lake Maggiore in the Italian Alps. We had spent the day touring the islands in the middle of the lake and when it came time for dinner we found ourselves wandering around town looking for something good. We walked past this quaint restaurant where the chef was standing outside looking for customers and we decided to give it a try. Instead of taking us to the formal dining room they walked us back to this beautiful courtyard with grapes growing overhead that was the perfect setting for a causal dinner.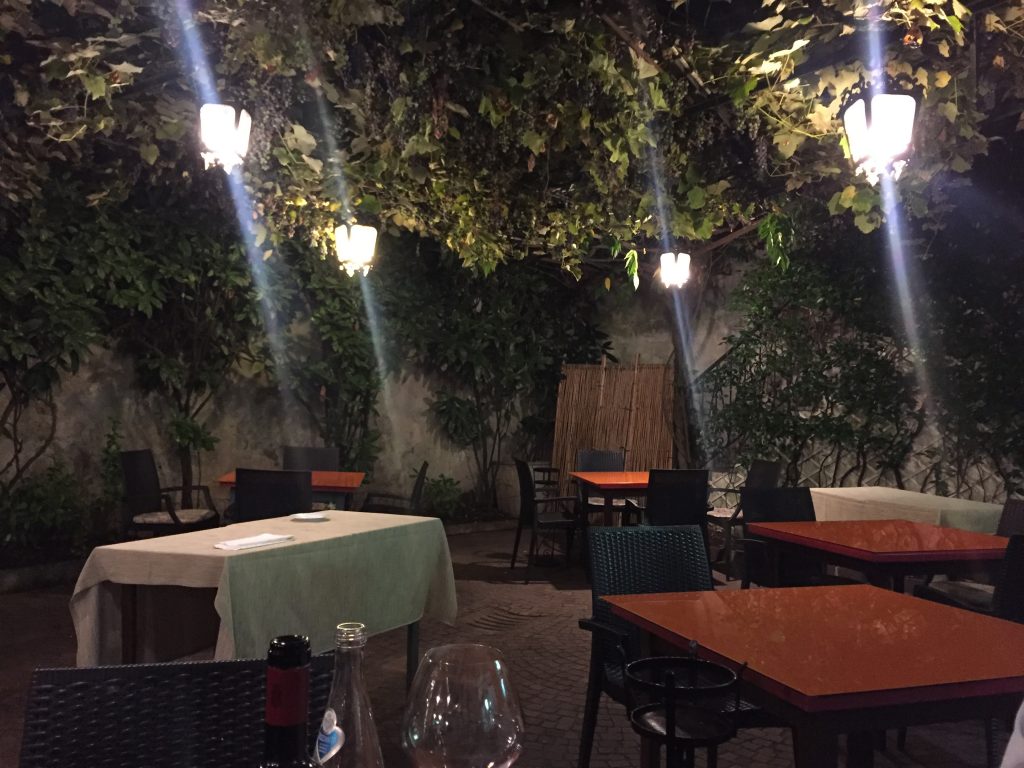 I would like to say that the food was spectacular, it was good but nothing more than average. Thanks goodness the wine made up for it.  After we finished our meal and declined desert they brought the bill on a tray with 4 little chocolate orbs. Being the adventurous person that I am I promptly popped one in my mouth and was I in for a surprise. They were chocolate covered grapes, picked from the vines hanging above us. It was another one of those moments when you have that "Blinding Flash of the Obvious" I had never thought to cover grapes in chocolate; strawberries, blueberries, nuts yes, but grapes had never occurred to me. They were incredible. I knew right then and there that as soon as I got home I would be making these.
These are so simple to make. All you have to do is melt your chocolate in the microwave and dip the grapes in it, place them on a sheet tray, pop them in the fridge to cool and your done. They can be made a couple of days ahead of time, just store them in the fridge and bring them out the next time you need a little something special for company. I made chocolate covered grapes when I hosted Bunco last week and they were all gone by the end of the evening.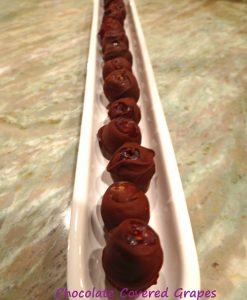 Print
Chocolate Covered Grapes
Yield 40 Grapes
Ingredients
40 seedless
1 6oz package Nestle Toll House Morsels
Instructions
Wash your grapes and dry them really well. Melt the chocolate in the microwave on low power. Depending on your microwave this may take 1-3 minutes. Stir after 1 minute and then every 30 seconds after that until really smooth and completely melted. You want it to be almost runny. Depending on how fast you work you may need to reheat the chocolate halfway through to keep it runny enough to dip.
Take a tooth pick and insert it in the grape where the stem was attached and carefully dip it into the chocolate and twirl to make sure it's evenly coated. Take a clean tooth pick, place it on top of the grape and push down to slide the grape off and place on a sheet pan. Once all the grapes have been covered put the pan in the fridge to cool for 30 minutes before serving.
May be made a couple of days ahead, just keep them in the fridge.
Courses Appitizer
Cuisine Italian