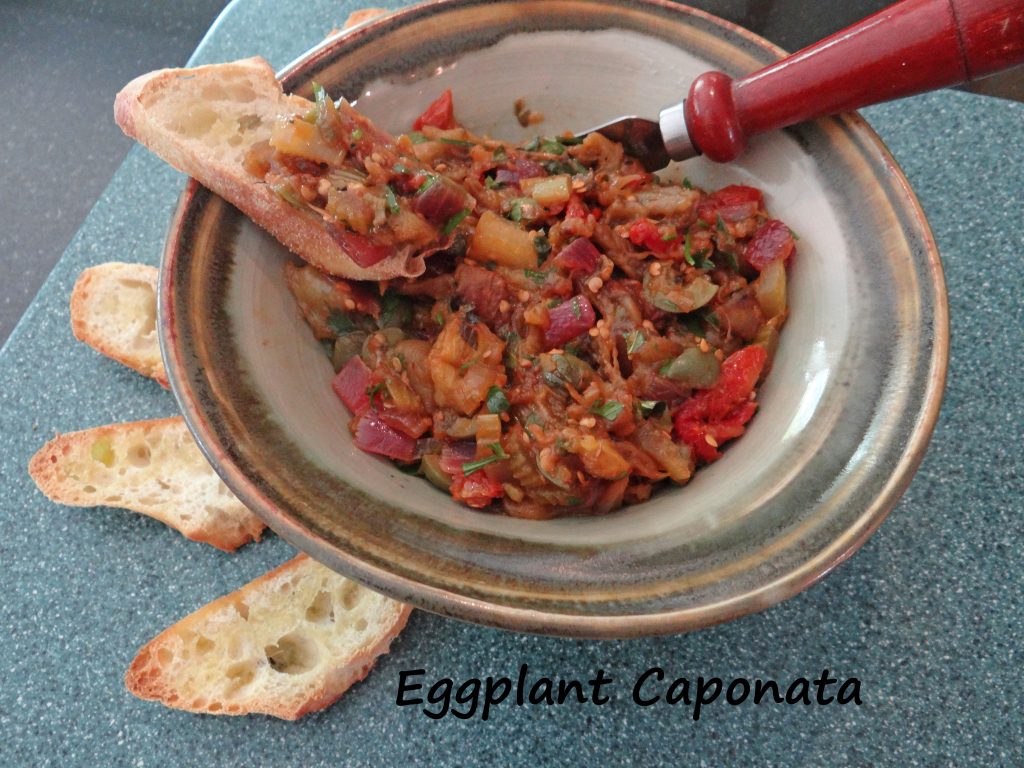 Okay Farmer Tony, you gave me Eggplant, now all I have to do is figure out what to do with it. I'm always up for a challenge and this is no exception. I have never cooked eggplant before, in fact I've only eaten it once or twice and I must admit I was not much of a fan. So, what am I going to do with this thing?
I have this wonderful app on my phone "New York Times Cooking" I have a regular subscription to the paper so for me it's free, if you don't there is a monthly charge but it's minimal and worth it. They have recipes from great chefs for food from all over the world. I just love it. When I'm looking for inspiration this is my first go to. So, I jumped in to see what they had for eggplant. Out of the 15 or so recipes I decided on Eggplant Caponata by David Tanis. It looked good and had a lot of good stuff in it. Eggplant doesn't really have much flavor so you need some good stuff to go with it.
The original recipe called for you to cut the eggplant in cubes and then fry it, but that's messy and a hassle, not to mention the added calories, so I chose the alternative and baked it in the oven. I also added a few things I happened to have on hand like, sun dried tomatoes, fresh oregano and fresh basil.
This is really pretty easy to put together, cut up your eggplant and get it in the oven. While it's baking get the rest of it going on the stove and by the time the eggplant is ready to come out of the oven all you have to do is stir it together simmer it for 5 more minutes or so and your done.
I did this for an appetizer to serve with crostini but it would also be great as a sauce for pasta as a main entree'.
So Tony, how's that for something different to do with eggplant? For my next adventure I'd like to try squash blossoms, got any?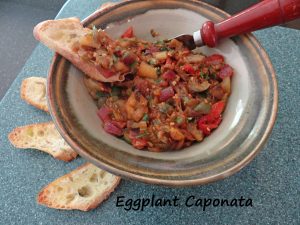 Print
Eggplant Caponata
Yield 6-8 Servings
Ingredients
1 large eggplant peeled and cut in 1" cubes
2 T olive oil
1 red onion chopped
3 stalks celery chopped
1 T tomato paste
1/4 cup chopped sun dried tomatoes
2 T capers
1 cup good quality olives sliced (green or black)
Pinch of red pepper flakes
1 bay leaf
3 T sugar
1/4 cup red wine vinegar
1/2 cup dry white wine
2 T chopped fresh parsley
2 T chopped fresh basil
2 T chopped fresh oregano
Instructions
Preheat oven to 400 degrees, lay out eggplant cubes on a baking sheet and salt with about 1 teaspoon salt. Place in the oven to roast until golden brown, about 25- 30 minutes. While the eggplant is roasting, chop up the onion and celery and saute in 1 tablespoon olive oil with a pinch of salt until the onion starts to get soft, about 8-10 minutes. Stir in tomato paste, sun dried tomatoes, capers and olives. Add crushed red pepper, bay leaf, sugar vinegar, wine and fresh oregano and simmer for 5-10 minutes. When the eggplant comes out of the oven add it to the mixture in the pan along with the parsley and basil and stir well to incorporate. Continue to simmer for another 5-10 minutes until the eggplant breaks down and the flavors marry. Give it a taste and add salt as needed. Take it off the heat, remove the bay leaves, and let it sit for at least 30 minutes so that it all comes together and serve at room temperature with costini.
Courses Appetizer
Cuisine Italian