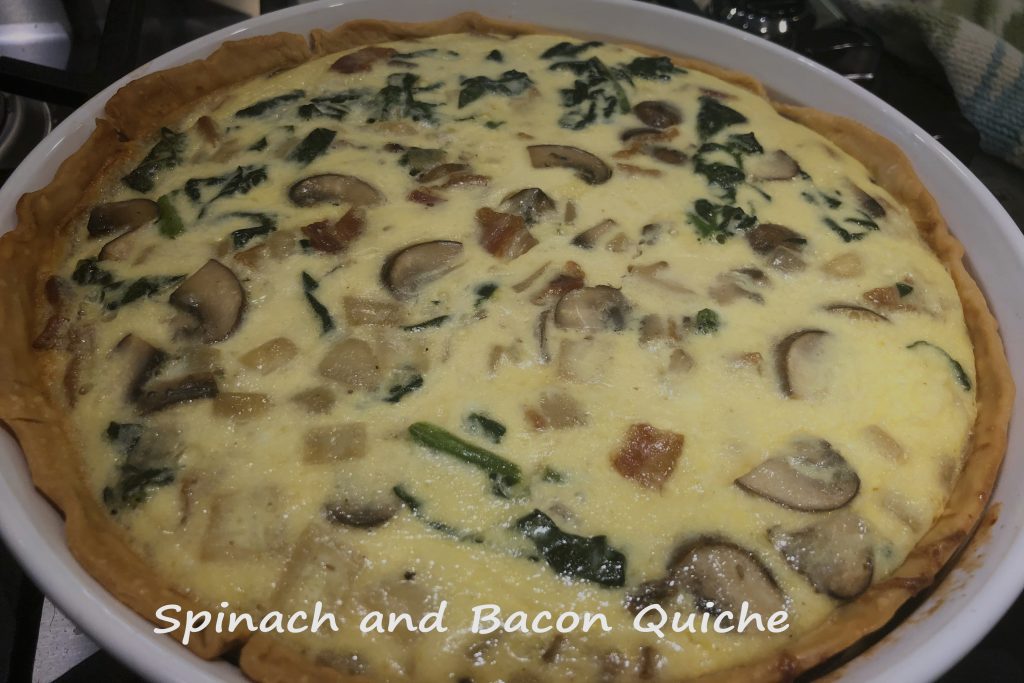 When you have several pounds of fresh spinach to use up you start to get creative. Years ago when I first moved to St Louis there was a restaurant here called Tippin's and they specialized in pies; all kinds of pies, they had fruit pies, cream pies and believe it or not quiche.
That was the first time I had Spinach Bacon and Mushroom Quiche and it was love at first bite. The best thing about Tippin's was that you could walk up to the counter and buy a whole pie to go. This was one of my favorite dinners when I didn't feel like cooking after a long day and I was so sorry when they closed down here.
So, when I found myself with an over abundance of fresh spinach I thought, why not try to make one. After all I had a frozen pie crust in the freezer, bacon, eggs, onion, I think I can do this.
I scoured recipes for quiche until I felt comfortable with the mix of ingredients and decided to just jump in there and see how it turned out.
Most of the recipes I found called for you to pre-bake the shell, so I did, but I wouldn't do again, it was over done by the time the quiche was finished and really isn't necessary. So from now on and in this recipe I will skip that step.
Quiche is really very simple, it's just eggs, a little cream, some cheese and what ever else you happen to have in the fridge, mix it together, pop it in the oven and in 45 minutes or so you have dinner. It's a great way to use up left overs or those little bits of frozen vegetables that you have bagged up in the freezer just waiting for something……
So next time you're at the store pick up a frozen pie crust or two and keep it in the freezer for quiche, it makes a great dinner with little effort.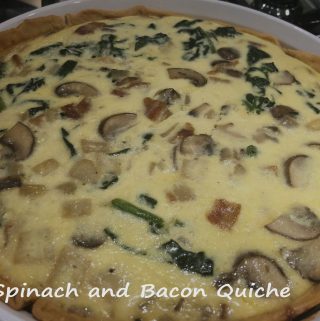 Spinach Bacon and Mushroom Quiche
Ingredients
1

Frozen

Pie Shell

5

Slices

Thick Cut Bacon

1/2

Small

Onion Chopped

8

Med

Mushrooms Sliced

2

Cups

Chopped Fresh Spinach

Loosly packed

4

Eggs

1

Cup

Heavey Cream

1

Cup

Shraeded Italian Cheese Blend

1/2

tsp

Salt

Freshly Ground Pepper
Instructions
Take the pie crust from the freezer and let it thaw. I usually put it in the fridge over night then when I'm ready to cook it is too. Place the pie crest in a pie pan, crimp the edges if you want to and set aside. Slice the bacon into 1/4" strips and fry up in a small pan until crispy. Remove and set aside. Add the mushrooms, onion, spinach, salt and pepper to the pan and suate until soft. Remove from the heat and let it cool. In a small bowl beat the eggs unitl smoooth and add the cream and cheese, When the veggies are cool add them and the bacon to the egg mixture, stir well to incorporate and fill the pie pan with the egg mixture. Bake in a 375 degree oven 45-50 minutes until the custard is set and a knife comes out clean.

Let rest 10 minutes before serving.