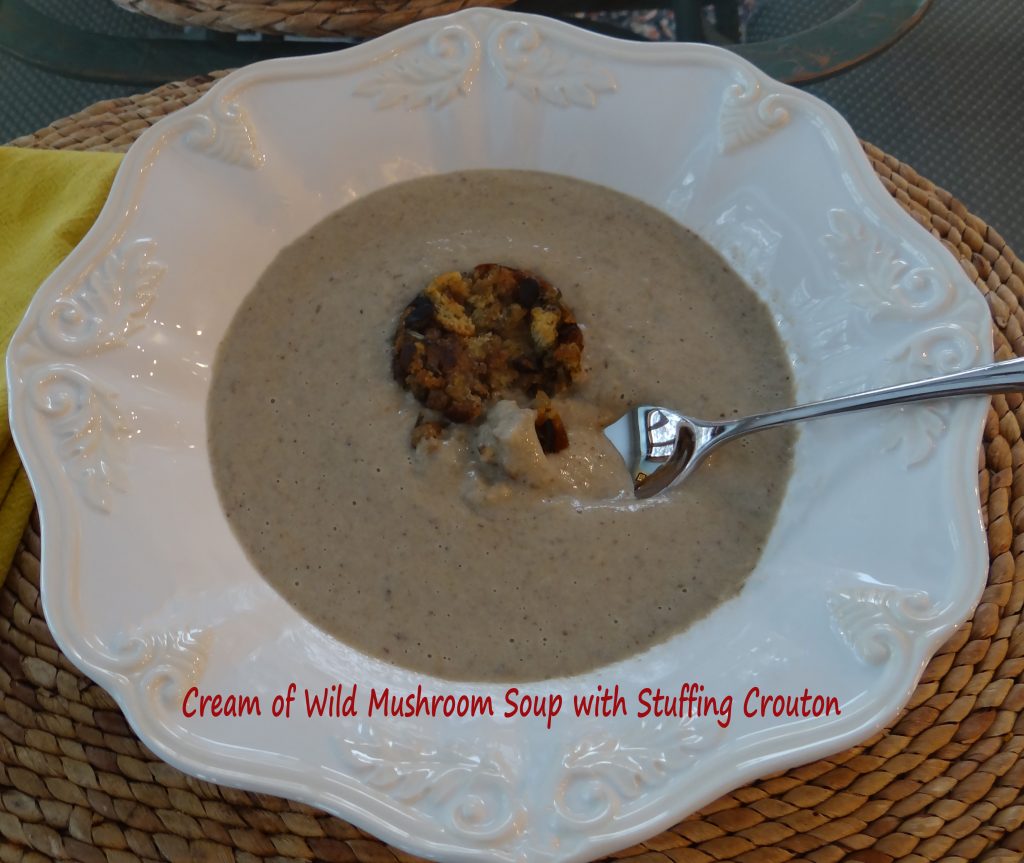 Last week my friend Tony "Tomato" White "I know, sounds sort of like he's a member of the mafia." posted on face book that he had some fresh chanterelles coming in and he wanted to know who was ready to play around with them. I said, Me, Me, Me, Me!!!! Can you bring me some? Sure enough Wednesday evening he showed up at my house with a big box full of these gorgeous Yellowfoot Chanterelles that had just come in from Oregon.
I pick out about a pound of them of these delicate little beauties and tucked them away in the fridge wrapped in a paper towel knowing that I would be making Cream of Wild Mushroom Soup with Stuffing Crouton on Friday. It was girls night again and my friend Kathy just loves mushroom soup.
When we were in Salzburg this fall I had the most wonderful mushroom soup. They brought it out in a shallow bowl with this interesting crouton in the middle of it. As I dug into the crouton I realized that it was stuffing. Yes, that's right, stuffing just like you would have at Thanksgiving except that it was loaded with tiny pieces of mushroom and shallots. They baked it up in a muffin tin so that the edges got all crispy and crunchy. The rosemary and sage in the crouton were the perfect compliant to the creamy mushroom soup. I knew right then and there that I would be making this when I got home.
This soup is really easy to make and comes together quickly so it's perfect for a week night dinner and defiantly date night worthy. If you ever decide to host a fancy dinner party this soup would make a fabulous first coarse. You can make it a head and have it sitting on the stove ready to go when your guests arrive.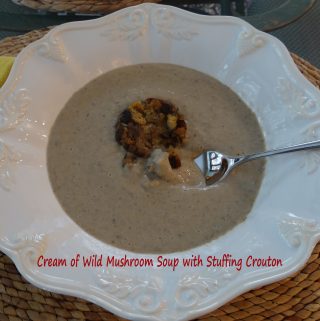 Wild Mushroom Soup with Stuffing Crouton
Ingredients
Cream of Wild Mushroom Soup
1 1/2

Lbs

Wild Mushrooms

Chanterelles, Shiitaki, Cremini, etc

1/2

Stick

Butter

1

Sprig

Fresh Rosemary

1/4 tsp dried

1 1/2

cup

Chopped Yellow Onion

1

tbsp

Minced Garlic

1/3

cup

Dry Sherry

2

cups

Water

1/2

cup

Heavy Cream
Stuffing Crouton
3

Cremini Mushrooms

1

Shiitaki Mushroom

1

Shallott minced

2

tbsp

Butter

1

tsp

Fresh Rosemary minced

1/4 tsp dried

1/2

tsp

Fresh Sage minced

1/4 tsp dried

2

cups

Stuffing mix

1

cup

Chicken broth
Instructions
Clean and slice your mushrooms into 1/8″ slices. Melt butter in a large dutch oven over med heat. Add the onion, garlic and rosemary and saute until soft, about 5-8 minutes. Turn the heat to medium high and add the mushrooms with a bit of salt and saute until they give off their liquid and get soft, about 20 minutes.

Add the sherry and water and continue to simmer for another 10 minutes or so until the flavors blend together.
Using an immersion blender blend the soup to a smooth consistency. If you don't have an immersion blender, use a regular one but let the soup cool for a few minutes before you blend and make sure to keep the lid on the blender. Once the soup has been blended to your desired consistency return to the pot and add the cream along with salt and pepper to taste.

Stuffing Crouton
While the mushrooms are cooking get started on the stuffing. In a small skillet melt the butter over med high heat and add the mushrooms and shallot along with the rosemary and sage and saute until they become soft. Add the stuffing mix and just enough chicken broth to moisten it up. Somewhere between and 1/4 and 1/2 cup should do it. Spray a muffin time with cooking spray and fill with the stuffing. Bake 400 degrees for 20 minutes until golden brown and crunchy.