Our friends the "Millers" came up to St Louis last week for their annual "Christmas Shopping Trip." It's always good to see them as we have been friends since almost the beginning of time. I was trying to come up with something unusual to fix for them and thought of this one. I've made it several times over the years and it's always a crowd pleaser.
A traditional Cassoulet is a time consuming prospect that can take the better part of a day to complete, not something you pull off on the spur of the moment. Several years ago I was watching Cat Neville on PBS and at the end of her show she prepared this Quick Cassoulet. It looked so good I had to try it. A cassoulet that can be ready in a couple of hours, sounded to good to be true but I gave it a shot and fixed up a batch. I pulled up her recipe online and made it just the way she did. It was really good, but I found that it had way to much liquid for my liking and decided to cut back on that and substitute sun dried tomatoes for the can of diced tomatoes. I also substituted fennel bulb for the celery and added some extra herbs and spices.
I have to give a shout out to Jacques Pepin for the next change I made to this recipe. I was watching him one day as he was braising some chicken thighs. He began to pull the skin off the thighs because as we all know when you braise chicken the skin gets rubbery and yucky. Anyway, he said to take the skin and lay it out on a cookie sheet in a 400 degree oven and let it get nice and crispy, then crumble it up like you would bacon and put it on a salad. I know, it's a blinding flash of the obvious, but one I that had not occurred to me before. This recipe calls for a layer of panko bread crumbs scattered on top for the last 30 minutes of cooking time so I took the crumbled up chicken skin and added it to the bread crumbs for some extra flavor and crunch and instead of using butter to coat them so they would brown I used that lovely chicken fat that was left over after cooking the skin.
I know what your thinking this recipe is a heart attack on a plate they way I make it, but I only do once a year or so and you have to be able to live a little once in a while or life is no fun.
Jerry was happy to dig into it with a good bottle of RED and at the end of the evening there was nothing left on his plate but a thigh bone.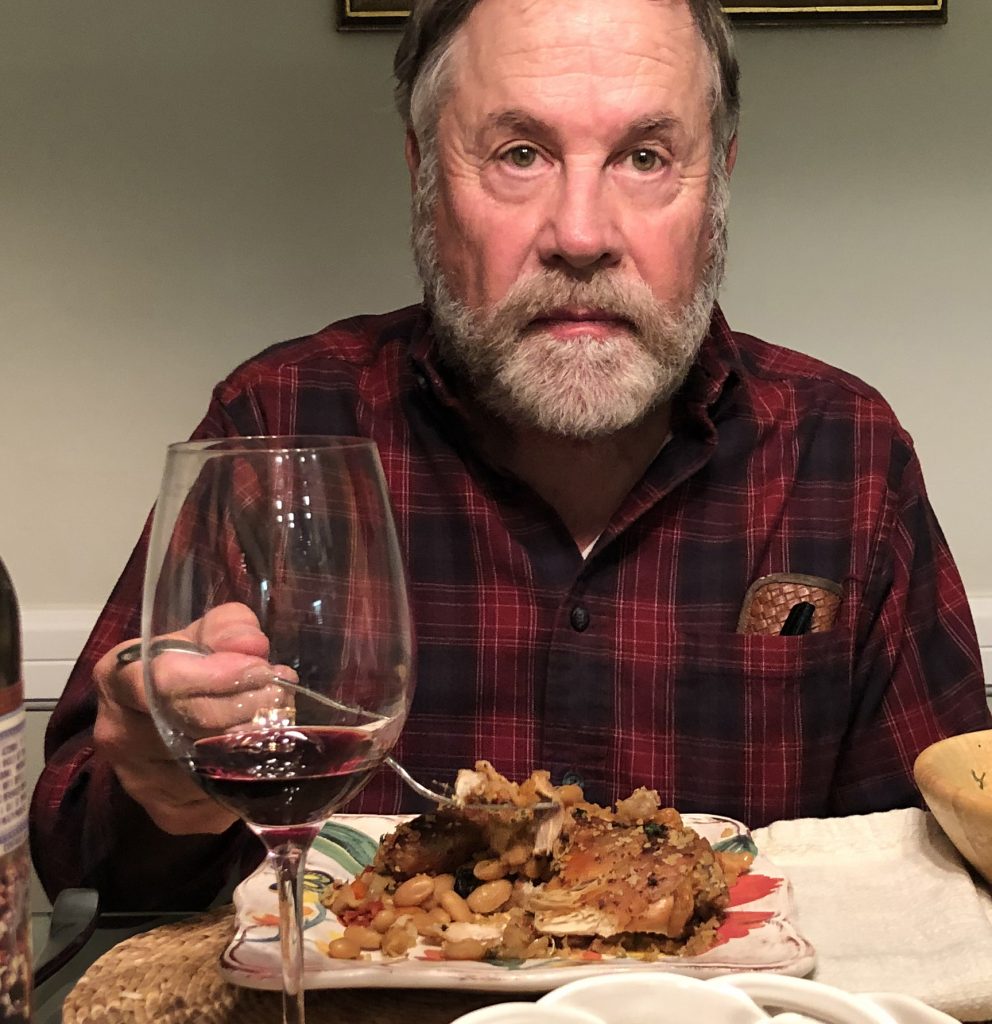 This is a wonderfully hearty meal that is just perfect for a cold winters night. It's stick to your ribs good.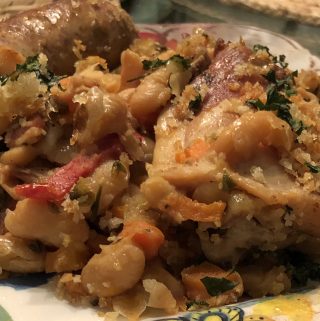 Quick Cassoulet
Ingredients
1/2

lb

Bacon

4

Sausages

4

Bone in/skin on Chicken Thighs

3

cans

Cannellini Beans

drained

1

small

Onion

chopped

1

large

Carrot

diced

1/2

large

Fennel Bulb

diced

1/2

cup

Sun Dried Tomatoes

chopped

1

tbsp

Fresh Sage (1t dried)

chopped

1

tbsp

Fresh Rosemary (1t dried)

chopped

5

cloves

Garlic

minced

1

cup

Dry White Wine

2

tbsp

Fresh Parsley

Diced

1

cup

chicken broth

1/2

cup

Panko Bread Crumbs
Instructions
Cut the bacon into 1/4" strips and brown it up in the bottom of a dutch oven. When brown and crispy remove from the pot and set aside. Brown the sausages in the bacon fat that is left in the pot. When brown remove from the pot and set aside. Pull the skin off the chicken breasts and stretch it out on a cookie sheet. Heat the oven to 400 degrees and put it in there for about 15-20 minutes until it becomes brown and crispy. Season the chicken with salt and pepper and brown in the remaining bacon fat in the dutch oven. When brown take it out and set it aside. Chop up your onion, carrot and fennel and brown in the bacon fat in the bottom of the dutch oven. When it starts to get soft add the minced garlic and let it cook for a minutes or two. Drain the liquid off the beans and add to the pot with the diced bacon, sun dried tomatoes, wine, chicken broth, sage and rosemary. Give it a good stir to mix well and and nestle the sausages and chicken thighs on top. Cover and place in a 350 degree oven for 1 1/2 hours. Depending on your pot you may need to add a bit more chicken broth during the cooking process, just check on it every once in a while while it's cooking.

Take the cooked chicken skin off the cookie sheet and chop it up and add it to the panko bread crumbs, then take the chicken fat that is on the cookie sheet and add it to the mixture. Give it a good stir to coat the bread crumbs.

After 1 1/2 hours pull the pot out of the oven and sprinkle the bread crumb mixture over the top and sprinkle with fresh chopped parsley. Return to the oven uncovered for 30 minutes so that the bread crumbs can brown up.

Serve with a crisp salad and crunchy french bread.

Note: if you can't find fennel substitute celery.