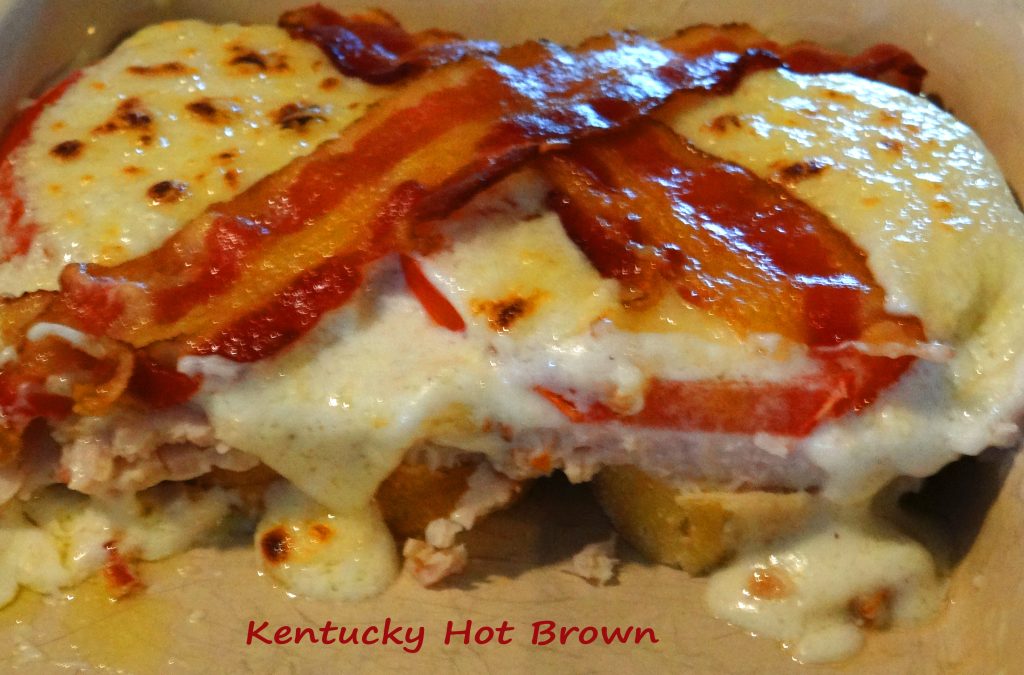 This one is an "Oldie but Goodie" I remember being a young girl and going to the Tea Room at Heer's Department store in Springfield. It was always a special treat. Located on the 4th floor next to the lingerie department this was the place that Ladies went to "Lunch". It had beautiful dark wood paneling and the tables were adorned table clothes, cloth napkins and a spray of fresh flowers. Trust me it was quite the swanky place. On their menu was my all time favorite the Kentucky Hot Brown.
If you've never had Kentucky Hot Brown it's basically an open faced sandwich smothered in a cheese sauce and topped with a couple of crispy slices of bacon. Placed it under the broiler for a few minutes and you get an ooey gooey slice of heaven. The tomatoes cut the richness of the cheese sauce and the bacon is the perfect salty accent.
To do this right you have to buy the right ingredients. If you skimp you'll be sorry. So, buy some really good hearty French or Italian bread, get thick slices of ham and turkey (about 1/4 ") and shredded Swiss cheese. My grocery store sells thick sliced fried turkey and ham and it works perfectly. If this is not the case where you are go to the deli counter and have them slice it special for you.
You can do this in individual casserole dishes if you have them, and it works really well for individual servings. But I don't have any so I used my 6 X 9″ casserole layered the ingredients and then scooped out the individual servings. If your feeding a crowd you can double this recipe up, put it in a big casserole dish and serve it this way. I was surprised how well it worked.
So the next time you're looking for something different for dinner try the Kentucky Hot Brown, it is absolutely wonderful.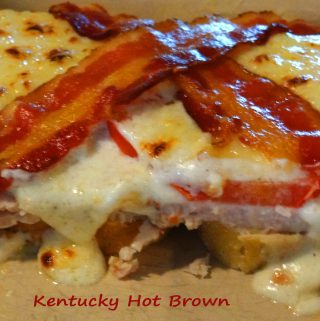 Kentucky Hot Brown
Ingredients
4

1/2" thick

Slices of good French or Italian Bread

2

1/4" thick

Slices of good quality Ham

2

1/4" thick

Slices of good quality Turkey

4

1/4"

Slices of Tomato

4

Slices

Bacon
For the Cheese Sauce
2

tbsp

Butter

1/4

cup

Flour

7

oz

Shredded Swiss Cheese

pinch

Nutmeg

1/2

tsp

Salt

2

cups

Milk
Instructions
Cook your bacon, either fry it up or bake it in the oven until it's "Chewy" don't get it too crispy because it will crisp up more when you put it under the broiler. Then start your cheese sauce. Melt the butter in a small sauce pan, add the flour and let it cook for a minute or two to get out the raw taste, then add your milk, nutmeg, salt and cheese. Whisk together and stir occasionally as it thickens up. Give your bread slices a quick toast under the broiler, if you don't it will get soggy when you put this all together. Lay the bread slices in the bottom of a 9 X 6 casserole dish and top with the slices of turkey, ham, and tomatoes. Your ham and turkey slices should cover two pieces of bread. Pour the cheese sauce over the top and sprinkle with about an ounce of the shredded Swiss cheese. I by an 8 oz package of cheese and use about 7 oz in the sauce and the rest of it tops off the dish. Place the bacon slices on top of the cheese sauce and put it under the broiler about 6" from the heat source and broil until the cheese has started to turn golden brown and everything is bubbling. About 10 minutes.