Doesn't this picture just scream SUMMER!
I ran across this recipe several years ago and I just loved it. Of Course I changed it up to suit my taste; don't I do that with most everything, but it is just perfect for a summer cookout or pot luck.
When my friend "Tony Tomato" came by last week he gave me some zucchini and I knew immediately what I was going to do with it, Zucchini & Corn Salad. It's fresh and light and crunchy and herby and delicious. Not only that, but it goes with just about anything, from a steak to chicken to seafood.
So, when my friend Ernie came over to teach me how to make Fried Green Tomatoes this week I decided this was the perfect dish to serve with them and a juicy pork chop. It was a great dinner.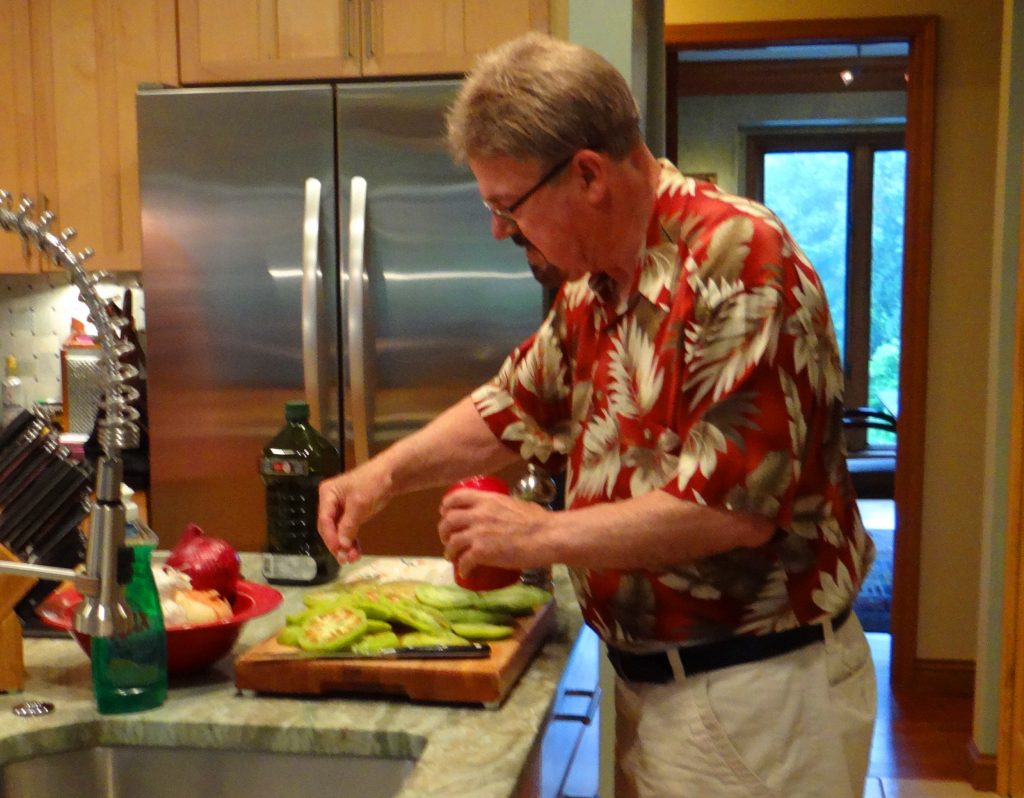 Having made this recipe dozens of times I've learned a few tricks. First of all you want to slice the zucchini very, very thin. My mandolin just won't get it thin enough. I've sliced it in rounds by hand but that takes way too much effort and the slices still tend to be too thick. So, I finally invested $7 in a good vegetable peeler and found that it works perfect. You will have some waste this way because when you get to the middle of the zucchini the seeds get mushy and it doesn't want to slice, so when I reach that point I simply turn it over and do the other side until I can't get any more off of it and throw the rest away. The seedy part is not that great anyway. The other thing to keep in mind is that when you add the salt the zucchini bleeds, The salt draws the moisture out of the zucchini and you end up with a lot of water in your salad. So don't salt it. Add the salt to the dressing and dress it at the last minute so that it's flavorful but doesn't have time to get runny. One last thing about this salad is tossing it. The zucchini ribbons tend to stick together and it's almost impossible to get it evenly incorporated using a spoon. The best way to do this is to wash your hands and dig in there separating the zucchini ribbons as you go so that everything blends together evenly.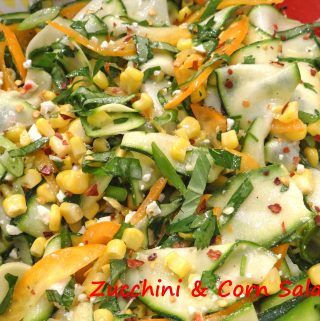 Zucchini & Corn Salad
Ingredients
2-3

Medium

Zucchini

2

cups

Frozen Corn

1

Orange or Red Bell Pepper

2

Green Onions

1/4

cup

Chopped Italian Parsley

1/4

Cup

Chopped Basil

1

cup

Crumbled Feta Cheese

1

tsp

Salt

2

tbsp

Olive Oil

2

tbsp

Red Wine Vinegar

1

pinch

Red Pepper Flakes
Instructions
Slice your zucchini as thin as you can get it lengthwise, I use a vegetable peeler. Thinly slice the bell pepper and green onion. Add to a large bowl with the corn, parsley, basil feta and red pepper flakes. Get your hands in there and toss, separating the zucchini strips with your hands as you go. They tend to stick together. Mix the olive oil, vinegar and salt together in a small bowl. Just before serving add the dressing and toss again. You can make this ahead of time and keep it in the fridge until your ready to serve, just wait to add the dressing until right before serving.