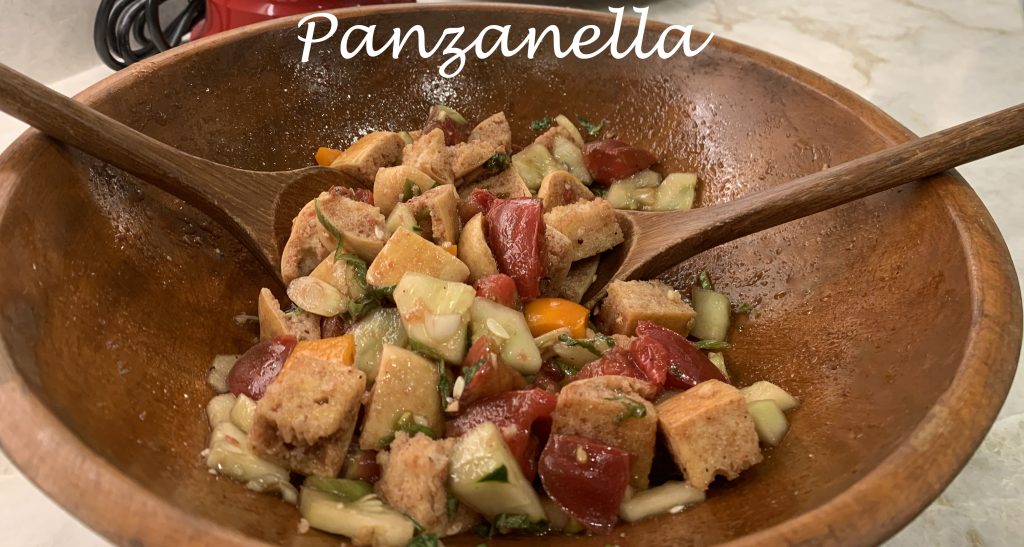 Panzanella is one of my favorite summer salads. It pairs beautifully with Tuscan Steak or simple grilled chicken and it couldn't be easier to make.
Tony Tomato brought me a flat of beautiful Heirloom tomatoes yesterday and I took one look at those gorgeous beauties and thought to myself, " Looks like a perfect night for Panzanella". If you live in the greater St Louis area and you want some of the best tomatoes on the planet go to Tony's website and place an order. He will deliver them right to your door.
Panzanella Salad is basically a Tomato and Bread salad with any other fresh veggie you have on hand and want to throw in along with fresh herbs from the garden. It's quite simply Summer on a Plate. When I make it I buy day old ciabatta rolls at the grocery store. They have a wonderful crunch to them when you toast them and they hold that crunch even while absorbing all that great tomato juice from the salad. I make this recipe in stages. While the bread is toasting in the oven and cut up my tomatoes, cucumbers, peppers and other veggies and toss them in the olive oil, vinegar and salt and pepper. Then I set it aside to rest and let the bread cubes cool. As the salad rests, the salt and vinegar bring out the juices from the tomatoes and cucumbers. Then when you add the toasted bread it soaks up all that tomato and garlicy goodness. Oh so good.
You want to make this in stages because if you add the bread and let it sit for over 15 minutes or so the bread starts to loose it's crunch and you don't want that. If your taking this to a cookout, as I often do, I put the toasted bread cubes in a plastic bag and add them just before serving. When I make it at home I just let it all sit on the counter for an hour or so and put it all together about 5 minutes before serving. Just enough time for the bread cubes to soak up the juices but not long enough for them to get mushy.
Give this one a try, you won't be sorry.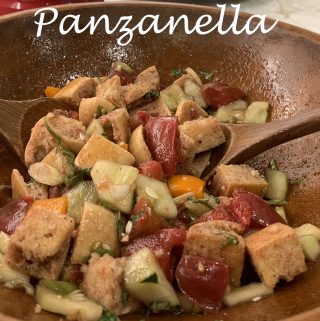 Panzanella
Ingredients
2

Medium

Tomatoes

2

Green Onions

1/2

Orange Pepper

1

Cucumber

2

Tbsp

Olive Oil

2

Tbsp

Balsamic Vinegar

2

Tbsp

Chopped Fresh Basil

1

Clove

Minced Garlic

2

cups

Cubed Bread
Instructions
Cut your bread into about 1 inch cubes, toss in a bit of Olive Oil and toast in 350 degree oven for about 10-15 until crunchy. While the bread is toasting cut up your tomatoes, peppers and cucumber into about 1 inch cubes and slice your green onions, garlic and basil. To this mixture add 2 Tablespoons of Olive Oil, 2 Tablespoons Balsamic Vinegar and salt and pepper to taste. Stir well and let sit for at least an hour. Let your toasted bread cool, then about 5 minutes before serving toss the bread cubes with the tomatoes and other veggies and let the bread absorbe the juices. Serve immedately.