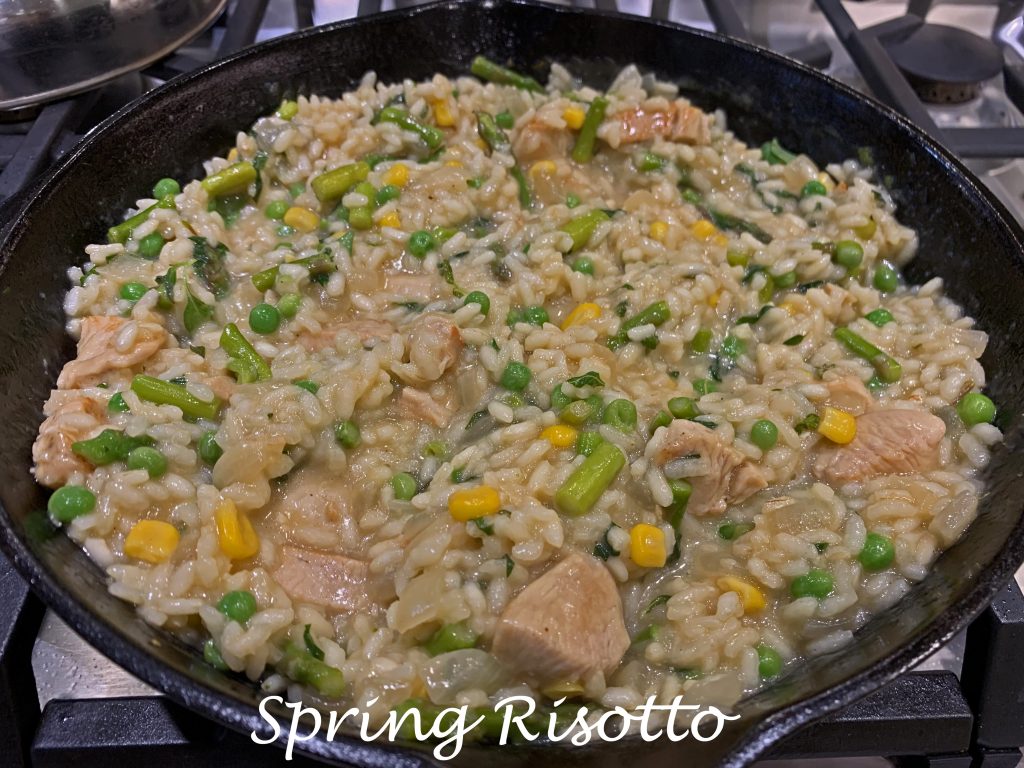 Spring Risotto is one of my favorite summer time dinners. I wait and watch the herb garden every year until I see the Lemon Basil and Lemon Balm start to take off, then I know it's time for Spring Risotto.
This is such a light lemony treat that's packed with fresh herbs and asparagus, peas and corn just waiting for you to add your chicken or shrimp.
If you haven't added Lemon Basil and/or Lemon Balm to your herb garden you should, they are absolutely wonderful. The lemon flavor that they have is soft and delicate instead of sharp and acidic the way a real lemon is and the flavor of the lemon really makes all the fresh veggies shine.
Now, I plant my basil in the ground, but I will give a word of caution here; plant the Lemon Balm in a pot and cut it back before it goes to seed. This stuff is wonderful in salads, risotto, iced tea and so many other things, but it spreads like wild fire. The first time I planted it I put it in the ground with all of my other herbs and it went crazy, as it went to seed it spread out into the yard and I had it growing everywhere. I still have nightmares about it coming to take over the entire yard.
Risotto is a simple one pot meal that you can do so much with. I know a lot of people think that risotto is a complicated dish that you have to stand over and stir constantly but nothing could be further from the truth. Now, don't get me wrong, you do have to watch it and pay attention to it but you don't have to stand over it stirring it constantly. Just give it a couple of stirs every time you add liquid and let it do it's thing. I usually get it going and make my salad and bread while it's cooking and in 20 minutes or so dinner is ready.
The tricky part of risotto is getting the temperature right. You want a very slow boil, just a few bubbles here and there. If you get it going to fast your liquid will evaporate before the rice is finished cooking and your risotto will be crunchy. This is fixable. I always taste it as it is finishing up and if it's crunchy and I've used all my broth I just add some more hot water to it and let it cook a bit longer. You can add more broth if you want to but the seasoning and flavor is already in the pot so water works just fine.
Add this one to your summer rotation, you'll be glad you did.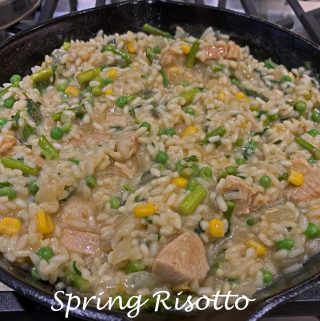 Spring Risotto
Ingredients
1

Large

Boneless Skinless Chicken Breast

1/2

Onion

2

Cloves

Garlic

1

Tbsp

Olive Oil

1

Cup

Arborio Rice

3

Cups

Chicken Broth

1/4

Cup

White Wine

1

Cup

Chopped Asparagus

1/2

Cup

Frozen Peas

1/2

Cup

Frozen Corn

1/4

Cup

Chopped Fresh Basil

1/4

Cup

Chopped Lemon Basil

1/4

Cup

Lemon Balm

1/2

Cup

Grated Parmesan Cheese
Instructions
Put the 3 cups of chicken broth in a sauce pan and let it start to get warm. Cut the chicken into 1 inch pieces and brown in 1 Tbsp olive oil until golden brown. Chop the half onion and add to the skillet and continue cooking until the onion starts to get soft. Add the garlic and stir for a minute or so. Add the rice and let it toast for a minute or so, then add the white wine. At this point you want to add a couple of ladles of broth to the rice mixture and let it simmer gently until almost all of the liquid is absorbed, then add another couple of ladles of broth. Continue this process until you get down to about 2 ladles of broth. This is when you want to add the asparagus and continue cooking. When almost all of the liquid is absorbed give it a taste to make sure the rice has finshed cooking, if not add more liquid. When the rice is tender add the peas, corn, fresh herbs and let it heat through. Right before serving add the parmesan cheese.