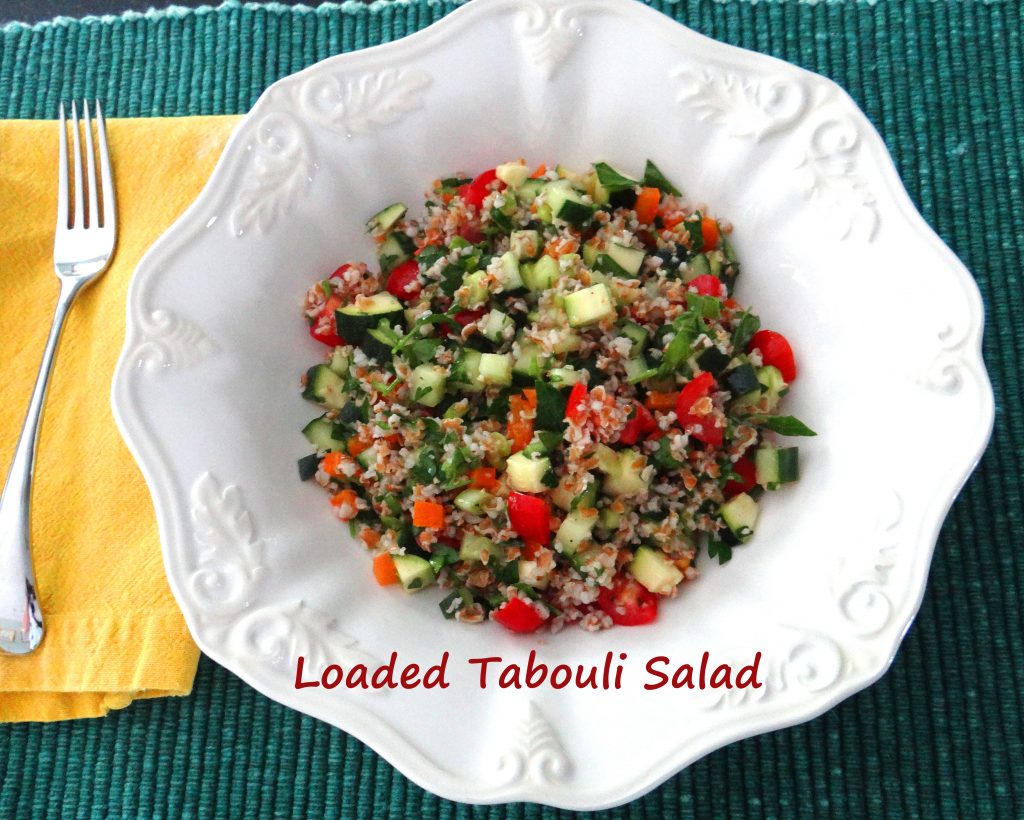 The first time I had Tabouli Salad I was about 20 years old and my late Mother-in-law made it for me. She was a simple meat and potatoes lady. There was nothing fancy or exotic in her repertoire of dishes, in fact she rarely used any seasoning other than salt and pepper, so imagine my surprise when I came by for lunch one day and she fixed Tabouli Salad. I had never heard of it. A friend of hers had fixed it for her and given her the recipe and she decided I needed to try it. She was right, I loved it. The lemon, the parsley, and that wonderful brownish chewy stuff (Bulgar Wheat) that soaked up all the flavors. I was in heaven. It was so fresh and light and crisp, I couldn't get enough of the stuff.
The original recipe called for tomatoes, green onion, parsley, bulgar wheat, oil and lemon juice and it's great just as it is. I however, can't seem to leave a good thing alone. There had to be a way to make it even better. So I added more veggies. It gives it more crunch, more flavors, and more substance.
Loaded Tabouli Salad makes a great light lunch, or the perfect side dish for a piece of grilled chicken or fish. The great thing about it is that this recipe makes a big batch and it gets better with age. It will keep in the fridge for 3-4 days and just keeps getting better.
Tabouli Salad, the reason I plant two parsley plants each year, I cant get enough of the stuff.
Time for lunch.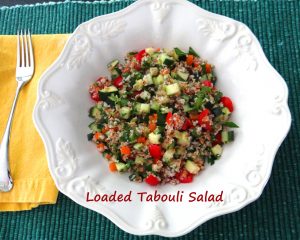 Print
Loaded Tabouli Salad
Yield 10 Servings
Ingredients
1/2 cup bulgar wheat
1 cup boiling water
1 small zucchini diced
1/2 english cucumber diced
1/2 orange bell pepper diced
3/4 pint grape tomatoes quartered (about 2 cups)
5-6 green onions sliced thin
2 cups loosely packed chopped flat leaf parsley (about one bunch)
1/4 cup olive oil
1/4 cup lemon juice
1t garlic powder
2t salt
1t pepper
Instructions
Place dry bulgar wheat in a large bowl and cover with the boiling water, cover and let stand for 30-45 minutes until the wheat has soaked up the liquid and become soft. I usually put it in the fridge so that it will cool down as well. I don't want to put my fresh veggies in anything hot or they will get mushy. Chop your veggies and add them to the bulgar wheat with the olive oil, lemon juice, garlic powder salt and pepper. Mix well and refrigerate for a couple of hours so that the flavors all come together.
Courses Salad