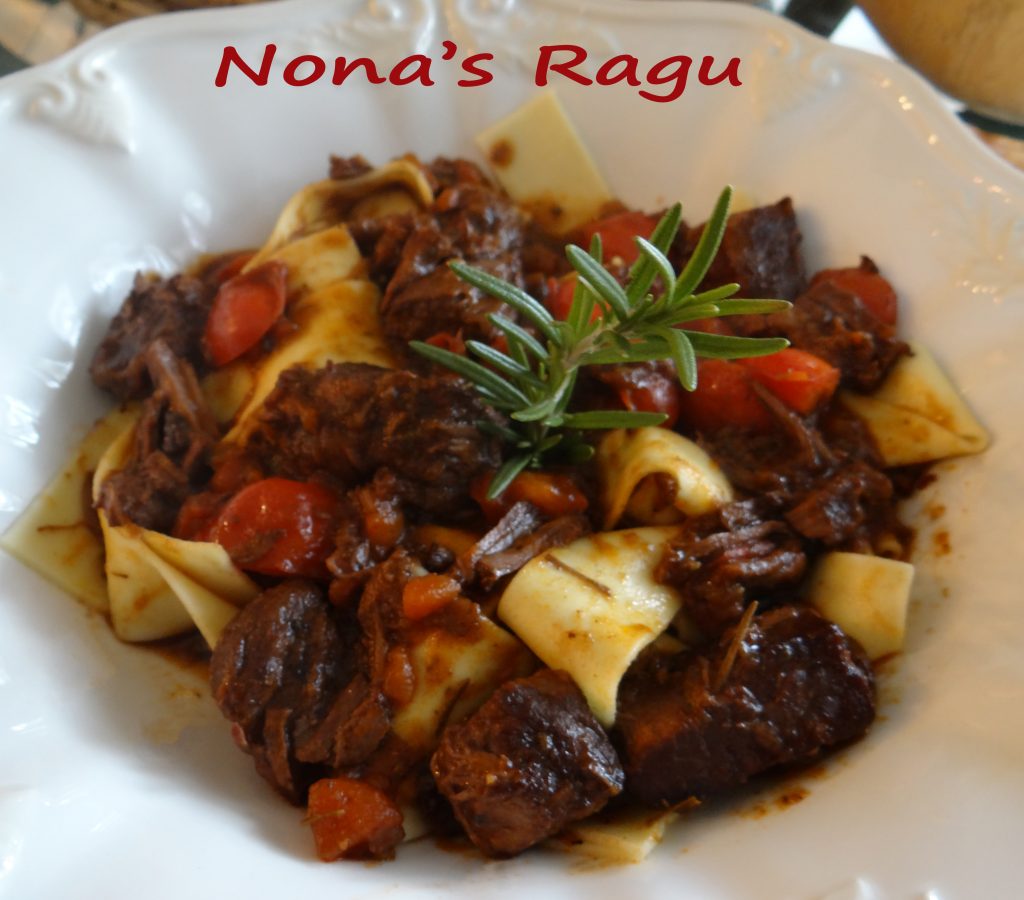 This is another one from the European Road Trip. Our little restaurant in Stresa gave me such wonderful dishes to recreate and this one has quickly become a family favorite. Nonna's Ragu is the perfect "Sunday Dinner" for a cold winter day when you have the time to let dinner simmer on the stove for several hours. It's worth the time I promise.
Italy is a country of many regions and each region has it's own flair and style. St Louis has a huge Southern Italian population and the Italian food in our area is typical of what you will find in Southern Italy; heavy tomato sauces, fennel, oregano, and lots of basil. As you travel north the climate changes and so do the ingredients that you find in the food.
Stresa is in the northern most part of Italy not far from the Swiss and French borders. The closer you get to the border the more the food styles start to blend, and this dish is no exception. It's really more like a good beef bourguignon than what I think of as a traditional ragu, yet at the same time it holds on to it's Italian roots.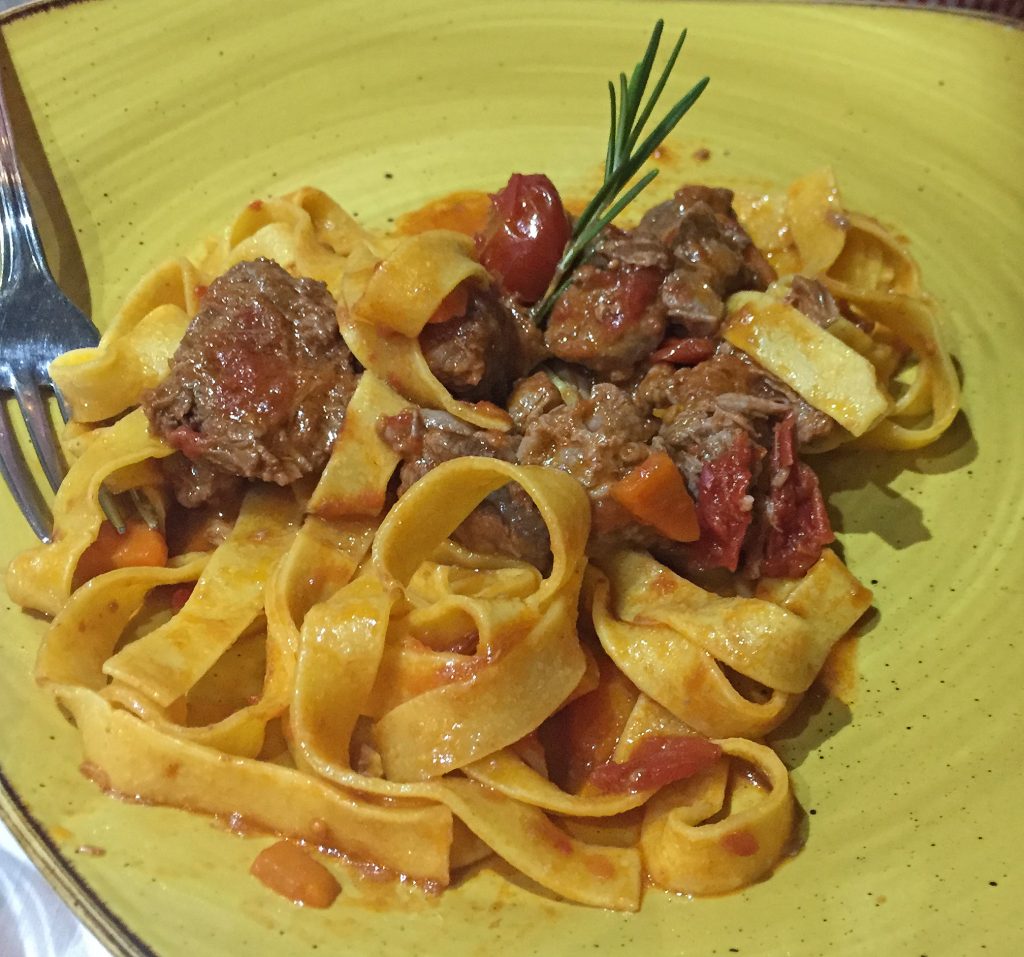 I made a few changes putting this together. First, what we had in Stresa was made with veal. They didn't have any veal stew meat when I went to the store so I was forced to use beef. It gives the dish a heartier, meatier depth than you would have with veal. It's still very good and cheaper too. Second, because I was using beef instead of veal I used red wine instead of white, which is what they used in the original. Again, the red wine gives the dish a bit more heft than white wine would. If using veal, substitute the red wine for white.
You will notice that the tomatoes are added at the very end and I use fresh. Grape tomatoes are readily available year round any more and they are the perfect finish to this dish. They cook up quickly and add a light freshness that you just won't get from canned.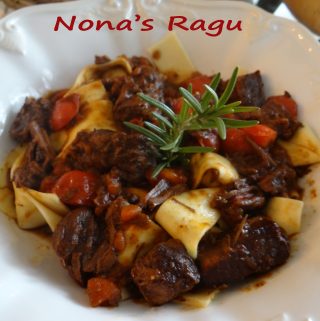 Nona's Ragu
Ingredients
1-1 1/2

lbs

Stew Beef

1

cup

Chopped Onion

1/2

cup

Chopped Carrot

1 1/2

tbsp

Minced Garlic

1t garlic powder

1 1/2

tbsp

Tomato Paste

1/2

tsp

Dried Rosemary

1/2

tsp

Dried Thyme

1

cup

Red Wine

1

14 1/2 oz can

Beef Broth

1/2

pint

Grape Tomatoes Quartered

about 12-14
Instructions
In a large dutch oven brown your stew beef in a little bit of olive oil. You will need to do this in a couple of batches so that it browns well. Remove from the pot and set aside.
Add onion and carrot to the pot with a pinch of salt and saute until soft, about 8-10 minutes. Add the garlic and and stir to combine, cooking for a minute or two. (don't let it burn.)
Add the beef broth, and stir to get all of the brown bits off the bottom of the pan, then add the wine, tomato paste, spices and add the meat back to the pot. Bring to a boil and then reduce to a slow simmer.


You want to see some bubbles but it shouldn't be a rolling boil. Cover and simmer for 2 1/2 -3 hours. As it cooks and the meat becomes tender the sauce will thicken up as it reduces. 20 minutes before serving add the quartered grape tomatoes and stir to combine. Let them simmer with the rest until you're are ready to serve.

Serve with pappardelle noodles

Notes
You can make this dish with veal instead of beef. If you do use white wine instead of red.
Depending on your dutch oven you may have to add more liquid during the cooking process. Some pots release more moisture than others, so check on this from time to time and add water if it looks like it's getting too dry. It will take every bit of 2 1/2 hours for the meat to become tender, so if you pot looks dry at 1 1/2 hours you need to add at least 1 cup of water.