You don't need a kitchen full of fancy cookware or gadgets to make great food. A few basics items are all you need.
Knives: One of the most important items in your kitchen is your knives. I have often joked that I married my husband to get my hands on his knives. I didn't own a decent one at the time and had no idea the difference it made to have good ones. The problem: they're expensive! The solution: you only really need 3. My favorites are a 7″ Wüsthof Classic Hollow-Edge Santoku Knife, Wüsthof Classic 3.5″ Paring Knife, Wüsthof Classic 6″ Utility Knife. These three knives will handle almost any job. Buy these and as you can afford to, add a good carving knife, bread knife etc.
   This what I have on my counter              This is what I really use
Rule #1: Never put your good knives in the dishwasher, ever!
Pots & Pans: It really does make a difference what you use. Cheap pans don't heat evenly and that can cause things to burn and cook unevenly, they tend to warp, and they don't last. Invest In a few good ones and they will last forever. I've had mine for over 35 years and they are still going strong. Follow my friend Sherry's example and check out the garage sales and flea markets, you can find some really good stuff there on the cheap.
Skillets and Sauce Pans: Go for stainless steel with a good heavy bottom, you need at 12" skillet with lid, 1 large and 1 small sauce pan.
This is what you want to look for on the bottom of the pan.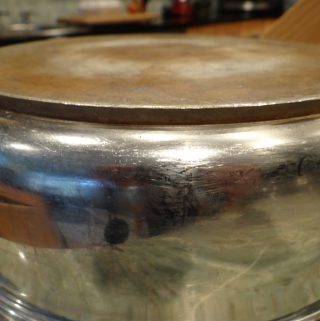 Dutch Oven: Get one of the cast iron ones with the enamel coating. These are great for soups, stews, and roasts. You need one that is 51/2 -6 quart in size. You can pick these up almost anywhere with prices ranging from $350 to $65. I got mine at Target 10 years ago and spent about $60 and it has worked great.
Cast Iron Skillet: I have 2, a 12" and a 6", these are absolutely the best and I recommend Lodge. They're American made and you can buy them almost anywhere. Prices range from $18-$40 for a 12" skillet, depending where you get them, specialty shops sell them for a much higher price than Walmart or Amazon and they are the same thing. Follow the links below to America's Test Kitchen for instructions on how to season and care for them. It's easy, just don't ever use soap on them and never, ever put them in the dishwasher.
https://www.americastestkitchen.com/equipment_reviews/1603-cast-iron-skillets
https://www.cooksillustrated.com/how_tos/5820-the-ultimate-way-to-season-cast-iron
Crock-pot: I have owned several over the years and the best one by far is made by West Bend. It has a metal pot that sits on top of the heating element. Why do I like it?  The pot wont crack or break like a crock one will. It's easy to store leftovers in the fridge in the pot. I like the size and shape of it, it will hold a pot roast easily without being too big and cumbersome.   The heating element is on the bottom, not all the way around the crock, so it cooks like it's on the stove top and your food won't get overdone along the sides. They're hard to find in stores you will probably have to go online to find one. Priced about $40 on Amazon.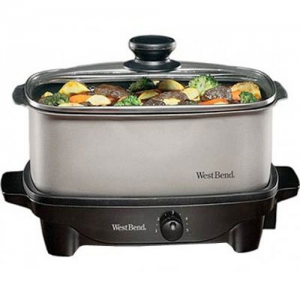 Box Grater: This is a great multipurpose tool, you can pick them up anywhere, and they are not expensive, about $10 and worth every penny. The different blades let you grate and slice with ease.
Mini Food Processor: These are the best and for certain things nothing else will do. You can pick them up for around $30 and they will do anything you really need a processor to do. No need to invest hundreds of dollars on a big fancy one. I cook for 2-20 people and have never made anything that required the big fancy one.
Micro Plainer: I use mine for everything from zesting a lemon to finely grating ginger. Prices range from $10-$20 and they last for years.

Whisks: Pick up a couple of these, the only way to get lumps out of sauces and gravy's.
Basting Brush: Get one of the silicone ones, not the ones that look like a paint brush. They go in the dishwasher and last forever. The paint bush kind get all gunky and nasty after a few uses and you end up throwing them away.
Kitchen shears: You really should get a pair. I lived without them for years and when I finally broke down and bought some I wondered how I had ever lived without them. They're not expensive and you can pick up a pair almost anywhere. I recommend getting a pair that comes apart for easy cleaning. You want to be able to get in there and get them clean after cutting up chicken.
Meat Thermometer: Every oven is a bit different and they don't always heat up to the correct temp. A meat thermometer is an easy way to make sure the roast or chicken is done before you take it out of the oven. I have one with a probe that goes into the meat and a digital readout. This way you don't have to keep opening the oven to check the temp and they have alarms that go off when you reach the desired temp. You can find them on Amazon priced between $12 and $20.