Have you ever wondered why your food doesn't taste as good as what you get in a restaurant? It's because they cheat. There are all kinds of ways to get great flavor without hours of roasting. Below are some of my favorite "Cheats".
Box Wine: If you watch cooking shows like I do they always say, "Use a good wine that you would drink." Well, I don't know about you, but I and a lot of my friends drink Box Wine. It keeps for a long time and it is relatively inexpensive. No need to open a bottle because you have a recipe that calls for 1 cup. I always have a box of Red & White that I keep in the pantry to use for cooking.
Soup Base: This stuff is amazing and the best way to make fast soup. It's cheaper than buying chicken or beef broth and a teaspoon or so will add the flavor that is missing in soups and stews. It is salty but not as much as bouillon and it has a little bit of fat in it that gives your soup better consistency.
Kitchen Bouquet: I don't know what's in this stuff, but it is incredible. A teaspoon or so in gravy or stew makes all the difference. Gives a great rich color and just finishes off the flavor.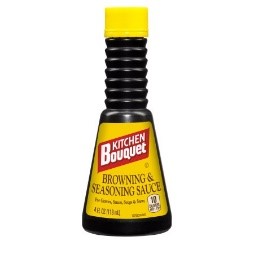 Paul Prudhommes Seafood Magic: This stuff really is magic. Sprinkle it on fish or shrimp and grill or sauté. It couldn't be easier to get great flavor. I even put a teaspoon in my canned tomato soup on grilled cheese and tomato soup night.
Pappy's Choice Seasoning: This is a great seasoning for meat. Pork, Ribs, Chicken or Beef. I use it all summer long when I'm grilling.
Weber's Kick'n Chicken Seasoning: I bought this to try on chicken and I didn't like it. The spice pieces are too big, and it didn't coat the chicken well, having said that, it makes great "Black Beans". A teaspoon in a can of black beans is all you need to take them from blah to amazing. Great with chicken or a pork chop on a busy week night.
McCormick's Montreal Steak Seasoning: This one is a true winner. Great for steaks or burgers. Also, good to add to baked beans to give them a bit more kick.
Hendrickson's Sweet Vinegar & Olive Oil Dressing: This is my go to salad dressing, at just 70 calories for a 2-tablespoon serving you can't beat it. I use it in all kinds of salads. It is also good with vegetable sides. Toss your carrots or broccoli in a couple of tablespoons before roasting or sautéing for a sweet tasty finish.
Better than Bouillon Bases: Everything they do is good, but my favorites are the Clam and Lobster Base. The problem is they are hard to find in the grocery stores. You will have probably have to go online to find them. The clam base is a must for Clam Chowder or Cioppino. It's cheaper than clam juice and has a much more intense flavor. It will keep in the fridge for up to 9 months. The lobster makes a wonderful bisque or add it to a cream sauce for seafood ravioli etc.
Lemon Juice: I use lemon in all kinds of soups and sauces and it never fails that I decide to fix something with lemon and I don't have one or the one I have is hard as a rock. My solution; I keep a bottle of lemon juice in the fridge. It's much cheaper than buying lemons, it lasts for months and is always ready when you need it.
Wondra Flour: My husband introduced me to this stuff and I always have a can in the pantry. It's not like regular flour, it's much finer so it doesn't clump up when you add it to soup, stews and sauces. It comes in a shaker can, so when your stew is not a thick as you would like it to be just shake some in and stir until you get the consistency you want. Much easier and faster than making a slurry with regular flour.
Balsamic Syrup: Who has time to reduce Balsamic vinegar to use as a syrup, certainly not me. This stuff is a bit expensive, but it only takes a little bit. Drizzle it on Caprese salad for a gourmet finish. Use a couple of teaspoons to marinate chicken breasts before grilling. Use it as a dip for Italian bread. Splash it on fruit salad with crumbled feta cheese and mint for a Mediterranean fruit salad. A little goes a long way so less is more here. It will last for up to a year the in the fridge.

Bacon Grease: Yes, this is the actual mug I keep in the fridge. I use it for all kinds of things, scrambled eggs, fried potatoes, green beans, etc. Anything you would use butter or oil in you can use bacon grease instead, so don't throw it away, get an old jar or mug and store in in the fridge like I do. You'll be glad you did.
Celery Leaves: When you get down to the last bit of celery in a bunch most people tend to just throw it out, because really, what are you going to do with it? It's too small for celery sticks. DON'T! This is the part of the celery that has all the really good flavor. I have been known to tear off all the stalks just to get to this part if I'm making soup. So throw it in the freezer and use it the next time you make a big batch of your favorite soup.