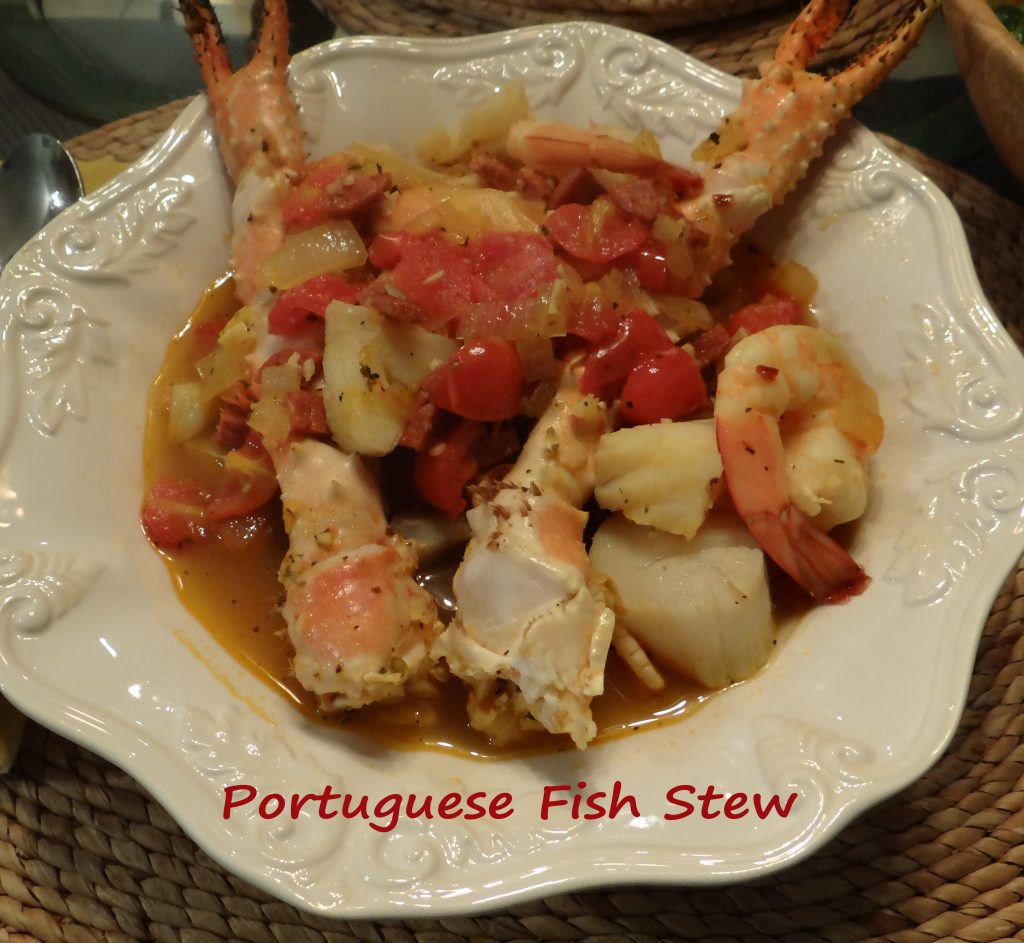 Christmas Dinner in my family is always a huge Prime Rib Roast served with Aunt Marie's Cheese Grits, Green Beans and Popovers. With that big heavy dinner on the horizon Christmas Eve is always something light, and nothing is better on a cold winter night than a bowl of Portuguese Fish Stew. It's loaded with roasted veggies and seafood in a light spicy broth. A big piece of crusty garlic bread to go with it and your all set.
The beauty of this dish is that you can use almost any kind of fish or seafood. I really like fresh clams and mussels in mine but when I went to the store to make this they didn't have any. So, I scoured the seafood department and bought what they had. This time I used crab legs, shrimp, scallops and a nice piece of cod. Really, anything you can find in your locality will work so don't think you have to use the seafood I used to make this dish.
This dish calls Spanish Chorizo and it's different than Mexican Chroizo. It's a hard precooked sausage more along the lines of Pepperoni or Salami but with a different flavor. In fact if you can't find Spanish Chorizo you could use Pepperoni instead, but you want to buy a whole piece of it not the pre-sliced kind. The pre-sliced is sliced too thin and it won't give you the right consistency.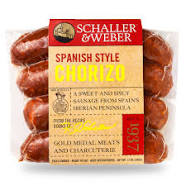 The other thing I do with this recipe that is a bit different is I roast the veggies in the oven. This gives them great flavor and texture. The potatoes hold together and don't fall apart in the liquid. When I'm ready to serve I simply spoon a serving of the veggies in the bottom of a shallow bowl and ladle the stew on top.
Portuguese Fish Stew is the perfect quick and easy Christmas Eve dinner that looks and tastes fancy enough for the occasion.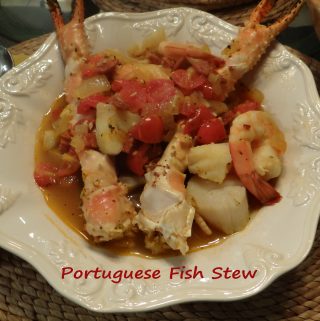 Portuguese Fish Stew
Ingredients
For the Veggies
2

Medium

Potatoes

2

Large

Carrots

1/2

Large

Fennell bulb

1

tablespoon

Olive Oil

1

Clove

Garlic

1

teaspoon

Salt

1t

teaspoon

Crushed Rosemary
For the Stew
8

Pieces

Crab Claw

16

Medium

Shrimp

8

Scallops

1/2 lb

Firm Flesh Fish Such as Cod

1

Small

Onion

2

Cloves

Garlic

1/2

teaspoon

Saffron

1/4

teaspoon

Crushed Red Pepper

1/4

Pound

Spanish Chroizo Sausage

1

Pint

Grape Tomatoes

32

oz

Seafood Stock
Instructions
For the Veggies
Preheat oven to 425 degrees. Cut up the potatoes, fennel and carrots in about 1 1/2″ pieces. Try to get them close in size. Mince the garlic and combine with the olive oil and rosemary in a medium mixing bowl. Add the chopped veggies and toss to coat well. Spread on a baking sheet and roast in the oven for 20 minutes.

For the Stew
Cut the Chorizo in quarters lengthwise and then slice into 1/8″ pieces. Chop the onion and mince the garlic. Use a large dutch oven. Get it hot and add about a tablespoon of olive oil to the pan with the Chroizo and onion and cook until the Chroizo starts to brown and the onion starts to get soft. About 10 minutes. Quarter the tomatoes and add them to the pot with the minced garlic. Stir briefly and let them cook until the tomatoes start to get soft, about 5 minutes. Add the seafood stock, saffron, crushed red pepper and let it simmer for a few minutes more to let the flavors come together. Add your seafood cover and steam until cooked through. This will take about 8 minutes.

Bring it all Together
When the veggies are done take them out of the oven, they can rest while the stew finishes up. Spoon a serving of the veggies into a shallow bowl and ladle the stew on top dividing the the fish equally between the servings.

Serve with crusty garlic toast.

Notes
You may feel that you don't have enough liquid for this to make enough for 4 people before you add the seafood. Don't worry, the seafood will let off quite a bit of liquid while it cooks and you will be just fine.
You can use almost any kind of seafood for this recipe. If you are using fresh clams you need to put them in before everything else and give them about 5 extra minutes to cook. They take a bit longer because of their hard shell.
You can also substitute celery for the fennel and Pepperoni for the Chroizo.