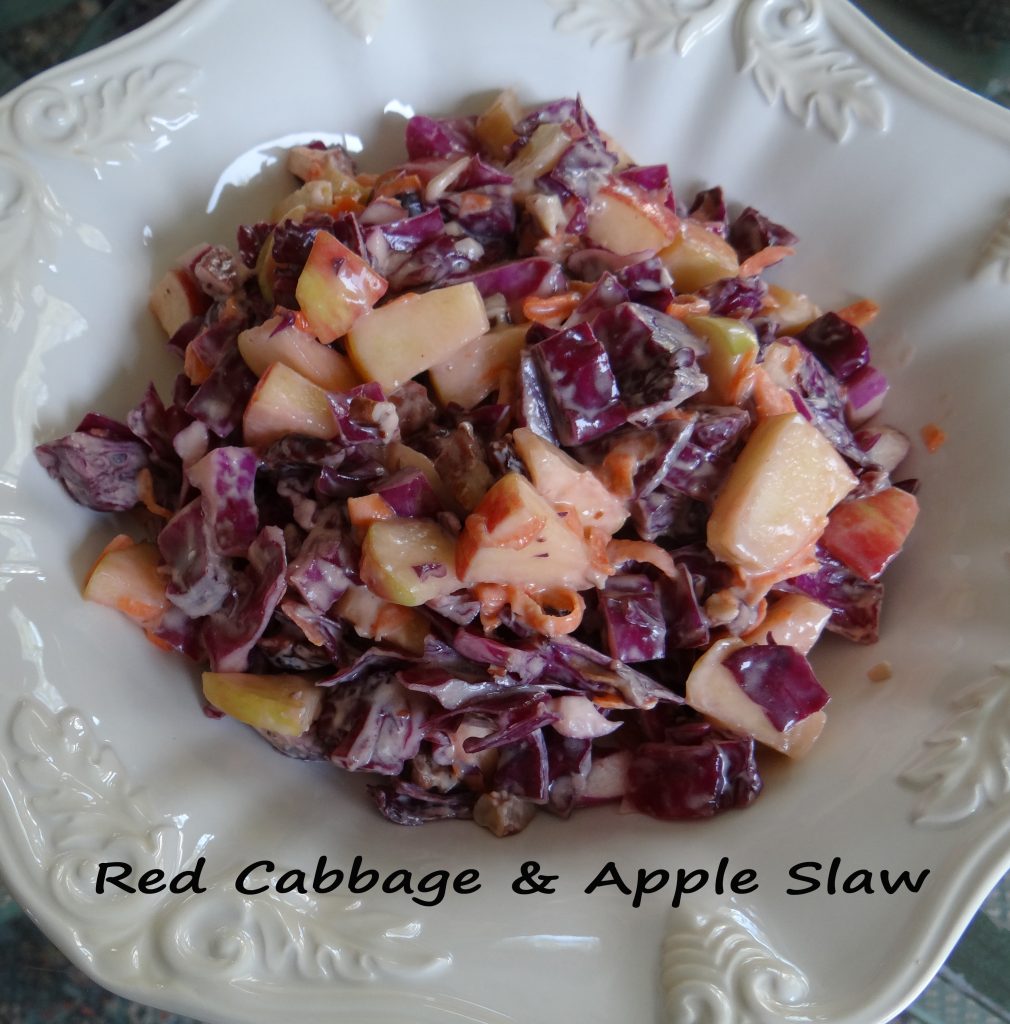 Since I didn't use all of my cute little cabbage the other day I needed to come up with another fun twist for cabbage. So I dug into the files for the cookbook I'm writing and grabbed and old favorite. Red Cabbage and Apple Slaw.  I came up with it several years ago as a side dish for grilled Bratwurst and have made it over and over again. Let's face it apples and cabbage are a great combination, whether you braise them or or eat them raw they just work together.
As is usually the case we were getting ready to grill and I needed a side dish. I had cabbage in the fridge and an apple in the fruit bowl so I started to scour the kitchen to see what else I had in the pantry. As it turns out I had some Crazins and pecans and carrot and I thought, why not lets give it a shot. Then it came time for the dressing. I had never made coleslaw before but seemed to remember that my Mom used to make the dressing with some mayonnaise and sugar. I wasn't really happy with that thought, but I did have my old stand by ( Hendrickson's Sweet Vinegar & Olive Oil Dressing) in the fridge. This is the best salad dressing I have ever found. It goes with everything and is light in calories. So I decided to mix the salad dressing with some mayonnaise to make the dressing.
This is a sweet, crunchy and healthy side dish that I make all summer long. Great with Burgers, Bratwurst, and Barbecue. Give it a try.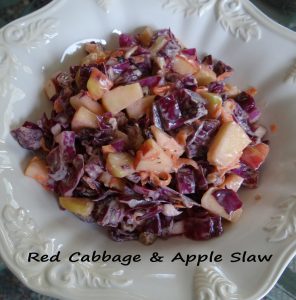 Print
Red Cabbage and Apple Slaw
Yield 6 Servings
Ingredients
1 small or 1/2 large red cabbage thinly sliced (about 4 cups)
1 apple cut into 1/2" pieces
1 carrot grated
1/4 cup Crasins
1/4 cup chopped nuts (Pecans or Walnuts)
1/2 cup mayonnaise
1/4 cup Hendrickson's salad dressing
Instructions
Combine cabbage, apple, carrot, nuts and Crasins in a large bowl. Mix mayonnaise and Hendrickson's salad dressing in a small bowl and pour over cabbage mixture, stir to combine.
Notes
You can omit the mayonnaise if you want to and dress with just the Hendrickson's. I've done it both ways.
Courses Salad