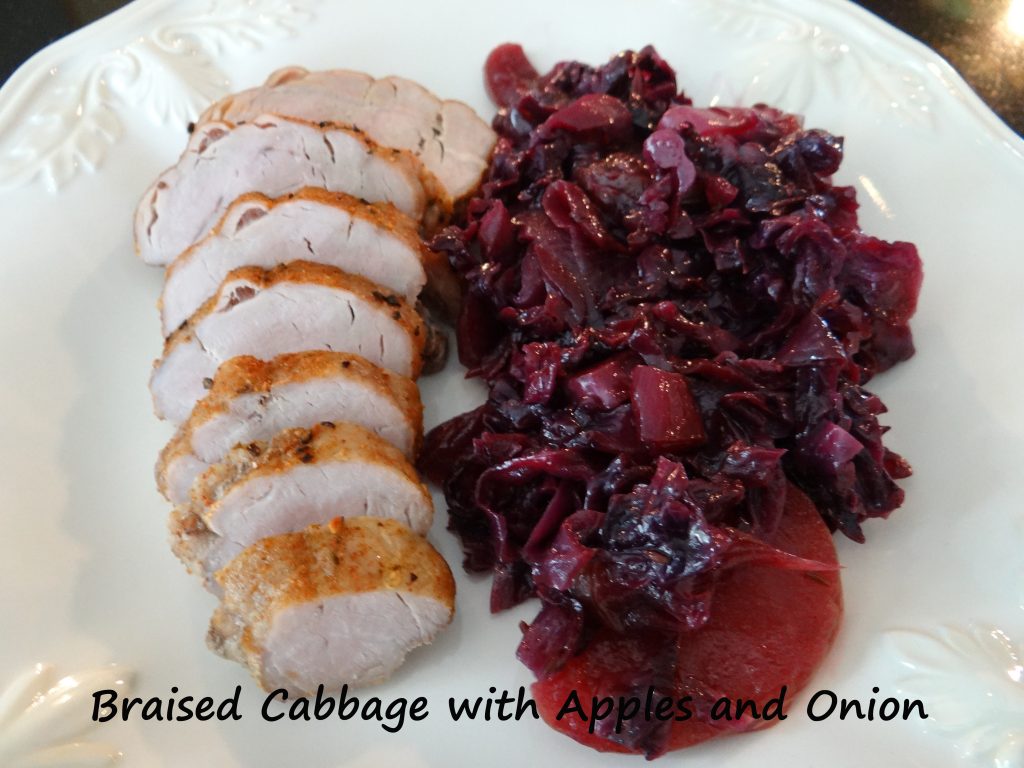 I was in the store the other day and they had these really small red cabbages. They were about a third the size you normally see. The woman next to me commented that they were so cute, she had never seen any that small before and neither had I. We both decided we had to buy one.  I got it home and looked at it and had to figure out what to do with it. I could always use it in salad or make a quick slaw, but wanted something different. A good side dish for dinner. I love German food and I have sauteed red cabbage before but wanted something more interesting. I had seen several recipes for roasted cabbage with apples and thought the combination sounded good, but I wanted a bit more flavor to it. I have a great recipe for sauteed apples with onion and bacon (that will be another post) so I knew the onion would be a good addition. Then I decided a little vinegar and some brown sugar was all I would need to really round it out.  Braised Red Cabbage with Apples and Onion. Time to get cooking.
I seasoned up a pork tenderloin with one of my favorite spice blends Pappy's Choice Seasoning. This stuff is wonderful on all kinds of meat. If you cant find it in your local store you can get it on Amazon and I highly recommend it.  Once the pork was seasoned I stuck it in the oven and got to work on the cabbage. In 45 minutes dinner was ready, I was really pleased with the cabbage. A little sweet, a little tangy, a great compliment to the roast pork. This is a great side dish for an easy weeknight dinner. It looks as good as it tastes.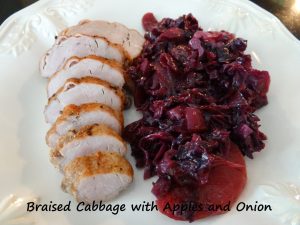 Print
Braised Red Cabbage with Apples and Onion
Yield 4 Servings
Ingredients
1 medium apple
1/2 red onion sliced
6 cups sliced cabbage (about 1/2 of a cabbage)
1T olive oil
2T apple cider vinegar
1t caraway seed
2T brown sugar
1t salt
Instructions
Quarter, core and slice apple in 1/4" slices, slice onion in 1/4" slices. Use a skillet that has a lid, place on med-high heat and add oil. When hot add onion and apple and saute until onion starts to soften, about 5 minutes. While this is cooking cut your cabbage in half and then half again. cut out the core and slice horizontally in 1/4" slices. Break up the pieces of cabbage so that it has a shredded consistency, then add to the skillet with the vinegar, caraway seed,salt and sugar. Stir well, cover and simmer for 30 -40 minutes until cabbage is cooked through but still has a bit of bite to it. You will want to stir every 10 minutes or so while it is cooking to insure that everything cooks evenly.
Courses Side Dish
Cuisine German