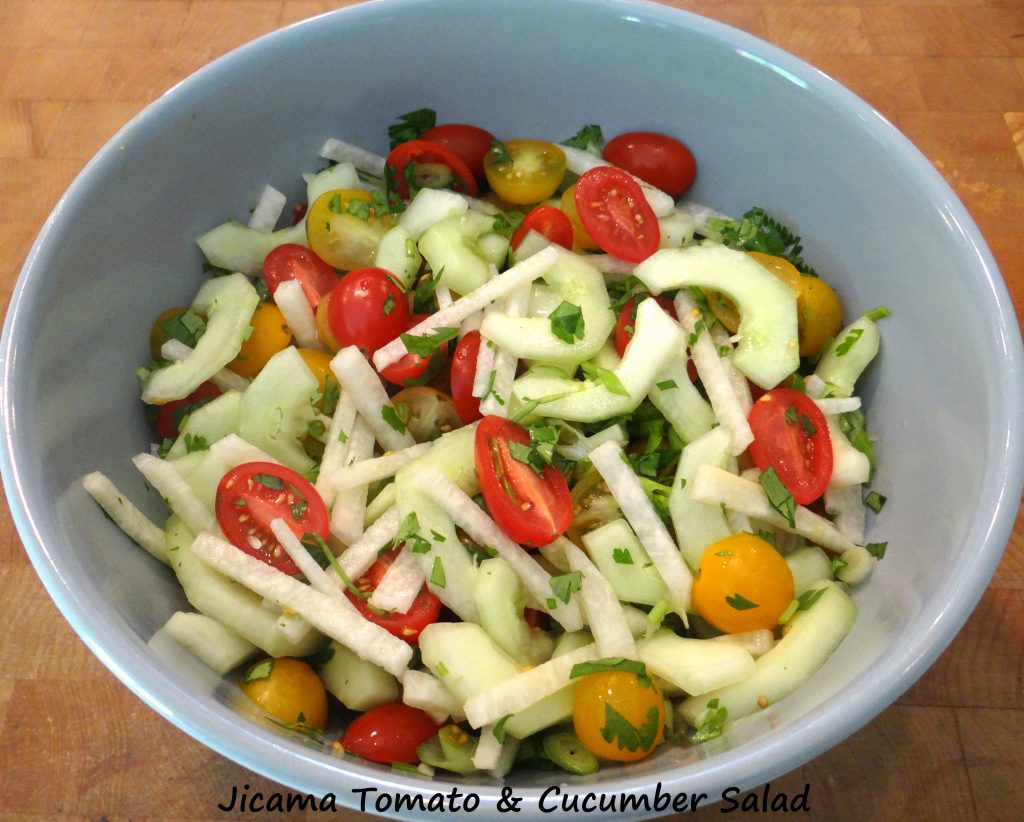 We're having friends for dinner tonight and they wanted me to make the Snapper Vera Cruz from my last post and I am happy to comply. It's such a great summer meal, not too heavy and yet very tasty. To be honest, this time around it will be Grouper Vera Cruz because the Grouper looked better than the Snapper. That's the great thing about this recipe you can use any fish you want to and it will still be great.
I was thinking about a salad to serve with it and came up with Jicama Tomato and Cucumber Salad. If you've never tried Jicama I highly recommend it. My parents came back from a trip to Mexico years ago where they had Jicama and not long after they were serving it us. Dad would cut it up and sprinkle it with just a touch of Lawry's Season Salt as a snack before dinner.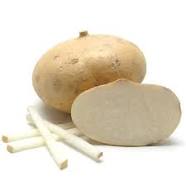 Jicama is a tuber that comes from Mexico, it's crunchy, a little bit sweet, and has the consistency of a cross between a raw potato and a radish. It has a thick outer skin that you have to peel and the first time I did it it felt kind of weird. I've found the easiest way to do it is to cut it in half, place it cut side down and run your knife down the sides of it to get the skin off. You have to use a knife for this, a vegetable peeler just wont do it. Be brave and jump in there and just go for it. Once peeled it is very easy to work with.
Jicama doesn't have a lot of flavor to it so it's great to mix with all kinds of things. I use it in slaw a lot and this time around I paired it with tomatoes and cucumber for a wonderfully crunchy salad to compliment the fish and black beans.
Jicama Tomato and Cucumber Salad is a great side dish for Mexican food, it's easy to prepare and the cool sweet tanginess of it is a great compliment to spicy food.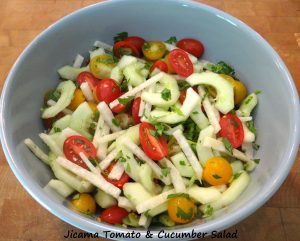 Print
Jicama Tomato and Cucumber Salad
Yield 4 servings
Ingredients
1/2 of a small Jicama or 1/4 of a large one about 1 1/2 cups
1 pint grape tomatoes
1 cucumber
3 green onions
1/4 cup chopped cilantro
juice from 1 lime
a drizzle of olive oil
1 1/2 t salt
Instructions
Peel the jicama and then slice into matchsticks. Slice the tomatoes. Peel and seed your cucumber (if your using a big one, if you use and English cucumber you don't have to.) and slice. Slice the green onion in slivers. Chop the cilantro. Combine everything in a bowl and dress with the juice of 1 lime, a drizzle of olive oil and salt.
Courses Salad
Cuisine Mexican