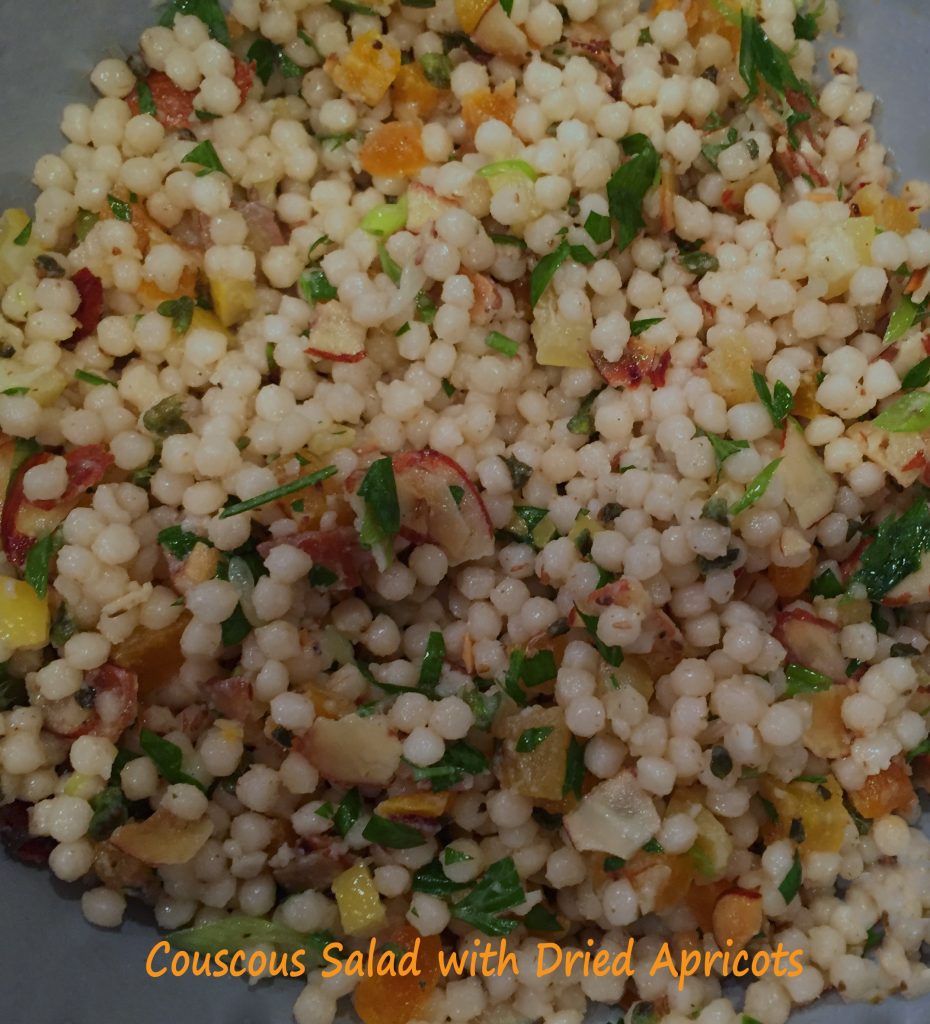 If I waited to try a new recipe until I had every single ingredient that was exactly what was called for in the recipe I swear I would never try anything new. I improvise, and today's post is a perfect example.
My niece was coming for Sunday Lupper. Sort of like Brunch but between Lunch and Supper. I was perusing recipes trying to come up with something fun and cool as it was 95 degrees with humidity hovering around 90% when I came across this one. Once again my New York Times Cooking App had just what I was looking for, sort of. The original recipe was Couscous Salad with Dried Apricots and Preserved Lemon by Melissa Clark.
The recipe called for fresh dill (mine had long since gone to seed and crapped out on me) and fresh mint (I was using mint in another salad and didn't want to over do it). So I looked out at my herb garden and noticed I had Lemon Basil and lots of Parsley and figured that would work just fine. The recipe also called for chopped pistachios which I didn't have, but I had some slivered almonds in the pantry so I toasted them up to use instead. Now, I happen to have Preserved Lemon in the fridge and you should too, but that's for another post. If you don't you can use any kind of dried fruit, Crazins, Figs, Raisins, Pineapple, Mango any of these will work equally as well. As for the fresh herbs, yes you need them but you can switch them up too, Mint, Parsley, any kind of Basil, Cilantro, use what you have I promise it will be great. This recipe calls for Pearled Couscous and depending on where you live it can be hard to find. I had to buy a package with a Roasted Garlic and Olive Oil flavor packet included, and I just threw out the flavor packet. But if you can't find it just use regular couscous.
Couscous Salad with Dried Apricots is a wonderful and versatile summer recipe. Fast and easy to make with great flavors and a perfect compliment to any grilled meat.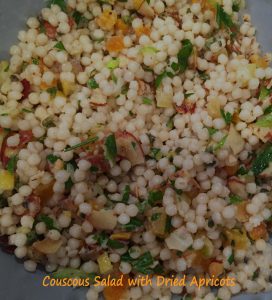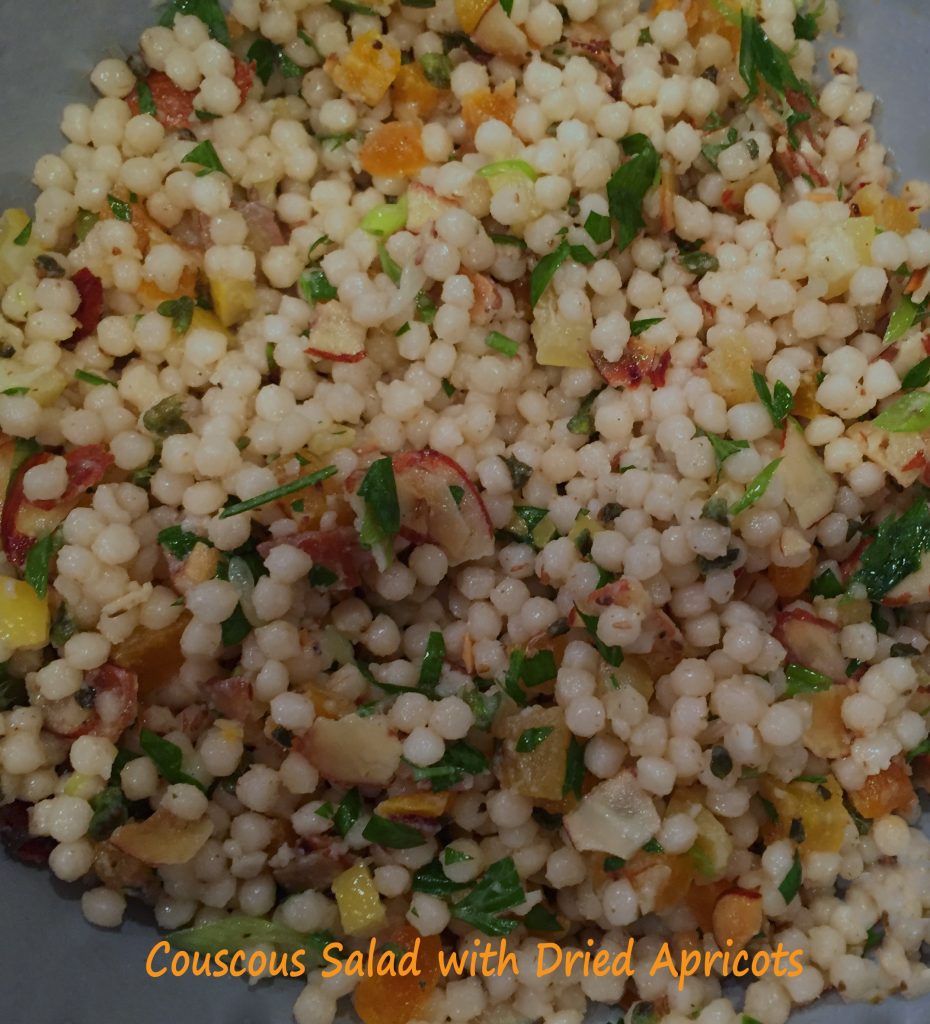 Print
Couscous Salad with Dried Apricots
Yield 4 Servings
Ingredients
1 4.7 oz package Pearl Couscous (or 1/2 cup)
1 3/4 cup water
1t cumin seeds (or 1t ground cumin)
1T vinegar sherry, white wine or cider will work.
1/2t salt
1/4 cup chopped dried apricots
1/2 preserved lemon diced
2 scallions finely chopped (about 1/4 cup)
1/4 cup chopped basil, lemon if you have it
1/4 cup chopped parsley
1/4 cup olive oil
Fresh lemon juice to taste ( or use a splash from the bottle in the fridge)
1/4 cup toasted slivered almonds
Instructions
In a small sauce pan bring the water to a boil and add the pearl couscous. Reduce the heat and simmer for 10-12 minutes until all of the liquid is absorbed. If using regular couscous follow package instructions. While that is cooking toast the cumin in a dry skillet until it's just fragrant, about 2 minutes. Remove from heat and crush either in a mortar and pestle or with the back of a large knife on your cutting board. If you don't have cumin seed just skip the toasting part and use ground.  Add the cumin to the warm couscous with the vinegar and salt and toss well. set aside to cool or place in the fridge for 15 minutes. While the couscous is cooling toast your slivered almonds. When cool add the remaining ingredients and mix well, taste, and add more salt if necessary and lemon juice to taste. Serve cold.
Notes
You can change this recipe around depending on what you have on hand. Use any kind of dried fruit and/or nuts, crazins, figs, pineapple, mango, pecans, walnuts, pistachios, etc. You can also switch up the fresh herbs, with dill, mint, basil, parsley. Use what you have, I promise it will be great.
Courses Salad