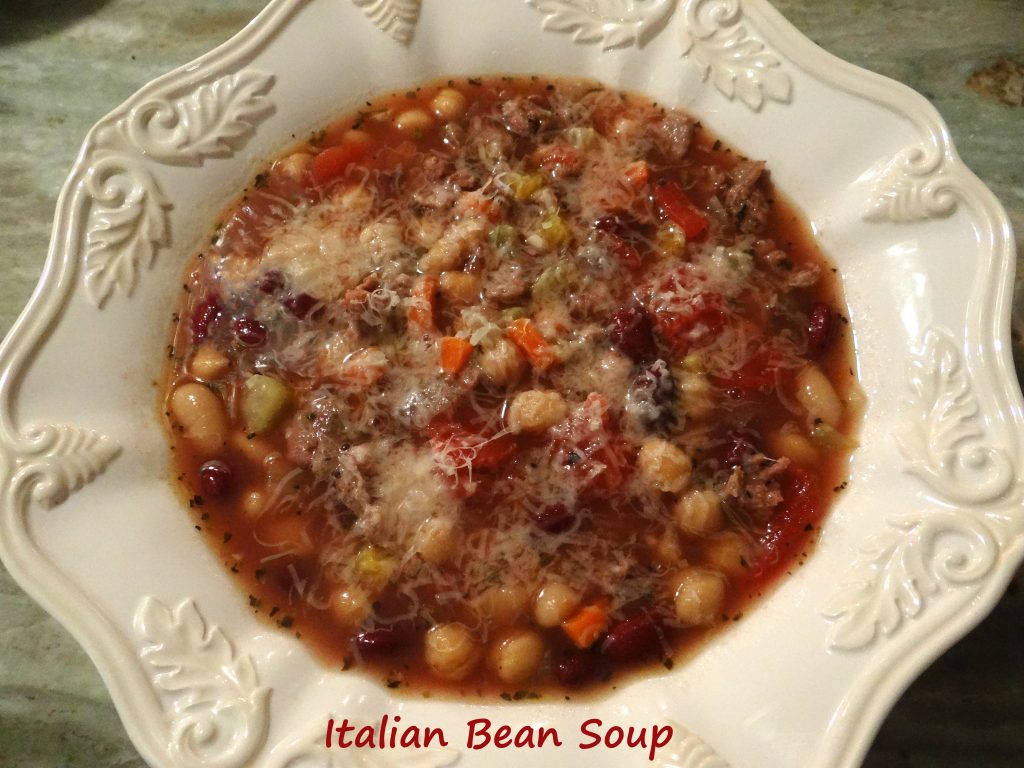 If you're like most everyone these days your stuck in your house looking for something interesting to do and thinking about what you're going to eat. This is one of my favorites. It's a pantry staple, one pot meal that's hearty and satisfying. I probably make this twice a month all winter long because I always have the ingredients on hand and it's fast and easy.
All you do is brown up some Italian sausage and start opening cans. 20 minutes later you have dinner. I was watching Rachel Ray one morning several years ago and she was making one of her famous "Stoups". You know, not quite a stew but hearty enough to be a full meal. Well in her version she used pasta and made this a pasta fagioli. Now anyone who knows me knows I'm not a huge pasta fan, too carb heavy, but what she had going on looked really good and quick and easy. So, I decided to make my own version minus the pasta and with extra beans and veggies. Turns out Rachel was on to something and this has been part of my meal rotation ever since.
This recipe calls for 1/2 pound of Italian sausage. Trust me, that is really all you need, just enough to give it the flavor your looking for. Don't use a whole pound, it's just overwhelming if you do. I always buy a pound in bulk, use half and put the other half in the freezer for next time. If you can't find bulk sausage then links work perfectly fine, you just need 2 and simply cut them out of the casing and brown like you would hamburger.
Italian Bean Soup is as healthy as it is versatile. I ran it through my fitness pal just to get an idea on the calorie count and to my surprise it came in at just under 375 calories per serving. Pair it with a crusty piece of garlic bread and you've got dinner for under 500 calories. Let's face it you can't beat that.
When it come to versatile well, you can add and substitute tons of different things to change it up. It just depends on what you have in the pantry and your specific taste. Spinach or kale make a lovely addition to this if you happen to have it on hand. You can also change up the beans, so if you don't have garbanzo beans just use two can of kidney or cannellini or even pinto beans for that matter. If you're cooking for a crowd and want to stretch this add some pasta and make it a true Pasta Fagioli.
Oh Yea, one other great thing about this recipe, It freezes beautifully. So make up a big batch and put some in the freezer for later. You'll be glad you did.
Stay Healthy my friends!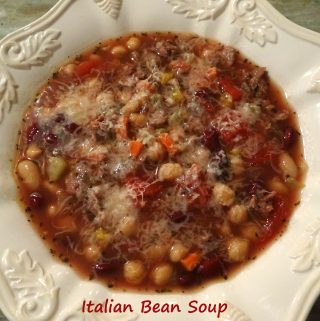 Italian Bean Soup
Ingredients
1/2

lb

Italian Sausage

1/2

medium

Onion

Chopped (about 1 cup)

2

Carrots

Diced

2

stalks

Celery

Diced

2

cloves

Garlic

minced (1t garlic powder)

1/2

Bell Pepper (Any Color)

Minced (optional)

1

14.5 oz

Can Chicken Broth

1

14.5 oz

Can Diced Tomatoes

1

14.5 oz

Can Garbanzo Beans

1

14.5 oz

Can Kedney Beans

1

14.5 oz

Can Cannellini Beans

1/2

cup

Red Wine

1

tsp

Kosher Salt

1

tsp

Fennel Seed

1

tsp

Dried Basii

1

tsp

Dried Oregano

1/4

tsp

Crushed Red Pepper

Optional
Instructions
Brown sausage in large dutch oven or soup pot. When brown add onion, celery, carrot, garlic and kosher salt and sauté until vegetables start to soften. Add chicken broth, tomatoes, wine and spices and scrape up any brown pieces off the bttom of the pan. Add beans, liquid and all to the pot. (Your making soup so you will need the liquid) Simmer for 15-20 minutes and serve with freshly grated paresan cheese and garlic bread.
Notes
I have added chopped Kale and Spinach when I add the beans and it is a great addition