I'm looking out the window at the snow this morning, AGAIN. Seems we've had a lot of it lately and there's more on the way. It makes me yearn for summer and the grill. After eating all kinds of fattening comfort food the last month or so I was looking for something lighter, yet warm and filling.
Stuffed pork chops seemed the way to go. I have made these several times and I usually grill them but there is no reason you can't do these in the oven, after all there's snow on the ground, who wants to fire up the grill today.
These pork chops are stuffed with sun dried tomatoes, pine nuts, garlic, Parmesan, Mozzarella, and panko bread crumbs which gives them a nice Italian flare. Pair them with balsamic glazed brussel sprouts and my orange and fennel salad (see my post from 2/06/2019) and you have the perfect light dinner.
When I make these I look for a chop that's at least 1″ thick, any thinner than that and it's almost impossible to cut the pocket and get the stuffing in. So in this case the thicker the better. I usually use a boneless loin chop but a rib chop works just as well if that's what you prefer.
This is a simple and easy dish to put together that's perfect for guests or "Date Night". You can do all the prep in the morning or the night before and keep them in the fridge, then when you get home all you have to do is pop them in the oven and bake or throw them on the grill.
Stuffed Pork Chops are a great diversion from the ordinary heavy comfort food that we tend to eat this time of year and I think you will find them a great addition to you rotation.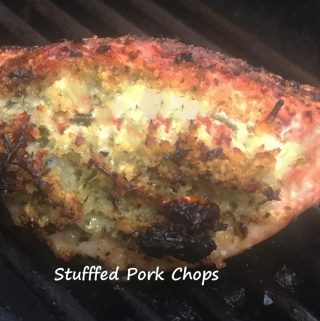 Stuffed Pork Chops
Ingredients
4

1" thick

Pork Chops

1 1/2

cups

Panko Bread Crumbs

1/2

cup

Parmesan Cheese

Grated

1/2

cup

Mozzarella Cheese

Grated

1/4

cup

Sun-dried Tomatoes

Chopped

1/4

cup

Pine Nuts

2

cloves

Garlic

Minced

1

tsp

Salt

1/2

tsp

Pepper

1

tsp

Dried Basil

1

tsp

Dried Oregano

1

tbsp

Olive Oil
Instructions
Using a paring knife cut a deep pocket in the pork chops and set aside. In a small bowl mix together the panko bread crumbs, cheese, sun dried tomatoes, pine nuts, garlic, and spices. Mix well, I usually use my hands for this as a spoon just doesn't do it. When well mixed add the olive oil to moisten and mix again.

Divide the stuffing mixture in 4 parts and stuff each of the chops. Season the chops with salt and pepper or your favorite grill seasoning and bake in a 350 degree oven for about an hour, or until the internal temp reaches 160 degrees. Remove from the oven and let rest for 10 minutes before serving.

You can cook these on the grill if you want to, they really are even better that way. Just use your meat thermometer and cook until they reach 160 degrees turning half way through the cooking process.