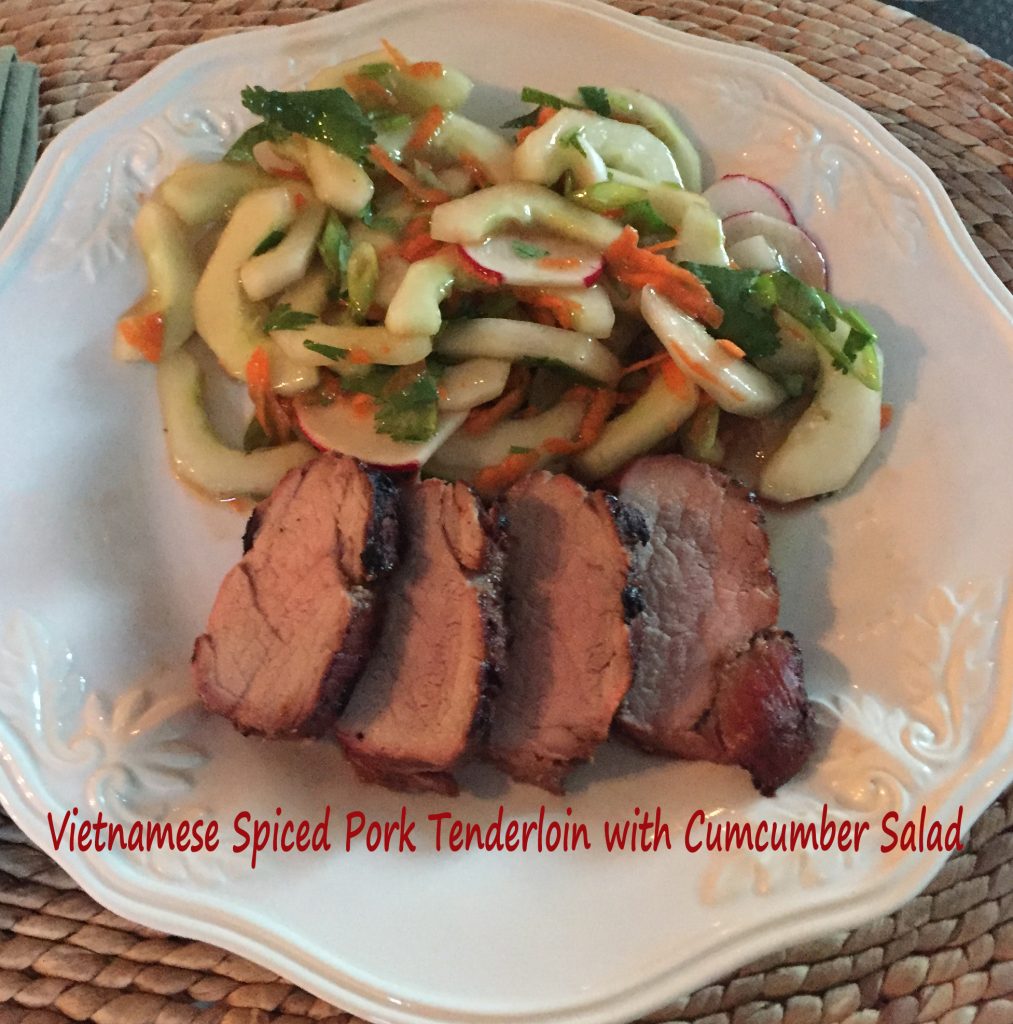 I don't know about you but after all the heavy carb laden food I have been eating over the Thanksgiving holiday I was ready for something different. I was craving something light yet flavorful, and simple. Enough already with the dishes that take hours to prepare; I have Christmas decorating and shopping to do, I want easy and this is it. Vietnamese Spiced Pork Tenderloin is just the ticket. It's loaded with all the classic Asian flavors I love and the crisp cucumber salad is light and sweet and tangy. It's the perfect light supper after days of gorging on heavy food.
I found the original recipe in my favorite place, The New York Times Cookbook. It's a recipe by David Tanis for Vietnamese Braised Pork Ribs. I've made the ribs before and they are wonderful but it makes enough to feed an army and it's a two day process to really do it right. Having said that the flavors are fabulous, so I tweaked it a bit and used a pork tenderloin instead of the ribs and it turned out just perfect.
The original recipe calls for lemongrass stalks and fresh ginger. Where I live fresh lemongrass is almost impossible to find but in the produce section I came across Gourmet Garden Lemongrass paste. It's comes in a refrigerated tube and lasts for up to 2 months. Much easier than trying to smash and very finely chop fresh lemongrass any day.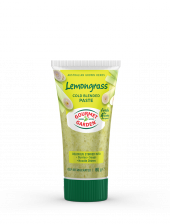 The evening before or in the morning, depending on your time schedule get the tenderloin in the marinade and let it do it's thing all day or over night. When you get home in the evening all you have to do is pop it in the oven for 30 minutes while you throw the salad together and you have a great light supper. If you want something a bit more substantial you could serve it with some fried rice or if your feeling adventurous some spicy noodles or ramen.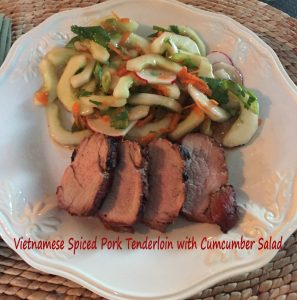 Print
Vietnamese Spicy Pork Tenderloin with Cucumber Salad
Yield 2 Servings
Ingredients
For the Pork:
1 med shallot finely chopped
1T lemongrass paste
1T soy sauce
1 1/2 t fish sauce
1T  chili paste
1t kosher salt
1T brown sugar
1t chinese five spice
1T grated garlic
1T grated ginger
1 1-1 1/2 lb pork tenderloin
For the Cucumber Salad:
2 medium cucumbers
2 med radishes
2 green onions
1 large carrot
1/4 cup chopped cilantro (optional)
For the Dressing:
1T grated ginger
1T lemongrass paste
1T honey
1T chili paste
1t salt
1/4 cup rice wine vinegar
1/4 cup oil (any light vegetable oil will work)
Instructions
For the Pork:
Combine all ingredients except the pork, in a small mixing bowl and stir well. Place pork in a zip lock bag, add the marinade and smoosh it all over the pork coating it well.  Place the pork in the fridge and let it marinate for 8- 24 hours. Preheat your oven to 400 degrees. Place the pork on a sheet pan and roast for 30 minutes. Take it out of the oven and let it rest for 10-15 minutes before carving. You can also grill this outside weather permitting.
For the Salad:
Peel and seed your cucumbers and slice into 1/4" half moons. Thinly slice the radishes and green onion. Grate the carrot.  Combine in a large bowl. Mix all the ingredients for the dressing except the oil in a small mixing bowl or measuring cup and stir to combine. Slowly whisk in the oil until you get a nice smooth dressing. Pour over the cucumbers and stir to coat well.
Slice the pork in 1/2" slices and serve with the cucumber salad.
Notes
You can buy grated garlic, ginger and lemongrass in most grocery stores. It's a bit more expensive than buying the real thing and grating it but it is also a great time saver. In most cases the shelf life of the prepared items is longer than the fresh item as well.
Use any kind of good Asian chili paste in these recipes they all work really well.
Courses Dinner
Cuisine Vietnamese