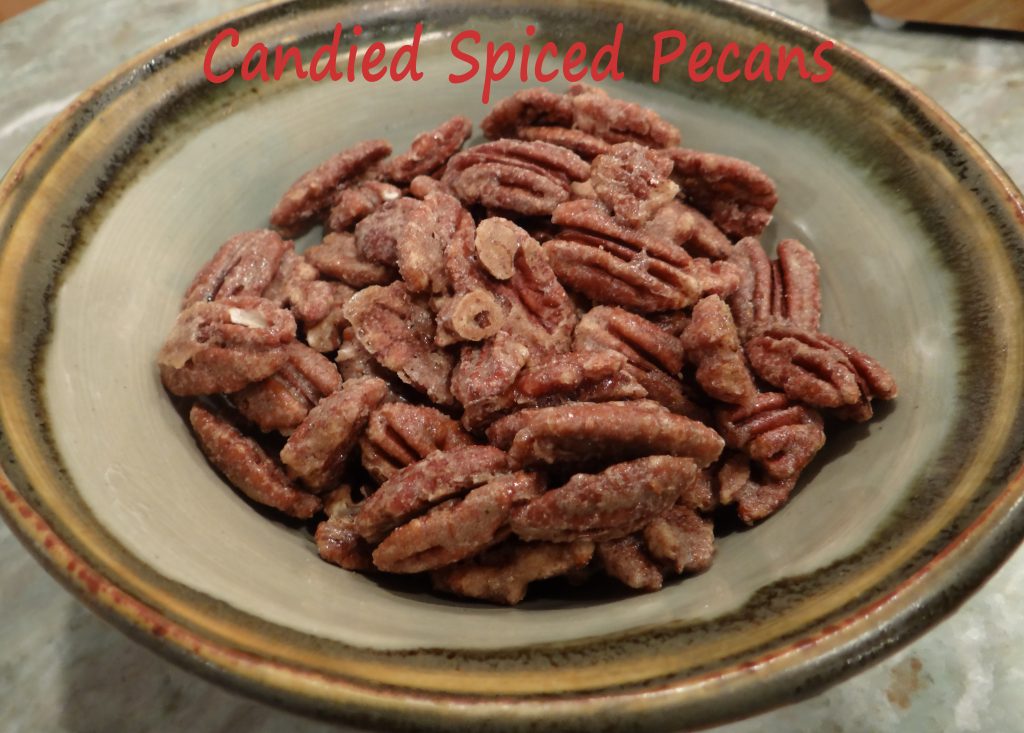 This is one of my all time favorites, Candied Spiced Pecans. It is, after all, that time of year again and I'm looking for quick and easy as well as tasty and these are perfect. You can bake these up in under an hour and they will keep in a zip lock bag for a couple of weeks. I've tried a bunch of different recipes for spiced nuts over the years and this is a combination of several different ones I've tried. No need to saute and mess up a skillet or make a sticky syrupy sauce to pour over them before roasting. All you have to do is mix this up, spread it on a sheet pan and pop it in the oven. What could be easier than this?
I will say that you need to line your sheet pan or you will never get it clean. I  use foil, but parchment paper would work as well. When finished clean up is a breeze, just toss the foil and your done. You can also change this up with different kinds of nuts. I have made this using walnuts and cashews and they are great as well.
I just love this spice combination, cinnamon, sugar, cumin and cayenne. They're sweet, they're hot, they're buttery, they're crunchy. Put these out when the family gets together and  watch them disappear.
I have made these for years and they are just perfect for the holidays. I usually make up a couple of batches and use them as an appetizer, in salads, or place them in jars and give them as gifts to friends and family. I know that if you try them they will become a Holiday staple at your house as well.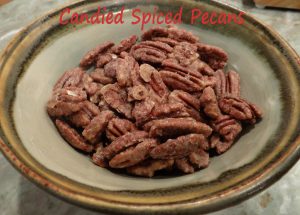 Print
Candied Spiced Pecans
Yield 4 cups
Ingredients
1 large egg white
1/2 cup sugar
1t cinnamon
1t ground cumin
1t cayenne pepper
1 t salt
4 cups pecans
Instructions
In a medium mixing bowl combine the egg white, sugar and spices and mix well. Add the pecans and toss to coat all of the nuts evenly. Line a 9 X 20 sheet pan with parchment paper or foil, very important, if you don't you will never get the pan clean. Bake in a preheated 225 degree oven for 40 minutes. Let cool and gently pull the pecans off the foil. Store in an air tight container or zip lock bag. These will keep for a couple of weeks.
Notes
You can  use any kind of unseasoned nut that you like. I have done these with walnuts and/or cashews as well. I just seem to like the pecans best.
Courses Appetizer