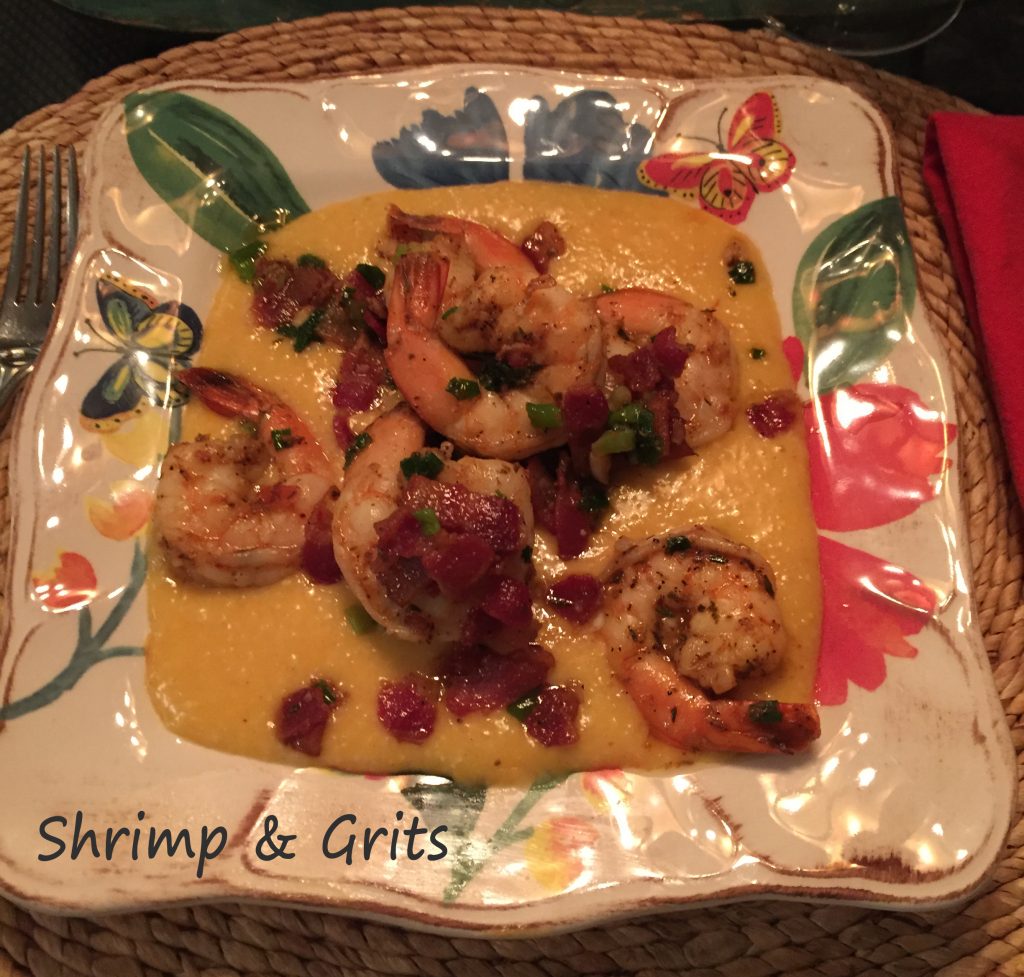 Several years ago I was watching the food channel and I believe Bobby Flay was the host of this show where he would visit regular people's houses and have them show him their favorite recipes. Anyway, he was in South Carolina and this woman was showing him her standby Sunday Dinner, Shrimp and Grits. She made it with cheese grits and sauteed the shrimp with bacon and green onions. It sounded absolutely wonderful and I never forgot it. Now, my husband hates grits (his loss) so I have waited years to try this recipe and by the time I got around to it I could just remember the basics. So, it was time to invite the girlfriends to dinner to help me eat all of this and get creative.
My Aunt Marie had a recipe for cheese grits that is a family favorite, you bake it up in a casserole with beaten egg whites so it bakes up really fluffy almost like a souffle'. Well, that was just too much trouble for an easy weeknight meal so I stole the seasonings from her recipe and just made them on the stove top. Then I decided to use my favorite Paul Prudhomme's Seafood Magic to season the shrimp and give them a little extra kick and added some minced garlic. In less than 30 minutes dinner was on the table.
This is a really simple and fast weeknight dinner that is suitable for company.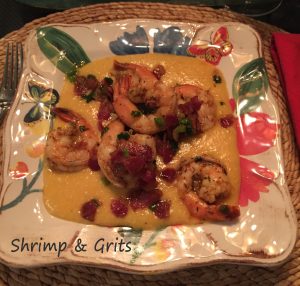 Print
Shrimp and Grits
Yield 4 Servings
Ingredients
For the Grits:
3/4 cups quick cooking grits
3 cups water
10 oz shredded sharp cheddar cheese
2t Lowery's Seasoning Salt
1t Worcestershire  Sauce
1/2t A1 steak sauce
For the shrimp:
8 slices bacon
1 1/2 lbs shrimp
1 bunch green onions sliced
2 cloves garlic minced
2t Paul Prudhomme's Seafood Magic
Instructions
Slice bacon into 1/4 inch strips and brown in a skillet until crispy, remove and set aside.
In a medium sauce pan bring the water to a boil and while stirring add the grits, stir occasionally until thick (about 5 minutes).  Add remaining ingredients and mix well, cover and set on a burner on the lowest setting to keep warm.  You may need to stir occasionally to keep them from sticking to the bottom.
Season the shrimp with the Seafood Magic and add it to the skillet  with the bacon drippings (There isn't any butter in the grits so you will want the fat from the bacon) and  sauté' over medium heat until they start to get pink, add garlic and chopped green onion to the skillet and continue to sauté until shrimp is cooked through. Add bacon back to the skillet.
To serve spoon cheese grits onto a plate or shallow bowl and spoon shrimp mixture over the grits.
Courses Dinner