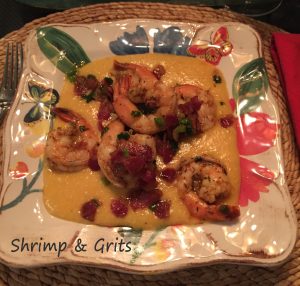 Shrimp and Grits
Yield 4 Servings
Ingredients
For the Grits:
3/4 cups quick cooking grits
3 cups water
10 oz shredded sharp cheddar cheese
2t Lowery's Seasoning Salt
1t Worcestershire  Sauce
1/2t A1 steak sauce
For the shrimp:
8 slices bacon
1 1/2 lbs shrimp
1 bunch green onions sliced
2 cloves garlic minced
2t Paul Prudhomme's Seafood Magic
Instructions
Slice bacon into 1/4 inch strips and brown in a skillet until crispy, remove and set aside.
In a medium sauce pan bring the water to a boil and while stirring add the grits, stir occasionally until thick (about 5 minutes).  Add remaining ingredients and mix well, cover and set on a burner on the lowest setting to keep warm.  You may need to stir occasionally to keep them from sticking to the bottom.
Season the shrimp with the Seafood Magic and add it to the skillet  with the bacon drippings (There isn't any butter in the grits so you will want the fat from the bacon) and  sauté' over medium heat until they start to get pink, add garlic and chopped green onion to the skillet and continue to sauté until shrimp is cooked through. Add bacon back to the skillet.
To serve spoon cheese grits onto a plate or shallow bowl and spoon shrimp mixture over the grits.
Courses Dinner
Recipe by Marie Cooks at http://www.mariecooks.com/date-night/shrimp-and-grits/