What do you do when Tony Tomato calls and says he has 20lb's of fresh spinach, you send out a blast email to the Cook Book Club and tell them you'll divide it up and put it on the front porch for them to pick up. Just because we're practicing social distancing doesn't mean we can't share the wealth and eat well.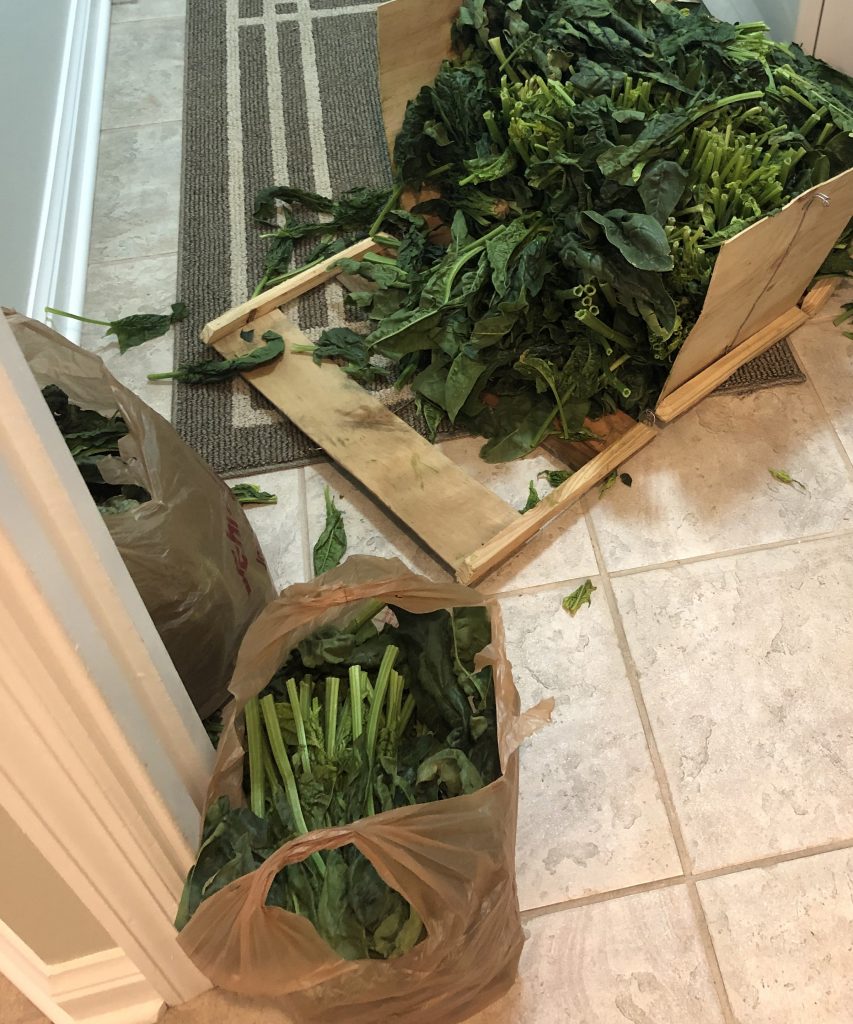 After all 20lb's of spinach is a lot of spinach. I got 7 grocery sacks full of this beautiful stuff and my first recipe is an old favorite, Spinach Salad with Warm Bacon Dressing.
Everyone knows bacon and spinach just go together and when you put that warm dressing on the salad the spinach leaves start to wilt and get soft and luscious.
I've made this warm dressing for years and tried several different versions. Sometimes I would use celery seed and dried basil and marjoram, to give it a bit of a kick but this version is my favorite. When you add the shallots to the vinegar they do a sort of quick pickle. You get the flavor without the harshness of the raw onion. Very simple and oh, so good.
If you don't have a shallot use a little bit of onion, preferably red it will be close enough. I do recommend that you use sherry or tarragon vinegar for this recipe if at all possible, they seem to work best.
This salad makes a great side dish or a main course, just top it with a bit of chicken breast or shrimp and you got a full meal.
Spinach Salad with Warm Bacon Dressing
Ingredients
For The Salad
1/2

lb

Fresh Spinach

about 8 cups

2

Hard Boiled Eggs

sliced

12

Cherry Tomatoes

halved

1/2

English Cucumber

quartered and sliced

3

Slices

Thick Cut Bacon

sliced and browned
For The Dressing
Rendered fat from your bacon

3

tbsp

Brown Sugar

4

tbsp

Sherry Vinegar

1

Shallot

Thinly sliced

Salt and pepper to taste
Instructions
In a small skillet cook your bacon until nicely browned, remove from the pan and set aside. Assemble your salad ingredents. To your bacon drippings add the brown sugar, viegar and salt and pepper. Then add the sliced shallot and let it simmer in the dressing for several minutes until it gets soft. Pour the hot dressing over the salad, toss and serve.