Here's a good old fashion Southern classic, Succotash. I already know what you're going to say, "Lima Beans, Yuck!" Well, you've just never had them like this before. I have served this to some of the pickiest eaters I know and they have all loved it. The smokiness of the bacon,( I mean really doesn't everything taste better with bacon) the sweet corn, onion, garlic. Mix it all together and it just doesn't get much better.
The trick to this is the way you cook it. I'm sure you've had Lima beans before that are tasteless and kind of waxy in texture. I know I have and I'm not a fan, but I figured out how to cook them so that they come out soft and creamy instead of dry and waxy. First of all use frozen Lima beans, then you have to cover them with water and cover the pan and let them do their thing for about 15 minutes until the water has evaporated and they loose will that dry waxy texture. I try to keep them at a gentle simmer because if you get them boiling too fast the water will evaporate before the beans soften. Sometimes this is easier said than done especially if your in a hurry. I always give them a taste and if they are still kind of waxy I add a bit more water and let them cook for a few more minutes.
Next time your at the store grab a bag of frozen Lima beans when you grab that bag of frozen corn and make a new and different side dish that your family will love.
Succotash goes great with a pork chop, or chicken and it will cook up in the time it takes to cook your meat. It's a hearty and satisfying side dish for a cold winter night.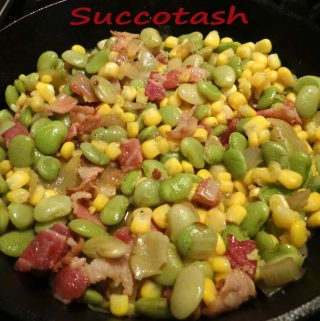 Succotash
Ingredients
6

slices

Bacon

1

cup

Onion

chopped

1-2

cloves

Garlic

about 1 tbsp

2

cups

Lima Beans

Frozen

2

cups

Corn

Frozen

1

pinch

Red Pepper Flakes

optional
Instructions
Slice bacon into 1/4″ strips and brown over medium heat in an 8″ skillet until crispy. Remove from the pan and set aside. Add chopped onion to the pan and saute until it starts to get soft, about 5 minutes then add the garlic and continue to cook for another minute. Don't let it burn. Add the Lima beans and just barely cover with water, cover and simmer for about 15 minutes until the water has evaporated. Give the beans a taste and if they still have a waxy texture to them add a bit more water and continue to simmer for a few more minutes. When the Lima beans are soft add the corn and red pepper flakes, (if desired) along with the cooked bacon and heat to serving temperature. Season with salt and pepper to taste and serve.

Notes
Wait to add the salt until the very end of the cooking process. Salt has a tendency to break down the beans and if you add it during the cooking process you may end up with a big pot of mush, and that is not what you want.