Another cold snowy day, another bowl of stick to your ribs goodness. When it's freezing outside there is nothing better than a hearty bowl of Poblano Corn Chowder. The heat from the chili's and the sweet corn are the perfect combination. Garnish with a sliced green onion and a bit of cilantro and dig into a soup that will warm you to your toes.
This soup comes together in about 45 minutes and in my house it's a pantry staple as I almost always have the ingredients on hand.
I have grown to love Poblano Peppers. They're the mild cousin to Jalapenos and they add such a wonderful flavor to soups, stews and sauces. The great thing about them is that like Jalapenos you can freeze them. Yep that's right, take them straight from the store to a zip lock bag and pop them in the freezer. Then, when you want one, take it out, run it under some warm water for a minute or so and dice. They're a wonderful freezer staple to keep on hand for when ever the mood strikes you. So much better than canned chilies, the flavor doesn't even begin to compare.
Like Jalapenos, Poblano peppers can and will vary in heat. We had friends over for dinner a year or so ago and the husband made Jalapeno poppers. His wife and I took one bite and started coughing. They were so hot we simply couldn't eat them. I swear they were the hottest jalapenos I had ever had. So remember, when working with Poblano's to take a taste of the pepper before you start cooking so you know what you're getting yourself into. This time around my Poblano was very mild. So much so that I added a pinch of chili flakes to give my soup a bit more kick. Sometimes I get one that is pretty hot and end up using only half the pepper instead of the whole thing. So, give it a taste and use your own judgement.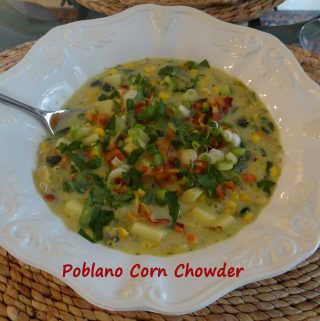 Poblano Corn Chowder
Ingredients
4

Slices

Bacon

1/4

Large

Onion diced

about 1/2 cup

1

Stalk

Celery diced

about 1/2 cup

1

Large

Carrot diced

about 1/2 cup

1

Medium

Poblano Pepper diced

1

Large

Potato diced

about 1 1/2 cups

1

cup

Water

1

tsp

Chicken Soup Base

1 1/2

tsp

Ground Cumin

1

tsp

Oregano

1

14.75oz can

Creamed Corn

1

cup

Frozen Corn

1

pinch

Red Pepper Flakes

optional

1/2

cup

Condensed Milk or Half & Half
Instructions
Cut bacon into 1/4″ slices and brown over medium heat in a 5 quart sauce pan. When nicely browned remove from the pan, drain on a paper towel and set aside. While the bacon is browning chop up your vegetables. When you have removed the bacon from the pan add the carrot, celery, onion and pepper with a pinch of salt and saute until they start to become soft, about 8-10 minutes. Add the potatoes and and stir to incorporate them with the rest of the vegetables. Add water, chicken soup base, oregano, and cumin. Cover, bring to a boil and cook until potatoes are tender. About 10-15 minutes. Give the potatoes a bit of a mash with a large spoon to break them up a bit and thicken your chowder.
Add creamed corn, frozen corn, milk and season to taste with salt, pepper and red chili flakes if desired. Bring up to serving temperature and garnish with the cooked bacon, sliced green onion and cilantro.