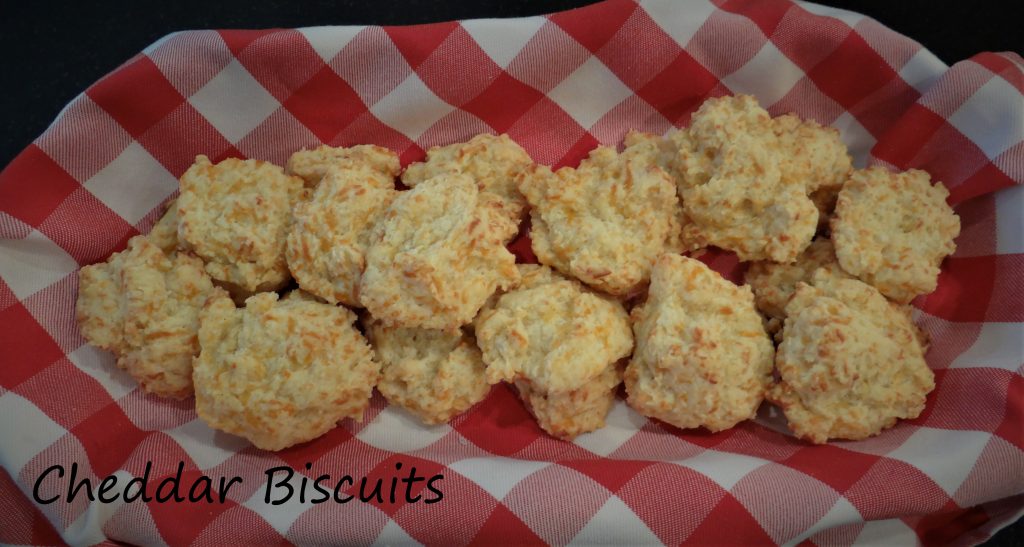 Family recipes are just the best. We attended a wine tasting over the weekend and were asked to bring appetizers. My first thought was Mom's Cheddar Biscuits. They're easy to make and make ahead and they travel well. These will be  are perfect for a wine tasting, after all it is supposed to be about the wine. Having said that you still need food and the Cheddar Biscuits will be a good compliment to the wine without overpowering it. I dug through Mom's recipe box but for the life of me I could find the recipe so, I called my sister. Sure enough she had it, snapped a picture and sent it to me. Along with a note that read "You need to spice them up a bit or they will be dull as dishwater, season salt or Cavander's Greek seasoning. This is a typical Pat Meyer recipe…..you know how it goes." Mom was notorious for adding a bit extra to a recipe and then forgetting to tell you when she passed it on. These are really great and very versatile.   You can change this recipe around very easily, Mom would sometimes add crumbled sausage to them for Sausage Cheddar Biscuits. You could add Italian cheese blend, a little garlic powder, basil and oregano for Italian Cheese Biscuits. The combinations are only limited to what you have on hand and your imagination. I hope you will try them.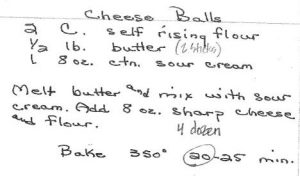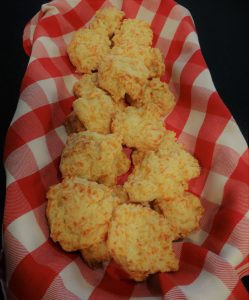 Print
Cheddar Biscuts
Yield 48 Biscuts
Ingredients
2 cups self rising flour
1/2 lb butter (2 sticks)
8 oz sour cream
8 oz sharp cheddar cheese
1 1/2 t Lawrys Seasoned Salt
Instructions
Melt butter and mix sour cream, cheese and seasoned salt into it, slowly mix in the four. Drop on a sheet pan like you would cookies. Bake at 350 degrees for 20-25 minutes.
Notes
You can change this around by changing the cheese and seasoning. Substitute Paul Prudhommes Seafood Magic  for the seasoned salt for a Cajun twist or use Italian cheese blend and garlic salt for an Italian flair.