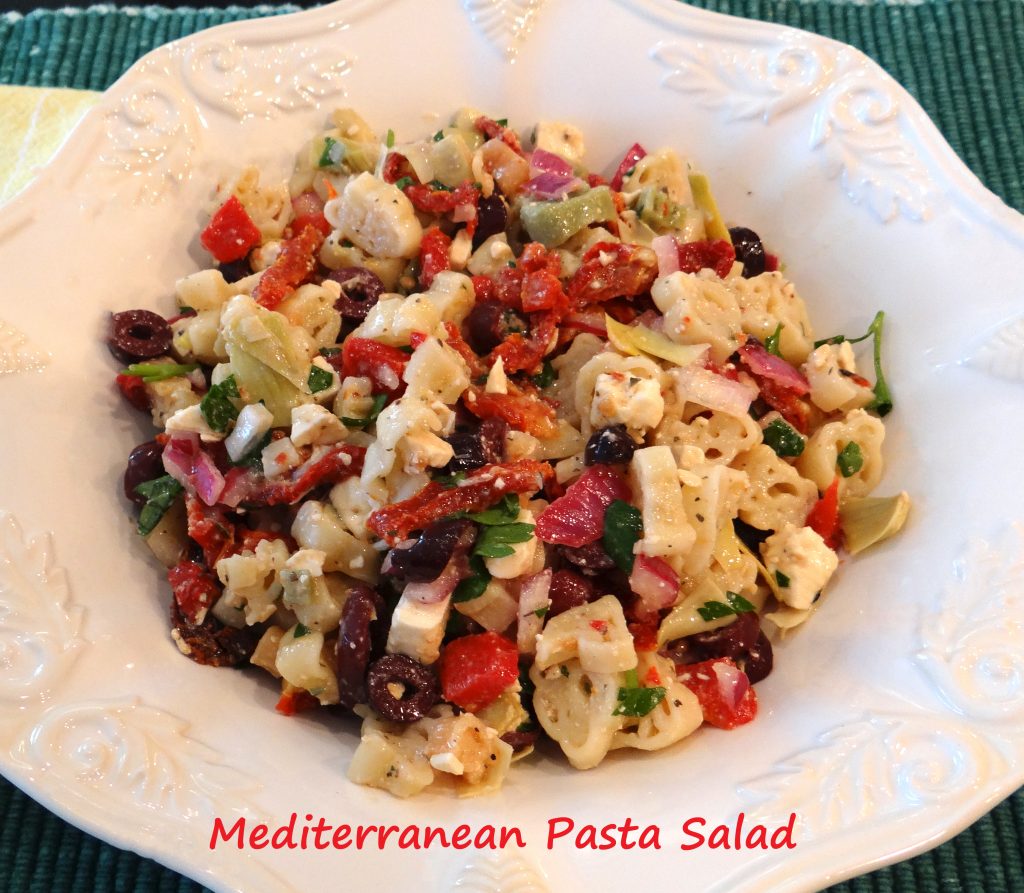 It's circus week at our house. My husband is a Shriner and every year the biggest fund raiser they have for the hospitals is the Circus. It costs $28,260 per minute to fund the children's hospitals in the Shriner's Network. That comes out to almost a Billion Dollars a year, so as you can see this is a big deal for us. However, being a Shriner means that along with the work comes a good amount of fun. Over the next 3 nights there will be Pot Luck Suppers, Barbecue, Wine Tastings and all kinds of fun with the gang in between working the circus.
My husband came home last week and told me that he had signed me up to bring Pasta Salad for the Pot Luck Supper on Thursday. Now I have never been a big fan of Pasta Salad. I don't know, it just seems to be carb heavy and kind of tasteless, if you know what I mean and I certainly didn't want that. So what was I going to do? I looked at recipes and didn't really find anything that sounded good and finally decided that I would go with a Mediterranean theme and just wing it. I decided that once again instead of making a dressing I would use what I had in the pantry. I mean really, why reinvent the wheel when you have the perfect thing in the cabinet. If you can't find Vivienne's dressing in your location any good Italian dressing will work.
I set off to "The Hill" for provisions. This is the Italian area of St Louis where they have all these great Mom & Pop shops mixed in amongst a plethora of fabulous Italian restaurants. These little stores have some of the best deals in town on everything Italian. Olives, Artichoke Hearts, Sun Dried Tomatoes, you name they have it and at about half the price you would pay for it in the grocery store. I make a "Hill Run" about once a month to pick up my staples. I was looking for some kind of interesting pasta when I came upon a bag of Zoo Animal Pasta and thought, Well, isn't that's just the ticket. Animal shaped pasta for the circus, Perfect!
Time to get cooking………
Mediterranean Pasta Salad is light and tasty with loads of good stuff in it. For the perfect summer supper add some chicken and you have a complete dinner in a bowl.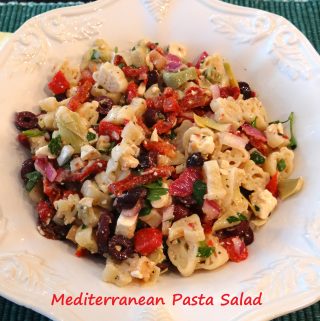 Mediterranean Pasta Salad
Ingredients
1

Medium

Red Onion

1

7oz Jar

Sliced Kalamata Olives

1

16 oz Jar

Roasted Red Peppers

2

14 oz cans

Quartered Artichoke Hearts

Not marinated

1 1/2

cups

Julienned Sun Dried Tomatoes

In a pouch not packed in oil

2

6 oz packages

Tomato & Basil Feta Cheese Crumbles

1

bunch

Flat Leaf Parsley

2

14 oz packages

Pasta

1

12 oz bottle

Vivienne Romano Cheese Salad Dressing
Instructions
Chop the red onion into fairly large pieces, about 1/2″ X 1/2″ place in a small bowl and cover with any kind of inexpensive vinegar (White or Cider) and 1 tbsp salt. Let this sit for about 30 minutes while you prepare everything else. This will take the sharpness out of the onion.


Get the water heating up on the stove with 3 Tbsp salt. When it comes to a boil add your pasta and cook for 10 minutes.

In the mean time drain the olives and add to a large bowl. Drain and slice the red peppers into 1/2″ pieces. Drain the Artichokes and 1/4 the 1/4's. Drain and rinse the onions to remove any excess vinegar. Chop the parsley and add to the bowl with the onion, red peppers, artichokes, sun dried tomatoes, and feta cheese. Once the pasta is drained and cooled add to the bowl with the Vivien Salad Dressing and toss to combine.

Cover and refrigerate for several hours to let the flavors blend.