It was my turn to host Bunco again last week and I decided that this time around I would make a bunch of different dips. It seems that these ladies don't really eat food at Bunco but they do love to snack and what's a better snack than Chips & Dip? Nothing that I can think of. So for this months Bunco night "It's all about the Dip."
I wanted to make this a bit of a retro theme, so I dug through Mom's recipe box and found her old recipe for Clam Dip. I don't know where this recipe came from, it's simply scribbled on an index card in her recipe box, and at this point I have no idea where she got it. But I do remember her making this as a kid back in the sixty's and I loved it. Serve it with Ritz crackers or Ruffles potato chips with ridges, take a bite and step back in time. I don't know why no one seems to make this anymore. It's an oldie, but it's a goodie.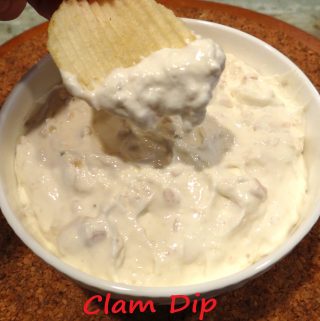 Clam Dip
Ingredients
1

7 oz can

Minced Clams

1

tsp

Finely Minced Onion

1/2

tsp

Salt

6

oz

Cream Cheese
Instructions
Drain the clams reserving the broth in the can. In a small bowl combine 2 tbsp of the clam broth with the clams, onion, salt and cream cheese. Mix well and refrigerate for several hours before serving so that the flavors blend well.
Serve with Ritz Crackers or Ruffles Potato Chips.

Notes
Whipped cream cheese is the best thing to come along since sliced bread. So much easier than waiting for the cream cheese to warm up enough to be able to blend it. I highly recommend that you try it for this recipe instead of regular cream cheese.
Next I wanted to try my hand at French Onion Dip. We've all had the one that you make with Knorr French Onion Soup Mix and Sour Cream, but I wanted something a bit more special than that. So I looked at several different recipes, took note of the ingredients and added a few of my own because I wanted a richer almost meaty flavor to mine and this is what I came up with. Pretty good even if I do say so myself.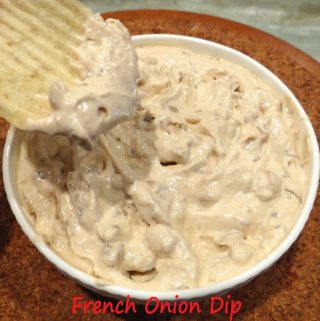 French Onion Dip
Ingredients
1

Medium

Onion chopped

about 1 cup

2

Cloves

Garlic Minced

1

tbsp

Butter

1

cup

Sour Cream

1/2

cup

Cream Cheese

softened

1

tsp

Worcestershire Suace

1

tsp

Kitchen Bouquet

or Maggi Seasoning

1

tsp

Beef Soup Base

1

tsp

Salt
Instructions
Chop your onion in a fine dice, about 1/4″ pieces. In a small pan melt the butter on medium low heat and saute the onion until tender and caramelized. You want it to be brown around the edges but not burned. This will take about 20 minutes, stirring occasionally. A couple of minutes before you take the onions off the heat add the garlic and let it sweat for a minute or two. Remove the onion and garlic to a small bowl and let it cool.

In the mean time, in another small bowl mix together the Sour Cream, Cream Cheese, Worcestershire Sauce, Kitchen Bouquet, Soup Base and Salt. When the onions have cooled down mix them in with the sour cream mixture and refrigerate for several hours before serving to let the flavors blend.

Serve with Ritz Crackers and/or chips.

Next up is my favorite Guacamole. I swear I could eat this by the pound if my waist line would let me. I simply LOVE Avocados. As it just so happened they had avocados on sale at the store for $1, can you believe my luck, so I grabbed 3 of them on my way out. As it turns out I was not so lucky, every single one of them was black when I cut into it. Don't you just hate it when that happens. Here I had my heart set on Guacamole and not a single avocado was fit to eat. So, I did the only thing I could , grabbed my keys and back to the store I went. This time I walked past the ones on sale and splurged on the bigger ones. Not the great big ones with the smooth skin but the in-between ones. For the amount I was going to make two this size should be plenty.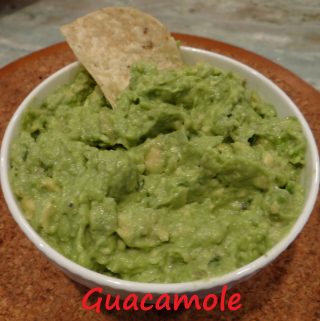 Guacamole
Ingredients
2

medium

Avocados

2

Green Onions

1/2

Jalapeno Pepper

2

tbsp

Lemon Juice

1/2

tsp

Salt
Instructions
Peel and mash the avocados. Mince the green onion. Remove the seeds and mince the jalapeno pepper and add to the avocado with the onion, salt and lemon juice. Mix well and refrigerate for several hours before serving.

Notes
Depending on your taste and the heat of the pepper you have you may want to use a whole Jalapeno Pepper.
When storing in the fridge, place the plastic wrap right down on top of the guacamole, sealing it off from any air that might be in the dish. This will keep it from browning until you are ready to serve. Lemon juice helps, but this works best.
You know, the best part of all of these recipes is that you can make them ahead, pop them in the fridge and pull them out right before your guests arrive. So next time you have a group to entertain remember…."It's all about the dip."