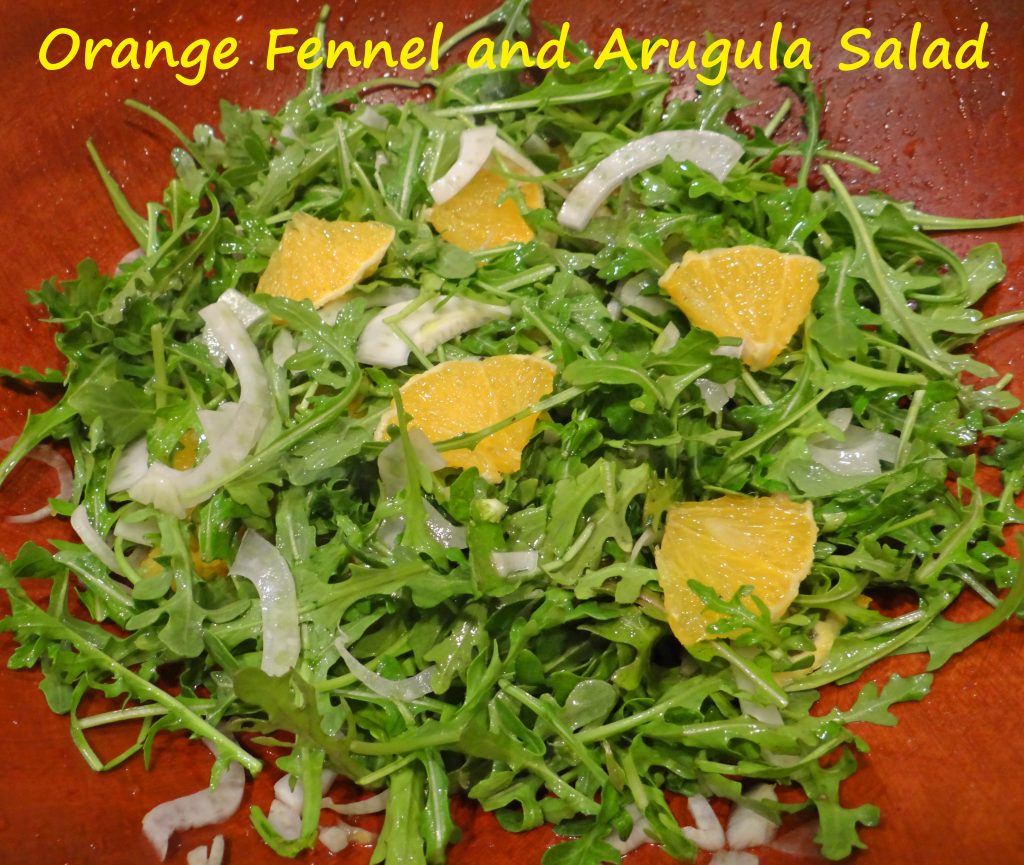 I don't remember where I saw this recipe, but I do remember thinking that it looked like a wonderful and different combination of flavors and that it was defiantly one that I was going to have to try.
Winter salads are a challenge, the veggies that are available are few and far between and just not the quality that you find in the summer. Let's face it the tomatoes and cucumbers you do find in the grocery store are iffy at best. This is the time I like to branch out and try something different. Citrus is in abundance and it's bright crispness is a wonderful compliment to the heavier fare we tend to go for in the winter.
Orange and fennel salad with arugula is just the ticket when you are looking for something different this winter. The fennel has a crunchy texture almost like celery but with a tiny bit of licorice flavor to it that goes perfectly with the sweetness of the orange, while the arugula brings a depth of spice to the mix with it's slightly peppery flavor.
The original recipe called for blood oranges. You know the ones that have a reddish tint to the peel and when you cut into them the pulp is a gorgeous deep red color. I can find these during the winter months but they are best in the very early winter, before they have been sitting around for a couple of months. Later in the winter they tend to be smoochy and on the verge of drying out. For some reason they just don't keep as well as navel oranges. For that reason I tend to use a good old fashion navel orange in this recipe they taste just the same, the only difference is the color. If you can find a good blood orange go for it. The bright red color is a nice addition to the salad.
The original recipe, as I recall, also had a recipe for a dressing, but being the lazy person that I am I opted to go with my favorite standby. I mean really why make your own when you have the perfect dressing in the fridge. As I have said before this dressing is good on almost anything, so next time your at the store pick some up, you won't be sorry.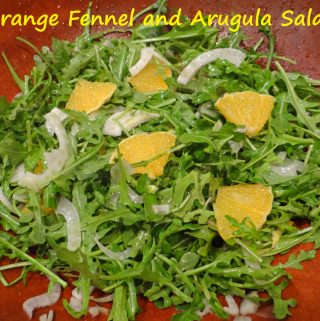 Orange and Fennel Salad with Arugula
Ingredients
2

Small

Navel Oranges

1

Head

Fresh Fennel

5

oz

Baby Aruglua

About 4 cups

2

tbsp

Hendrickson's Sweet Vinegar and Olive Oil Dressing
Instructions
Peel and slice the oranges in quarters. Cut the bulb from the fennel, then cut in half and cut the core out. Lay cut side down and slice as thinly as you can, then cut the slices in half. Add the orange and fennel to a bowl, top with the Arugula and dressing and toss to mix well.