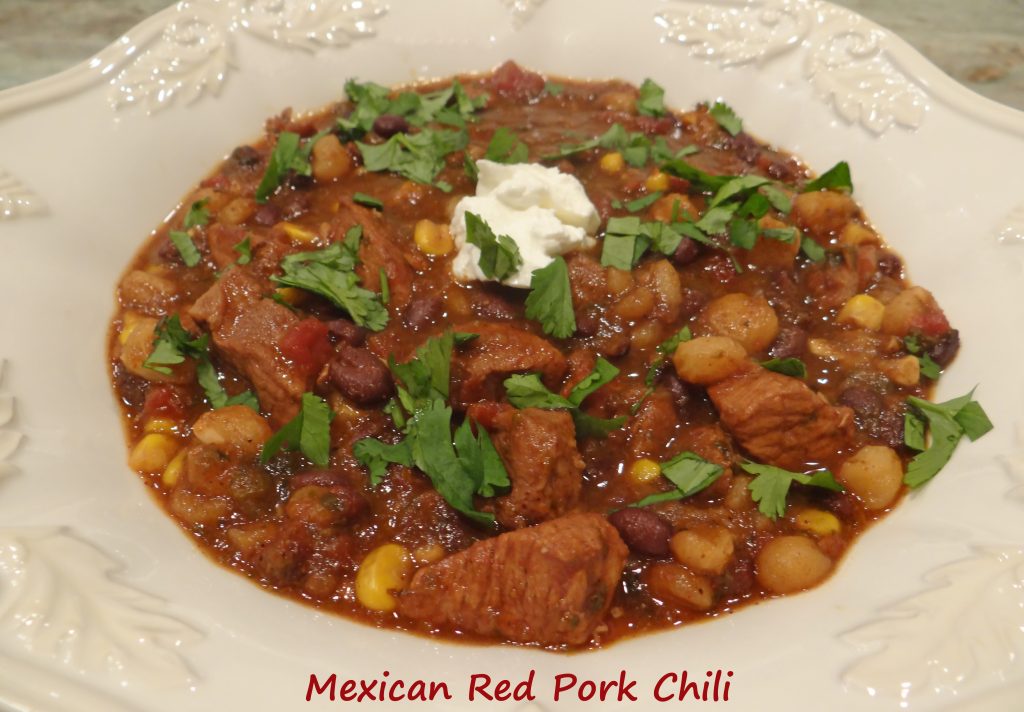 Is there anything better than a big bowl of chili on a cold snowy day? I don't think so, and Mexican Red Pork Chili is just the ticket.
My husband is world famous for his chili and as many times as I have watched/helped him make it I still can't quite get it right. I stopped trying years ago. The only problem is that his chili takes literally all day to make and makes enough to feed an army so it's something that only comes around about once a year. I was craving chili but knew I would have to come up with something completely different or risk comparison. That's how I came up with Mexican Red Pork Chili.
I was at the store and they had pork cutlets on sale and I thought, why not pork would be good in chili. So I bought a couple of packages. Then as I was roaming the isles I saw hominy and thought, that's just what this needs, that and some black beans and some corn. Oh yea, this is gonna be good. I picked up some sour cream and cilantro and headed home to start cooking.
Hominy is not something I use very often. I really only have one recipe that calls for it, but it has an interesting texture and flavor unlike anything else. It's basically corn that has been soaked in a lime solution to loosen the tough outer layer and what you get is a puffy, chewy kernel that tastes more like corn meal then fresh corn. It's hearty and just perfect for this recipe.
I used what I call a pork cutlet for this recipe, because it's not a chop and it's not a steak, but sliced up pork butt and it's cheap. You can use almost any cut of pork you want for this and a small piece of pork butt would work perfectly as well as a pork loin if that is all you can find. A tenderloin is too delicate for this recipe, so I would save that cut for another use.
This is one that you can dump in the crock pot before you leave for work and just let it stew all day long, then when you get home add the hominy, beans and corn and bring it back up to temperature before serving. Add some corn bread or tortilla chips and your all set. So, how's that for an easy weeknight meal on a cold day?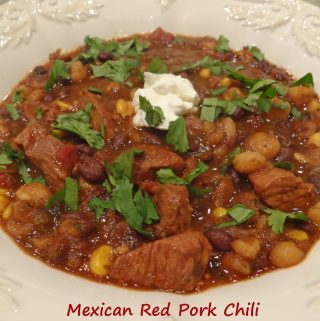 Mexican Red Pork Chili
Ingredients
2

lbs

Pork cut into 1″ cubes

Pork butt or pork loin works best

1/2

Large

Yellow onion chopped

about 1 cup

3

cloves

Garlic minced

about 1 1/2 tbsp

1

Pablano pepper seeded and diced

1

Jalapeno pepper seeded and diced

1

14.5 oz can

Diced tomatoes

1

14.5 oz can

Chicken Broth

3

tbsp

Williams Chili Seasoning

1/4

tsp

Red Pepper Flakes

Optional

1

tsp

Oregano

1

14.5 oz can

Hominy

1

14.5 oz can

Black Beans

1

cup

Frozen Corn
Instructions
Cut your pork into 1″ cubes and season with 1 1/2 tbsp Williams Chili Seasoning. Brown seasoned pork in about 3 tsp olive oil. You may have to do this in batches. Remove from the pan and set aside. Add chopped onion, pablano and Jalapeno to the pan and saute until onion starts to get tender, about 8 minutes. Add the garlic and continue to cook another minute or so. Add the meat back to the pan with any juices along with the tomatoes, chicken broth, oregano and the remaining 1 1/2 tbsp Williams Chili Seasoning. Bring to a simmer, cover and cook for at least 2 hours until the pork is fork tender.
Drain the beans and hominy and add them to the pan with the frozen corn and bring up to serving temperature.
Garnish with chopped cilantro, sour cream, avocado and/or Queso.

Crock Pot Method
Follow instructions above, set crock pot on Med High and let it go for 6-8 hours instead of simmering on the stove. Then add the final ingredients and bring back to serving temperature.