Last night my friend Kathy and I  enjoyed the rare occasion to get together, just us girls, and a nice bottle of Pinot Greigo. No husbands, just us, time catch up on the family, work, travel etc.  I didn't want to spend hours and make a huge mess, I wanted something fast and easy but GOOD. I decided to go with one of my favorites. Mushroom and Leek Frittata. It's easy, one pan and delicious. Throw together a nice green salad and you have the perfect meal for girls night.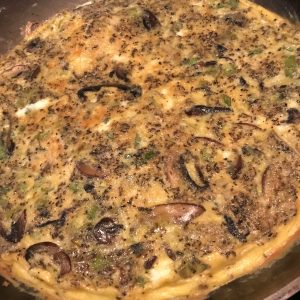 Print
Mushroom and Leek Frittata
Yield 2 servings
Ingredients
6 eggs
2 medium leeks
8 fresh mushrooms
1t dry basil
1/2 cup shredded Italian cheese blend
1/2t salt
1/4t black pepper
1T oil (olive oil, butter, bacon grease, any of these will work.)
Instructions
Clean and slice your leeks. You only want to use the white and light green part of the leek. Leeks are full of sand and dirt and you have to wash them well. The easiest way to do this is to cut off the dark green part and the root on the bottom, then slice the leek lengthwise and run under water opening it up to get into all the layers. Then slice horizontally in about 1/4" slices.  Slice your mushrooms. Use an oven proof skillet, add the oil and let it get hot, then add the leeks and mushrooms along with the salt and pepper. Saute over medium/high heat until the mushrooms have browned and the leeks are soft. While this is cooking, beat your eggs in a large bowl and add the basil and cheese, and set aside. When your leeks and mushrooms are soft turn the heat on the skillet down to medium/low. Temperature is import on this one. You don't want the bottom to burn. Low and slow is key here. Add the egg mixture and stir to incorporate the mushrooms and leeks and then leave it alone. Turn on the broiler and get it hot while the eggs are cooking. When the eggs have set around the edges but the still have a bit of wiggle to them (about 8-10 minutes) put the skillet under the broiler on the 2nd to the highest self setting, and let it finish cooking the top. This will take a couple of minutes. When golden brown and puffy poke it to make sure it is firm in the middle if it is, take it out of the oven, if not let it go another minute or so. Slice into wedges to serve.