Who doesn't like stuffed Pork Chops? They're just the best on a cold winter evening, but really, who has the time. Here's an easy way to put a great dinner on the table in a little over an hour.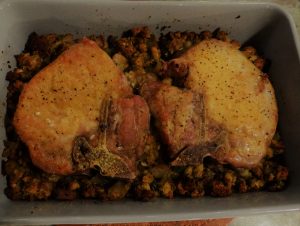 Print
Baked Pork Chops & Stuffng
Yield 4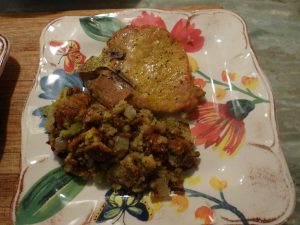 Ingredients
4 pork chops
1 package stove top stuffing mix (I use cornbread)
1/2 onion chopped
1 stalk celery chopped
2T butter
1 1/3 cup chicken broth
1/2t rosemary
1/2t dried sage
Instructions
In a medium sauce pan melt the butter and saute the onion and celery until tender, about 10 minutes. Add the rosemary, sage and chicken broth. (1 1/3 cups is not quite 1 can of broth. Don't follow the package directions here, the pork chops will let off some moisture and if you use the full 1 2/3 cups your stuffing will be mushy and yucky.) Add the contents of the stuffing package and stir just enough to moisten the bread crumbs. Spay your casserole dish with cooking spray (or you will never get it clean) and put the stuffing in the bottom of the dish and lay the pork chops on top. Season the chops well with Lemon Pepper and bake in a 350 degree oven for 1 hour.
Notes
You can get really creative with this recipe if you want to.  Add chopped Apple and Pecans, or Artichoke Hearts and Parmesan cheese to give it a special twist.
Note: I have tried this with chicken breasts and it doesn't work well. There is just way too much water in the chicken you buy at the store and when you bake it the stuffing gets mushy and doesn't brown up nicely.