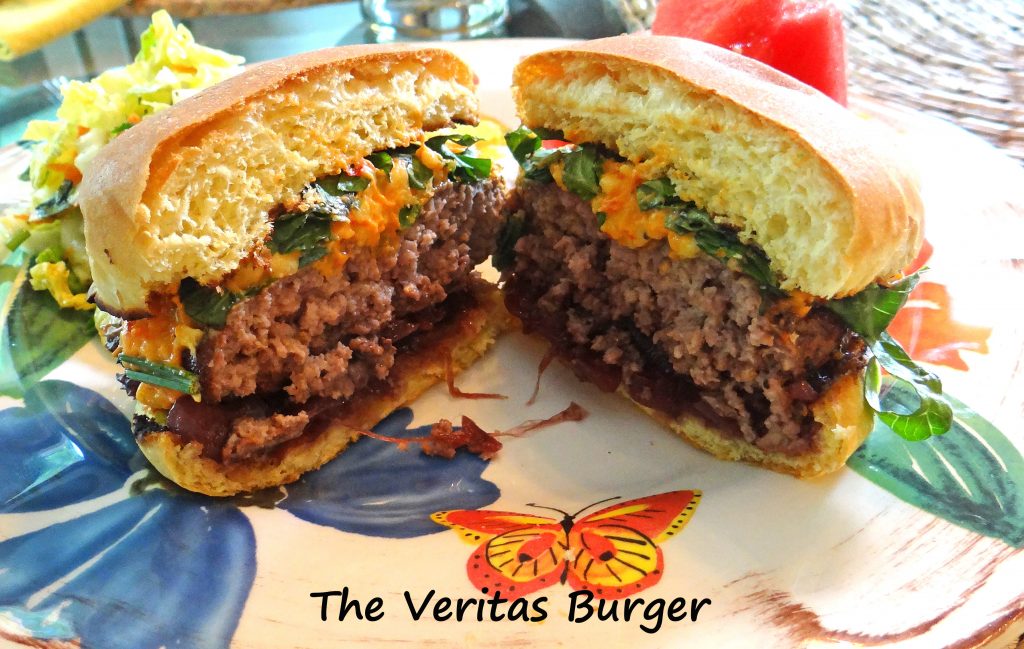 Several of our friends had recommended a new restaurant in west county, Veritas. Both of them claimed that they had the best burger in St Louis, so my husband and I decided to give it a try. We weren't disappointed, the burger was fabulous. They give a unique twist to your regular ol' burger toppings. On the bottom bun they put a layer of Red Onion Garlic Jam, followed by the burger, with a generous slather of Pimiento Cheese and topped it off with some micro greens. The sweetness of the Red Onion Jam combined with the saltiness of the Pimiento Cheese was just wonderful. I found myself once again thinking, I can do this. I've made Red Onion Garlic Jam for years, it's supper easy and goes well with steak or pork chops. I had just never thought of using it on a burger, until now. And then there was the Pimiento Cheese, I have no doubt that they made theirs from scratch and it was wonderful, but knowing that you can buy it at the store I decided to take the easy way out and not try to make my own.
We had a some of friends over for the 4th and I decided it was time to try out The Veritas Burger. Off to the store I went in search of all the fixings. Ground chuck, good bakery buns, and pimento cheese, I had everything I needed for the Red Onion Jam at home, so I was good to go. I got home and put the jam on the stove so it could cook down and realized I had forgotten the micro greens. Shoot, I didn't want to go back to the store so I thought, hey, I have a bunch of fresh basil and parsley in the yard and some lettuce in the fridge, I can use that instead. So I gave the basil a quick chiffonade,(sliced it up really thin) chopped up the parsley and threw in a little chopped lettuce to make my mock micro green mixture. What a great way to use fresh basil. You know they say necessity is the mother of invention and it certainly was true in this case. I had never thought to use fresh basil on a burger before, but it was wonderful, even better than the micro greens. This is one I will do again.
After a few beers, it was finally time to sit down with our burgers, I waited with anticipation as our friends dug in and then agreed that this was the best burger in St Louis. I hope you'll give The Veritas Burger a try the next time your in the mood for a really good gourmet burger, I promise you won't be disappointed.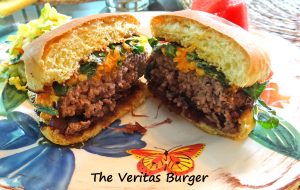 Print
The Veritas Burger
Yield 4 Servings
Ingredients
For the Red Onion Garlic Jam:
1 large red onion
2 cloves garlic
1T olive oil
3T honey
1t salt
1/2 cup red wine
For the Burgers:
2 lbs ground chuck
Salt and pepper to taste.
1 8oz carton Pimento Cheese
1 1/2 cups Red Onion Garlic Jam
4 bakery buns
1 cup micro greens
Instructions
For the Red Onion Garlic Jam:
Cut the onion in half and slice it 1/4" strips so you have a bunch of half moons. Mince the garlic. In a small saute pan add the olive oil, onion and salt breaking up the onion slices into individual half moons and saute for 3-4 minutes until they just start to get soft. Add honey, garlic and red wine to the pan (if you don't have red wine or don't want to use it, use water with a tablespoon of red wine vinegar instead, it won't be quite the same but it will be close enough) and slowly simmer for 20-25 minutes until the onion is really soft and the wine has all but cooked out, it should have an almost goopy consistency like jam.
For the Burgers:
Divide the meat into four patties and season to taste with salt and pepper. Grill to your preferred doneness and don't forget to toast the buns. Assemble by spreading the Red Onion Jam on the bottom bun followed by the burger with a good slather of Pimento cheese on top, then top the whole thing off with a good portion of micro greens.
Notes
The Red Onion Garlic Jam is wonderful on steaks or pork chops and can be made a day or two in advance.
Courses Dinner
Cuisine American