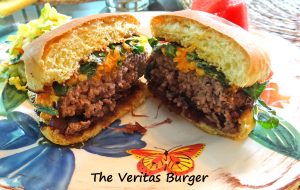 The Veritas Burger
Yield 4 Servings
Ingredients
For the Red Onion Garlic Jam:
1 large red onion
2 cloves garlic
1T olive oil
3T honey
1t salt
1/2 cup red wine
For the Burgers:
2 lbs ground chuck
Salt and pepper to taste.
1 8oz carton Pimento Cheese
1 1/2 cups Red Onion Garlic Jam
4 bakery buns
1 cup micro greens
Instructions
For the Red Onion Garlic Jam:
Cut the onion in half and slice it 1/4" strips so you have a bunch of half moons. Mince the garlic. In a small saute pan add the olive oil, onion and salt breaking up the onion slices into individual half moons and saute for 3-4 minutes until they just start to get soft. Add honey, garlic and red wine to the pan (if you don't have red wine or don't want to use it, use water with a tablespoon of red wine vinegar instead, it won't be quite the same but it will be close enough) and slowly simmer for 20-25 minutes until the onion is really soft and the wine has all but cooked out, it should have an almost goopy consistency like jam.
For the Burgers:
Divide the meat into four patties and season to taste with salt and pepper. Grill to your preferred doneness and don't forget to toast the buns. Assemble by spreading the Red Onion Jam on the bottom bun followed by the burger with a good slather of Pimento cheese on top, then top the whole thing off with a good portion of micro greens.
Notes
The Red Onion Garlic Jam is wonderful on steaks or pork chops and can be made a day or two in advance.
Courses Dinner
Cuisine American
Recipe by Marie Cooks at http://www.mariecooks.com/easy-week-night-dinners/the-veritas-burger/