It's date night again and after all the heavy food we've been eating over the holidays I was having a hard time getting motivated to fix something date night worthy. I was getting ready to make a Costco run and go to the store so I asked my husband what sounded good to him. He said "Well, if your going to Costco pick up some mussels if they have them." I knew this was a long shot in the middle of the week and sure enough they didn't have any. However, to my great surprise when I got to the store they did. Who'd have thunk it. Every once in a while I get lucky. Looks like Mussels in Marinara tonight.
Mussels are one of those things that looks intimidating, but in reality they are very easy to make and cook up really quick. Just perfect for a weeknight supper and just fancy enough for date night.
Here's what you need to know about cooking mussels. Depending on where you buy them they may be cleaned really well or you may have to get your scrub brush out and go to work on them. If your mussels are farmed raised they are usually pretty clean and the beard has been removed, but if they are wild you may have to remove the beard.

The other thing you need to be aware of is that they should be closed if they are still alive. During travel from the store to your house or the process of cleaning some of them may open up. Give them a flick with your finger and if they react and start to close up then they're good, if not you should probably toss them. They don't have to close all they way but they should show signs of movement. Any that don't open during the cooking process should be discarded. If it doesn't open enough to easily access the mussel, you better not eat it. Remember "When in doubt, throw it out" It is not unusual to have several that don't open.

So now that the mussels are clean, put them back in the fridge while you put together the marinara. Once the marinara has come together dump the mussels in and cover it for 10-15 minutes until they have all opened up and you're ready to serve.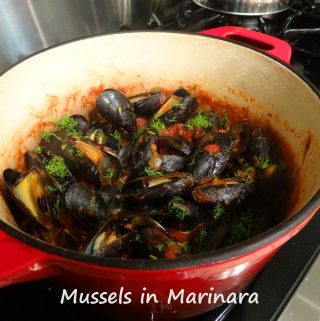 Mussels in Marinara
Ingredients
1 1/2

lbs

mussels

1/2

yellow onion chopped

About 1 cup

2

cloves

garlic minced

about 2 tbsp

1

tsp

basil

1

tsp

oregano

1

tsp

marjoram

1/2

tsp

crushed red pepper

1

14.5 oz can

diced tomatoes

1

14.5 oz can

tomatoes sauce

1

cup

red wine

2

tbsp

light sambuca

optional
Instructions
In a large dutch oven or other large pot, saute your onion in a little bit of olive oil until translucent, about 8-10 minutes. Add garlic and stir to incorporate cooking for a minute or so. Add tomatoes, tomato sauce, wine, spices and sugar and simmer for about 30 minutes to let the flavors combine and let the sauce cook down and get thick.


Add the mussels to the pot and stir to cover in the sauce. Cover and continue to cook for 10-12 minutes until mussels are cooked through and have opened up.

Serve in a shallow bowl with thick slices of garlic bread to soak up the sauce.

Notes
Sambuca is an Italian liqueur that has a licorice flavor. It gives a wonderful depth to this dish as it adds a bit of sweetness and anise flavor without using fennel. If you don't have any or don't like licorice don't use it.