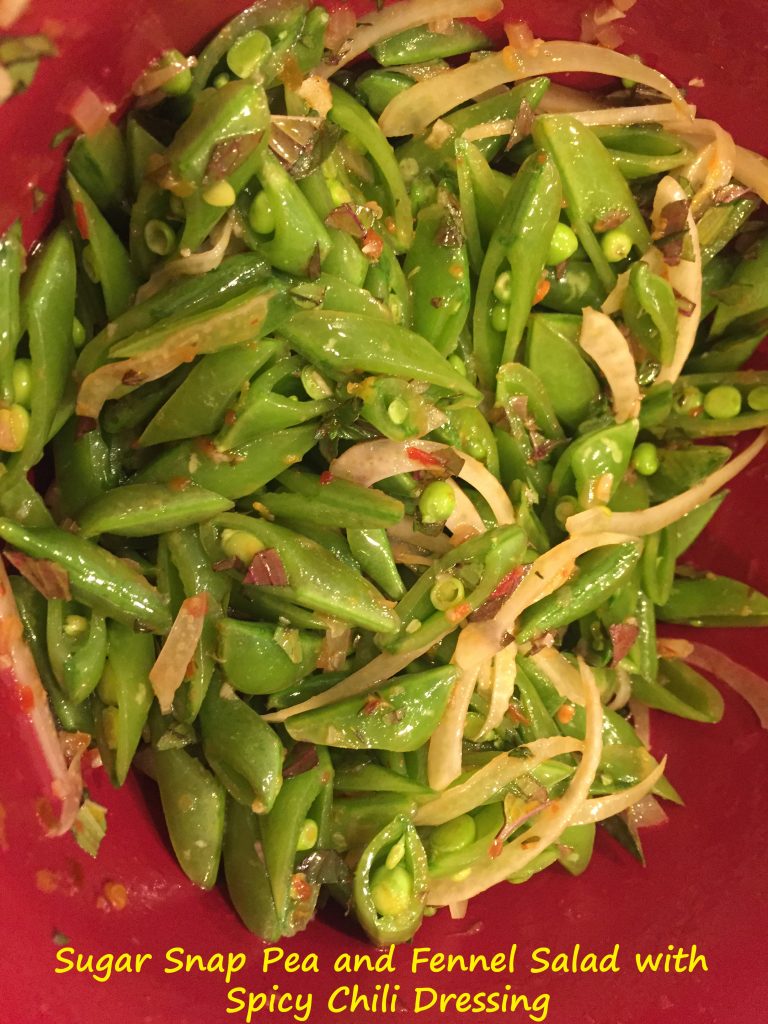 It's been hot, too hot to turn on the oven so I've been looking for fun and interesting salads to go with simple grilled meats and this one is a winner. The peas are sweet and crunchy, the fennel adds slightly licorice flavor, the dressing is spicy and tangy and then comes the explosion of mint, Wow! This salad would be great with almost any kind of grilled meat. I did it with a rack of lamb one Sunday afternoon and it was phenomenal. So bright and fresh and different. It was a great compliment to the richness of the meat. Sugar Snap peas have never tasted so good.
I found the original recipe in the New York Times cookbook, by Kim Severson. I just love Sugar Snap Peas and thought it sounded great but it called for Calabrian Peppers. Once again an ingredient that I didn't have and I didn't know where to find them. Should I let a little thing like this  stop me?  Heck No. So, I rummaged around the fridge to see what I had that I could substitute and found some Asian chili paste that I keep on hand. Sambal Oelek is the brand I used but you could substitute any brand you like. Guess what, it worked great. The dressing can be made ahead and it's fast and easy to whip up, then all you have to do is assemble and your ready to go.
If you can't find fennel bulb you could substitute very thinly sliced celery or just leave it out entirely. It won't be quite the same but it will still be good without it.
Sugar Snap Pea and Fennel Salad with Spicy Chili dressing, a great salad for a hot summer evening.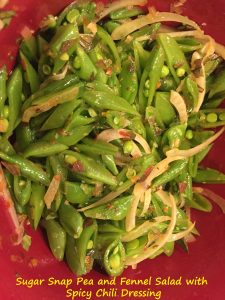 Print
Sugar Snap Pea and Fennel Salad with Spicy Chili Dressing
Yield 4 servings
Ingredients
For the Chili Dressing:
1/4 cup vegetable oil
1 t mined garlic
2t minced shallot
2t chili paste
1/2 t lemon zest
1/4 t fresh thyme
1/4 cup olive oil
1/4 cup fresh lemon juice
pinch salt and pepper
For the Salad:
1lb Sugar Snap Peas
1/2 cup thinly shaved fennel
1/4 t salt
1 1/2 T chopped fresh mint
1/2 cup shaved pecorino or parmesan cheese
Instructions
Make the dressing:
In a small skillet or sauce pan heat 1/4 cup vegetable oil over low heat. When it starts to shimmer add the garlic, shallot, lemon zest, chili paste and thyme. Gently cook for 1 minute and remove from the heat to a small mixing bowl. Add the olive oil, lemon juice, salt and pepper and whisk to combine.
Make the Salad:
Wash the snap peas and remove the tough string that runs along the center. (The ones I bought were string-less which is nice if you can find them.) Julienne the peas lengthwise in 1/4 inch pieces. Thinly slice the fennel bulb and chop the mint. Toss to combine, then add the dressing and toss to coat well. Sprinkle the cheese on top and serve.
Courses Salad