Food Porn:
I don't know if you noticed, but I've been absent for the last few weeks. My husband and I took off for a 3 week road trip through Europe and what an adventure it was. Great food, wine and wonderful places to see. I'm calling this post Food Porn, because it is full of pictures and descriptions of the wonderful things I had to eat. If this doesn't get you worked up and excited to try some new things I don't know what will.
We flew into Frankfurt, rented a car and took off. First stop Wurzburg, Germany. This is a sleepy little college town about an hour east of Frankfurt. The perfect place to get over our jet-lag before we really hit the road.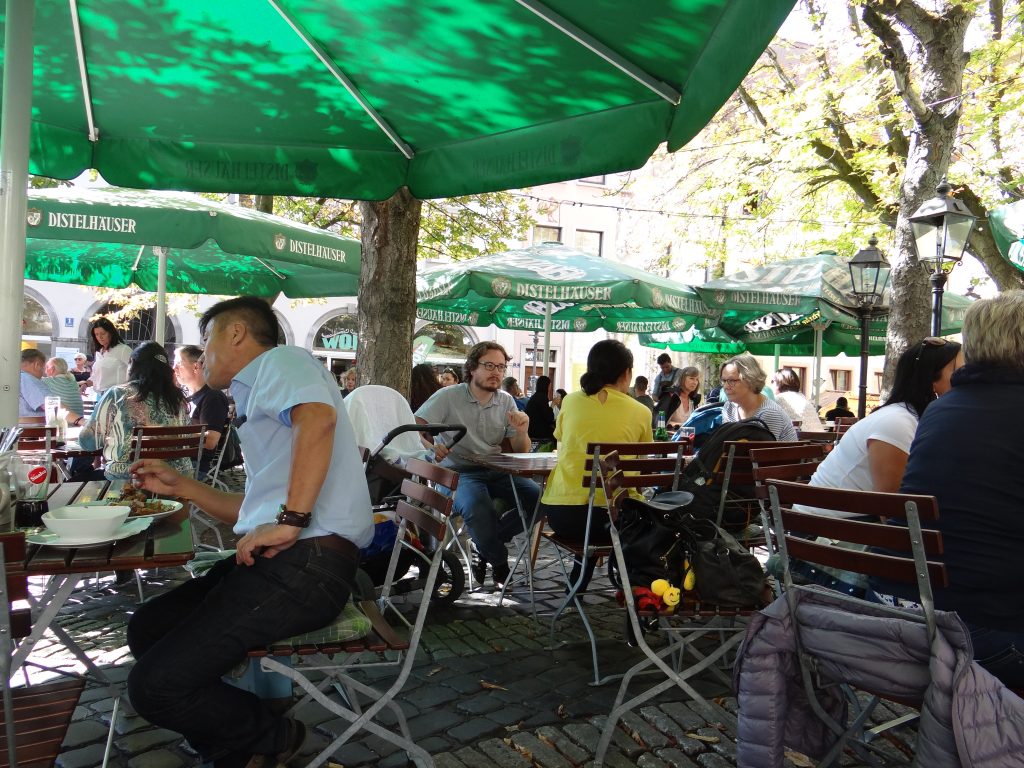 At the St Louis airport waiting to take off we sat next to a woman who was heading home to Germany and she just couldn't wait to get there and eat all of her favorite things. #1 being Curry Wurst. I have to admit that I had no idea what Curry Wurst was but as soon as we got to Wurzburg and I saw it on a menu I knew I had to try it.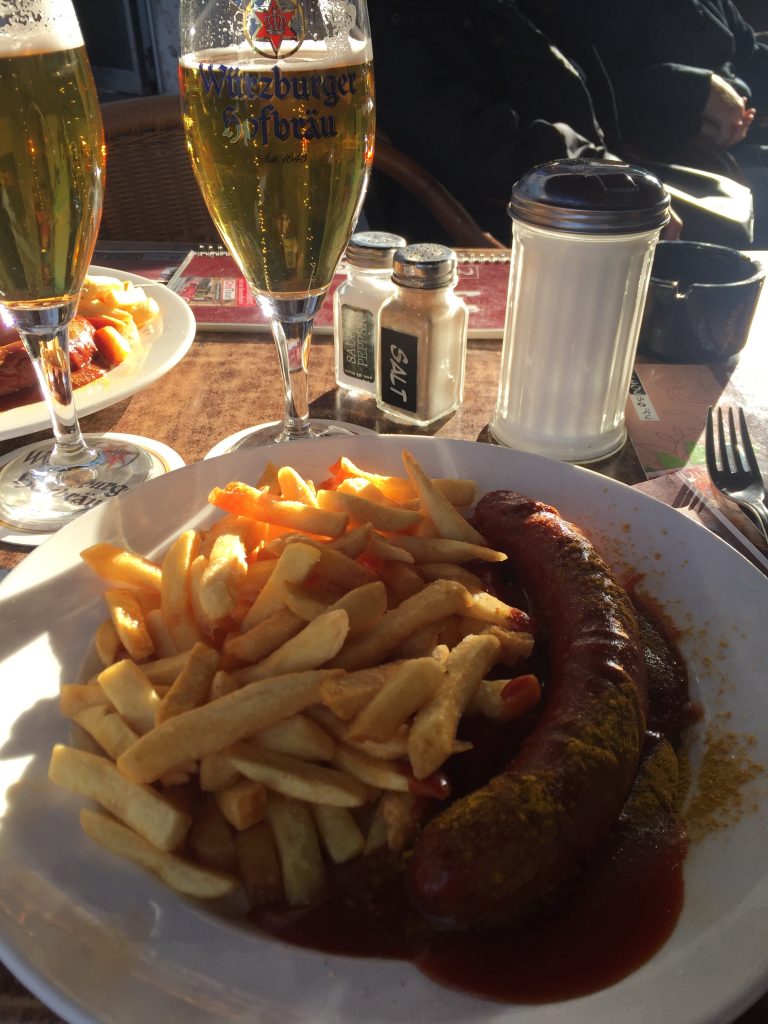 Well, lets just say, I was not impressed. Curry Wurst is nothing more than a hot dog, covered in a catsupy tomato sauce with curry powder sprinkled on top. Granted it was a good hot dog, if there is such a thing, but it was still a hot dog. Having said that, this is not one you will see replicated in an upcoming post, but at least now I know what it is.
The next day I tried the Pork Knuckle. Now this is one I can't wait to try at home.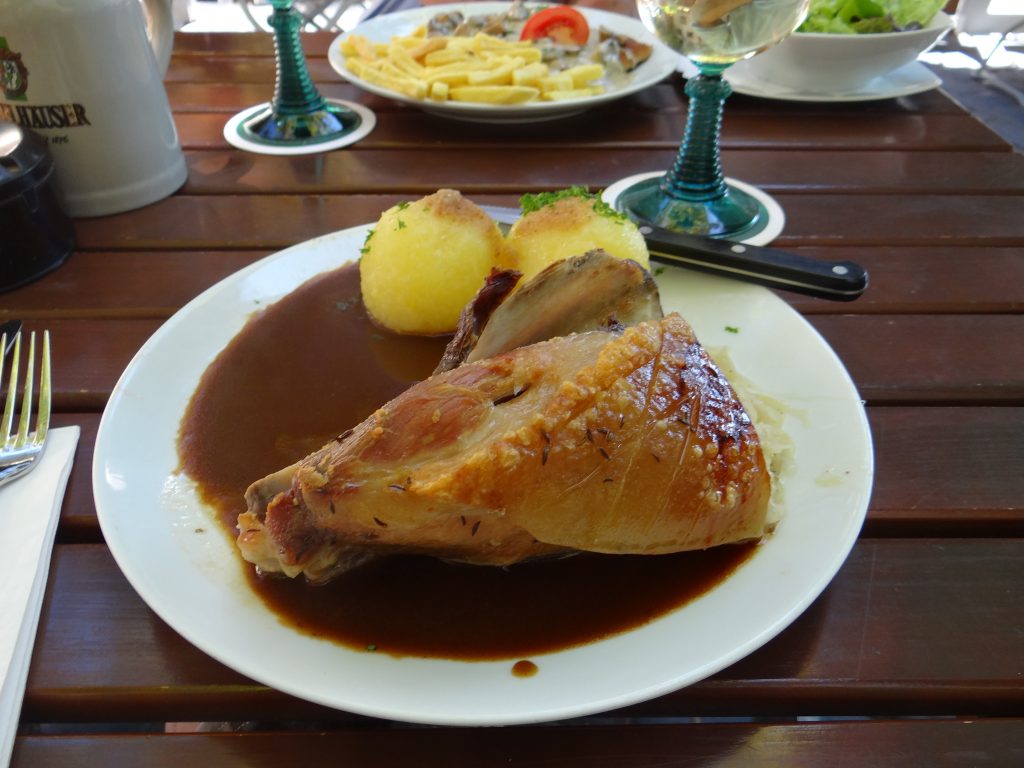 The pork was fall off the bone tender, sitting on a bed of sauerkraut with a beer gravy that was to die for. The skin was crispy, the gravy rich and creamy and the sauerkraut with it's tangy goodness was out of this world. I'll figure out how to make it and you will see it in an upcoming post.
After Wurzburg we were off to the little Bavarian village of Bamburg. This place was like being in a fairy-tale storybook.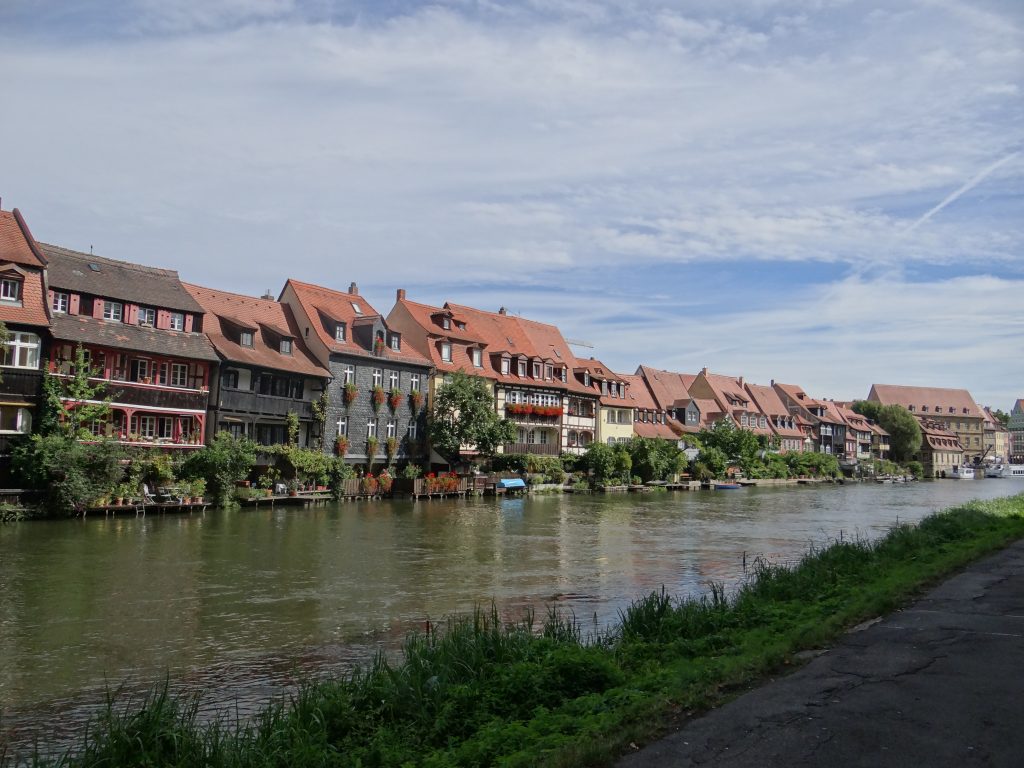 Gelato is everywhere in Europe and Bamburg was no exception. Take a look at some of these flavor combinations.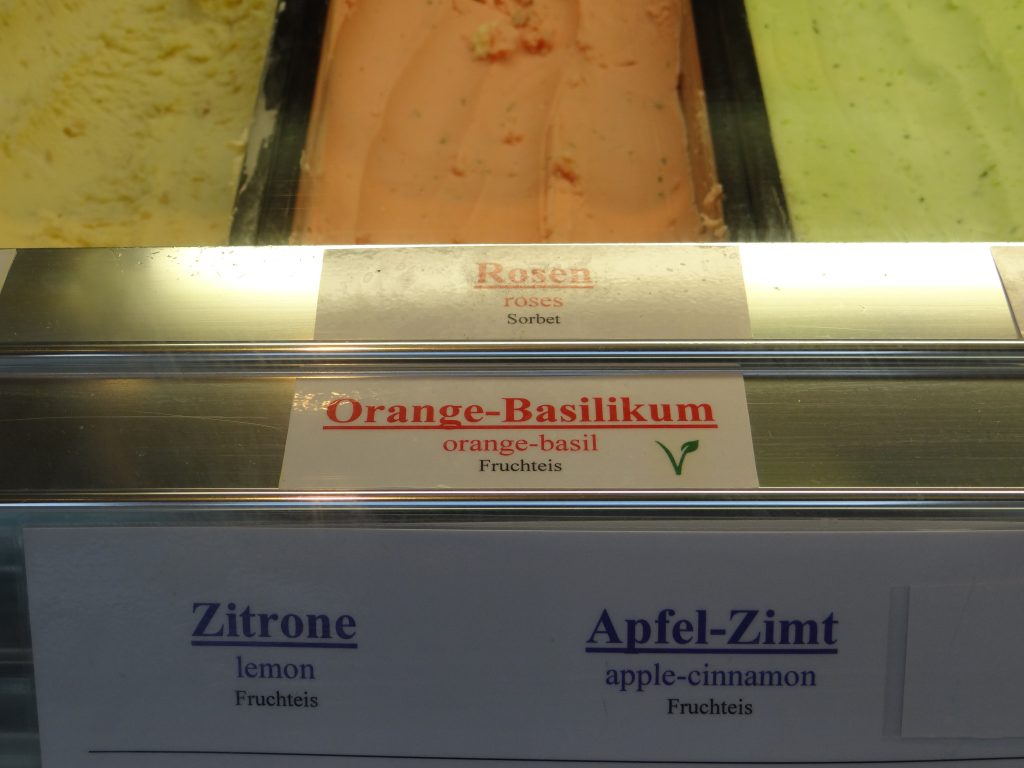 Orange-Basil, Lavender, Cucumber. So different from anything we have in the states and just wonderful.
From Bamburg we moved on to Vienna, what a beautiful city, the architecture is amazing. We visited the Belvedere museum and Schonburnn Palace. Beautiful gardens and a chance to see the Klimt's.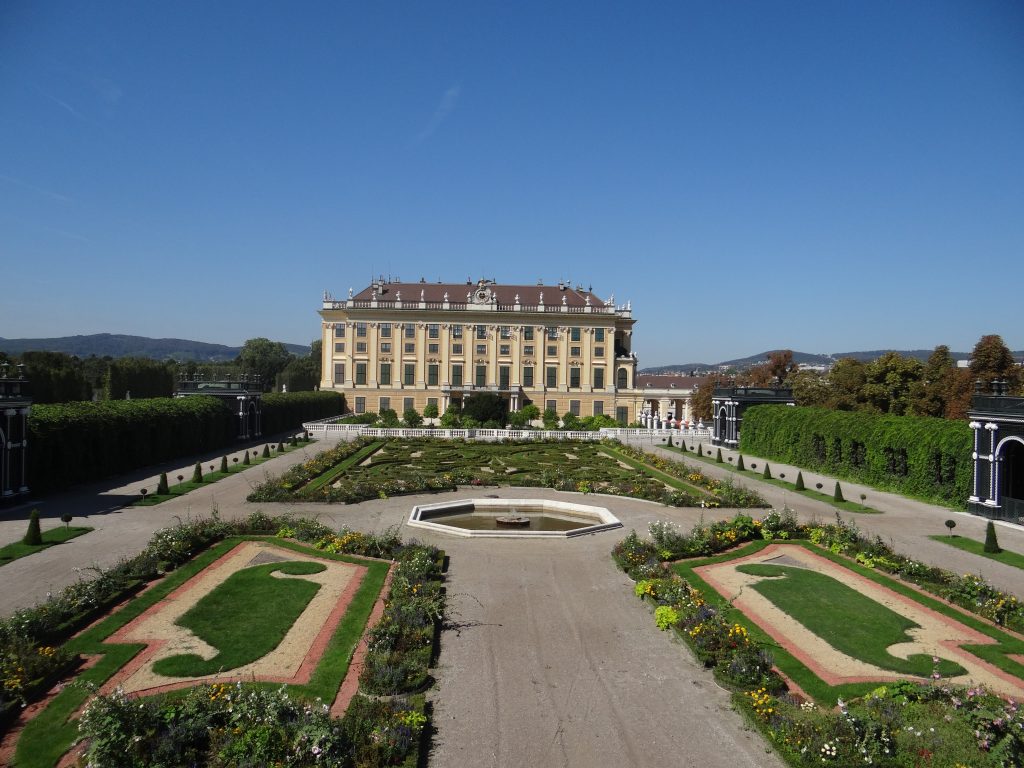 I just wish I had something good to say about the food. It seems in Austria it is either breaded and fried, as in schnitzel or boiled.  Not much in the way of seasoning, pretty blan and so, so. I guess that is why they have an ice cream store on every corner.
From there we were off to Salzburg, I was hoping to recreate the scene from the Sound of Music where Julie Andrews is twirling on the mountain top, but no such luck, as these were the only two days of our trip that it was raining.
Slazburg is a beautiful little town that reminded me a lot of Aspen. If you had money you sure could spend it here. High end designer shops everywhere. Lovely hotels that carter to the rich and famous during ski season and some really wonderful restaurants and a lovely farmers market.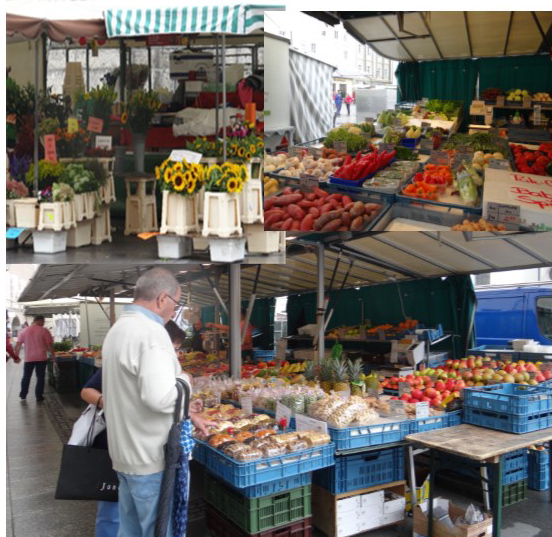 We stopped for a quick bite at a sidewalk cafe shortly after we arrived and ordered the bratwurst. Now, if your like me you would have been expecting Johnsonville, right? Wrong! This was nothing like what we have in the states. The flavor is very much the same but the consistency is so much more delicate. Add to that the wonderful rye bread and the mustard that they serve it with and you have something really special.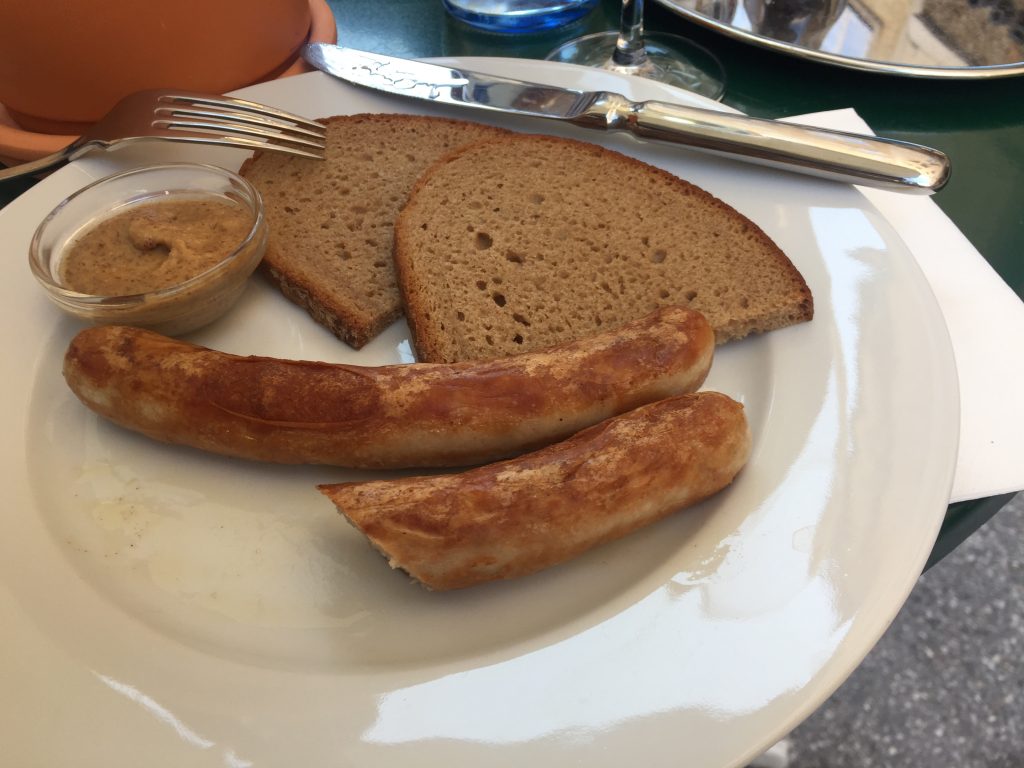 We also enjoyed a wonderful Cream of Mushroom soup that has this wonderful mushroom stuffing floating in the middle of it that I will defiantly be trying my best to duplicate later on this winter. It would be a great simple supper for a cold winter night. I'm sorry that I forgot to take a picture of it. I guess I just got caught up in the moment and was enjoying it too much.
After a couple of days in Salzburg we headed south across the Alps to Verona.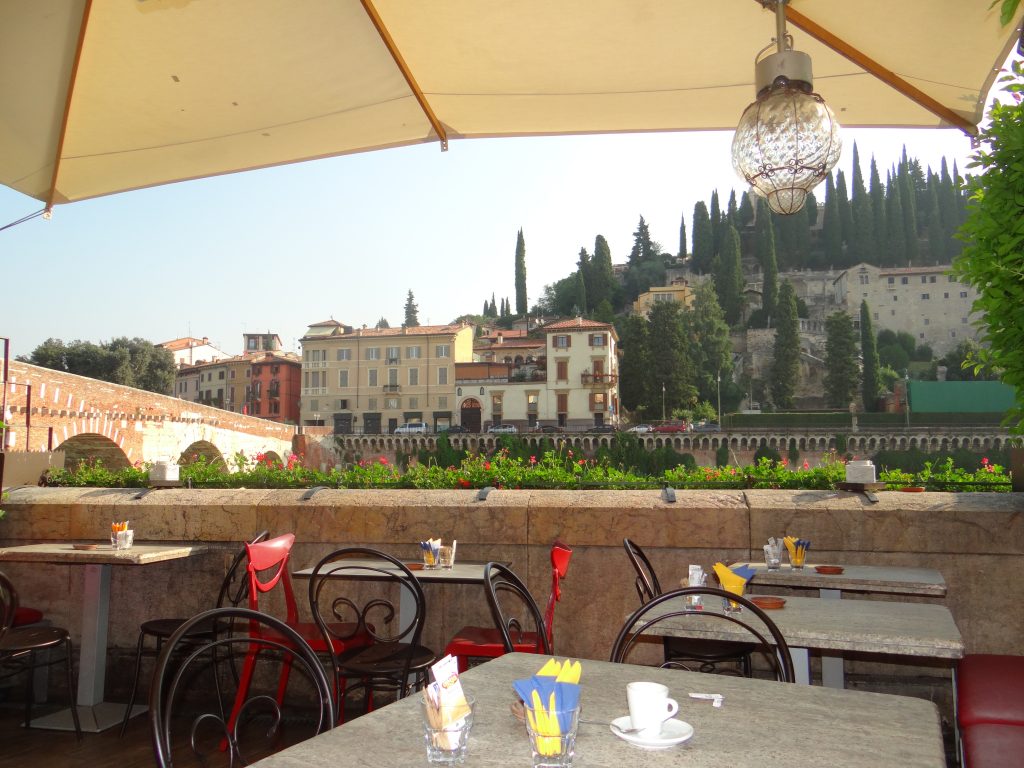 This is the little cafe where we had our coffee and cream filled croissant for breakfast every morning. Verona was probably my favorite part of this trip, it's such a wonderful little city with great food and lots of history.
Our first night there we were tired after the drive and trying to find a place to park, so once we were settled in our little apartment we made our way across the street to this little restaurant because it was close and we were hangry. Yes, I have been told that "Hangry" is now a word. Boy were we in for a treat. We ordered the Venison with Foie Gras that was served with freshly foraged wild spinach and pumpkin. Before they served our entree' they brought us a complementary serving of Ricotta Gnocchi with shaved truffles. I have never been a big fan of Gnocchi, they're too heavy and I'm not not a big fan of carbs, but these things were heavenly. So light and airy, like little clouds of cheese. I have found some recipes on line I and will figure out how to make make these. I Probably won't have the shaved truffles, $$$,  but a nice pesto would be lovely as well. This was the most amazing meal ever.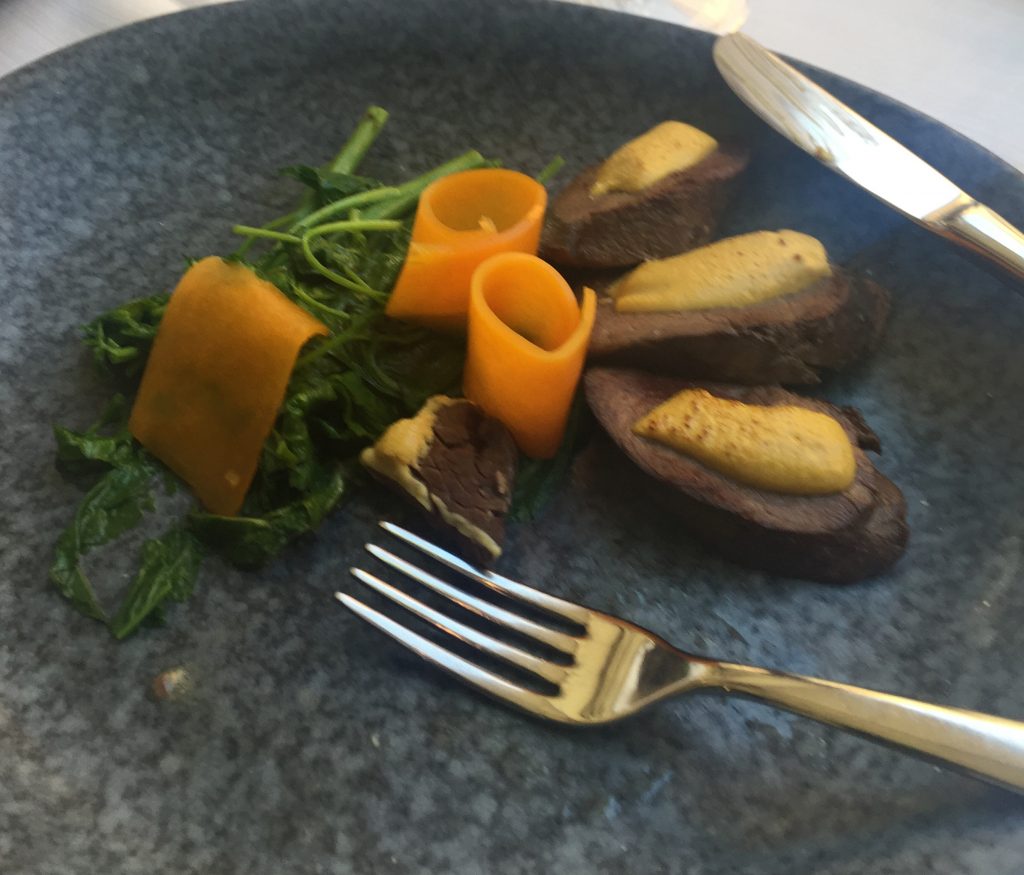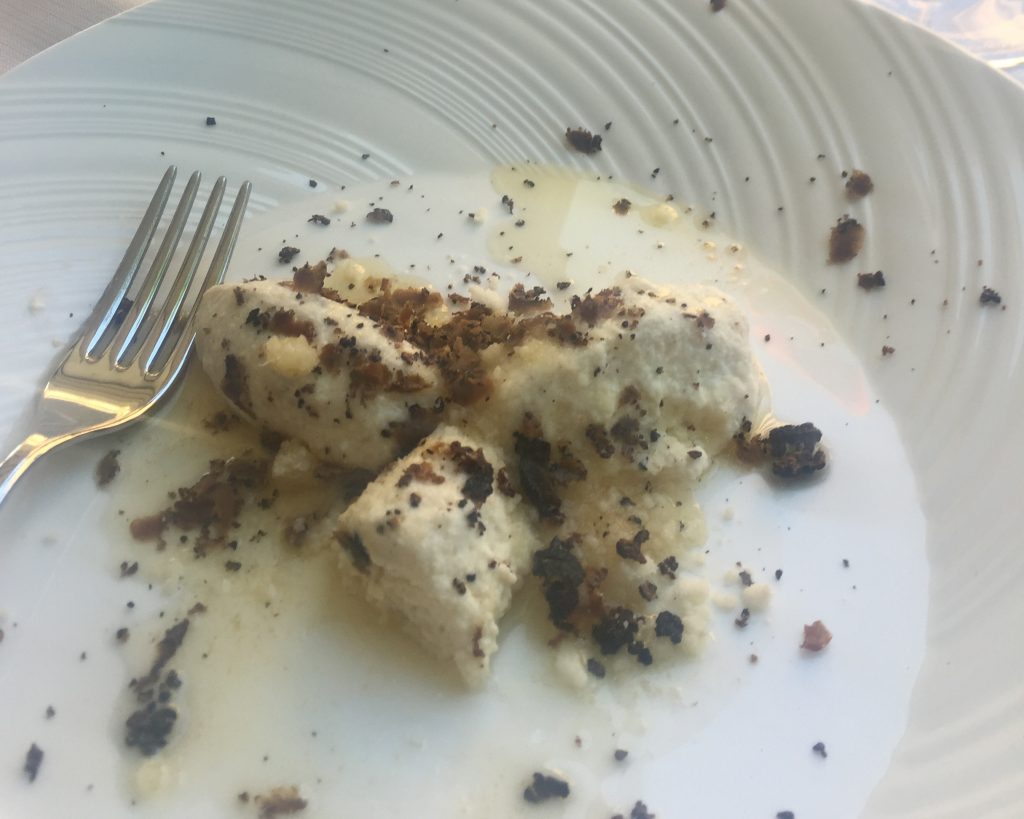 The next day we  dined at a restaurant that was in the courtyard of a 1500 year old palazzo in the middle of old town. The food was amazing. This was one of my favorite dishes. Rabbit Ragu with Cream.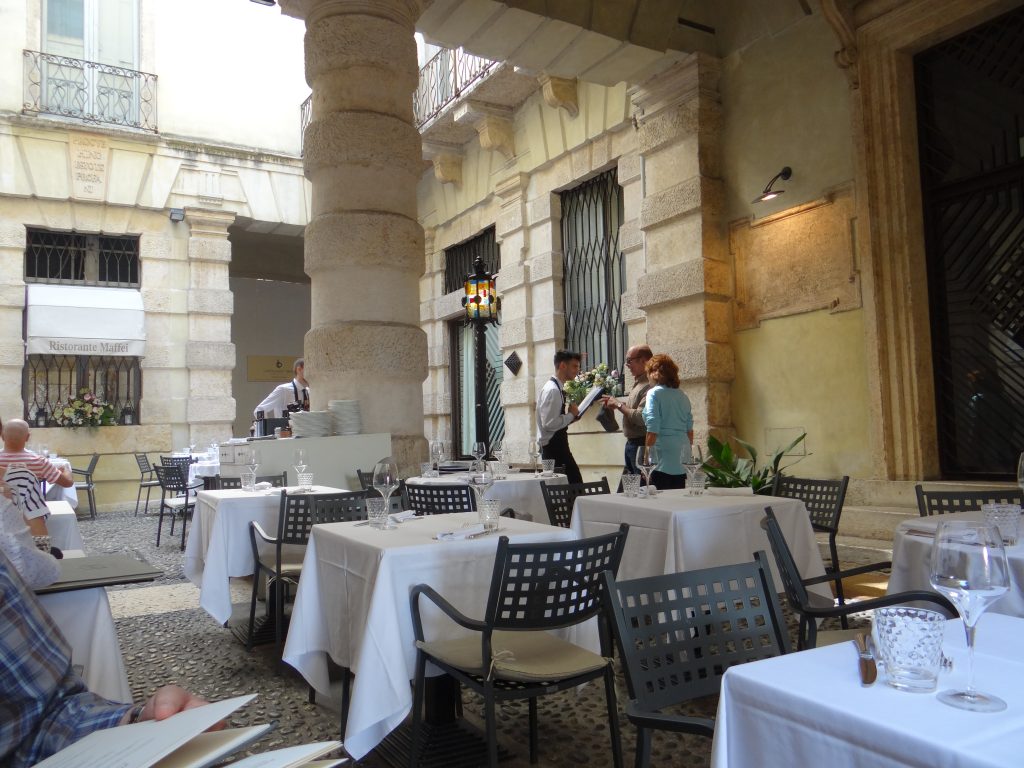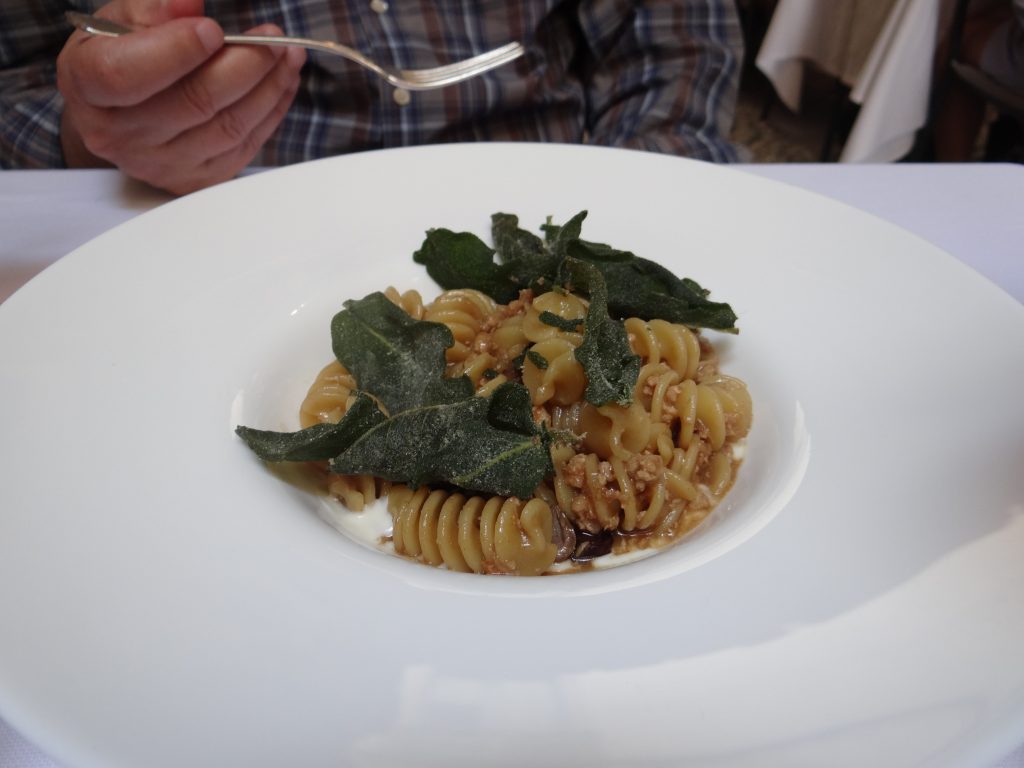 The fried sage gave it a wonderful earthiness and the heavy cream was on the bottom instead of mixed in with everything else. A different presentation that worked really well.  Rabbit is hard to come by in the states so I think I will try this one with veal instead.
The waitress gave us an address to plug into our GPS so we could visit what she called one of the prettiest places near Verona,Valpolicella. This is where my husbands favorite wine comes from, Amerone. We drove up there and the drive was okay, took a few pictures and started to head out for Stresa when instead of taking us back the way we came the GPS told us to go around a different way and I am sure glad it did. What a view, and what a scary drive. I'm sure glad I don't have to navigate these roads on a daily basis.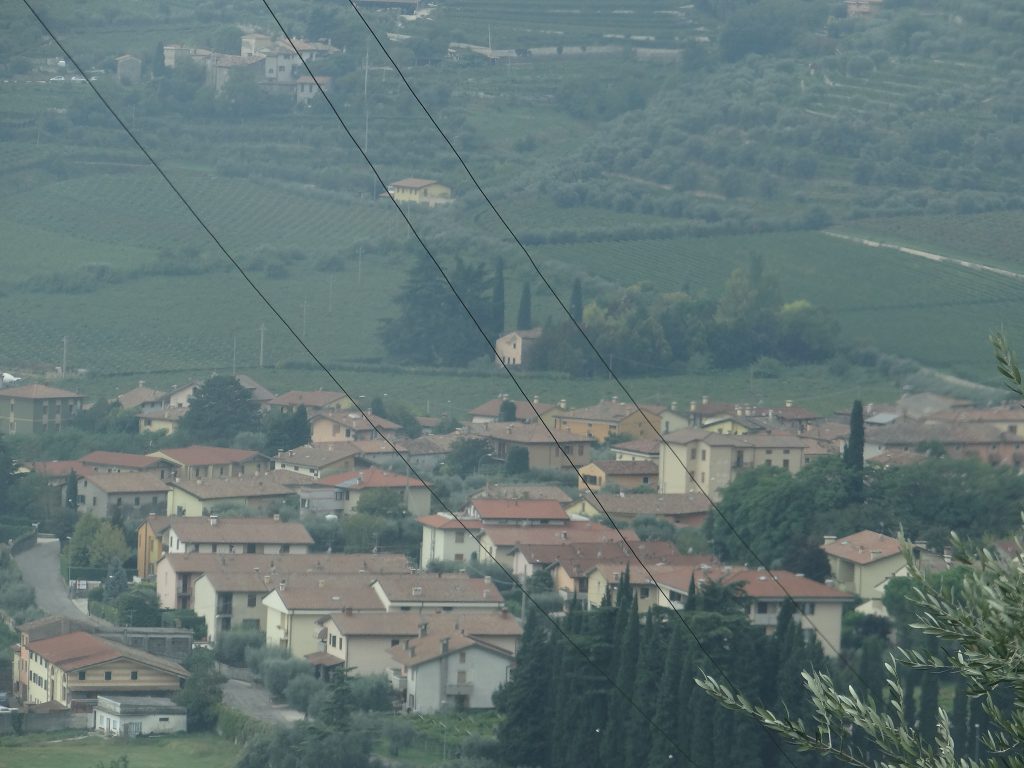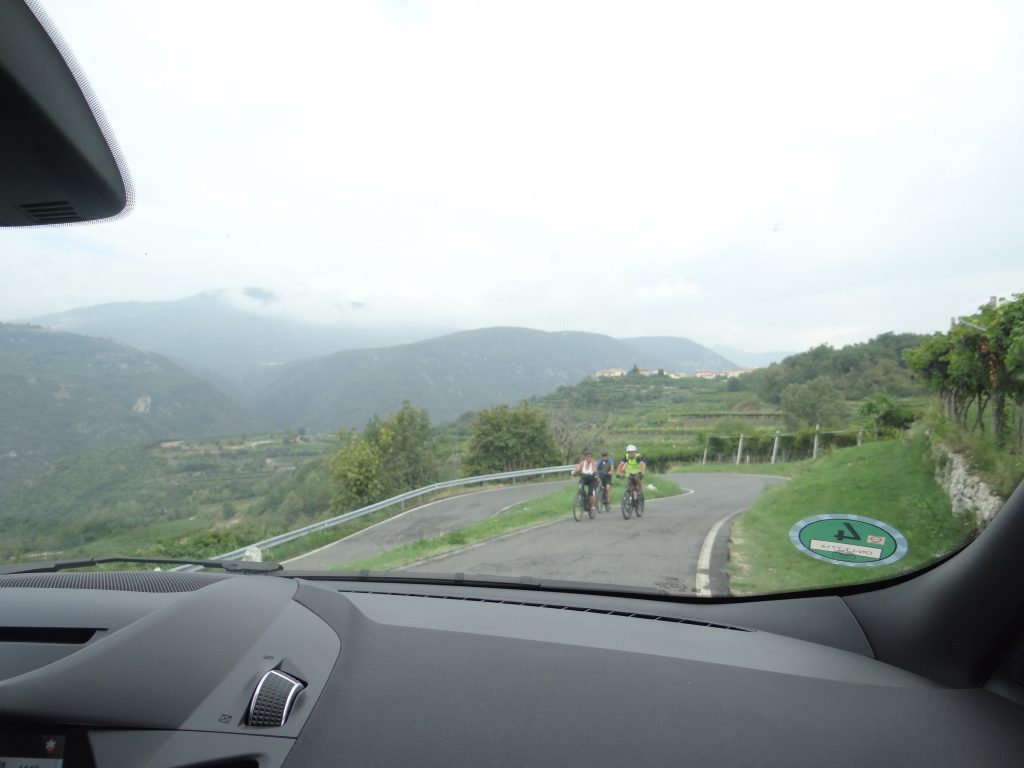 Stresa is a lovely little resort town located on Lake Maggiore, with small islands in the middle of the lake with beautiful palaces and gardens. The whole town is just beautiful and the food was fantastic. Our first night there we tried out a little restaurant named Mama Mia. The food was so good we returned 2 more times before we left. This is Nonna's Pasta and it was delightful. Made with chunks of veal braised until it literally falls apart in a light sauce of fresh tomatoes, carrots, onions and garlic served over fresh made pasta. This one is perfect for the slow cooker on a cold winter day.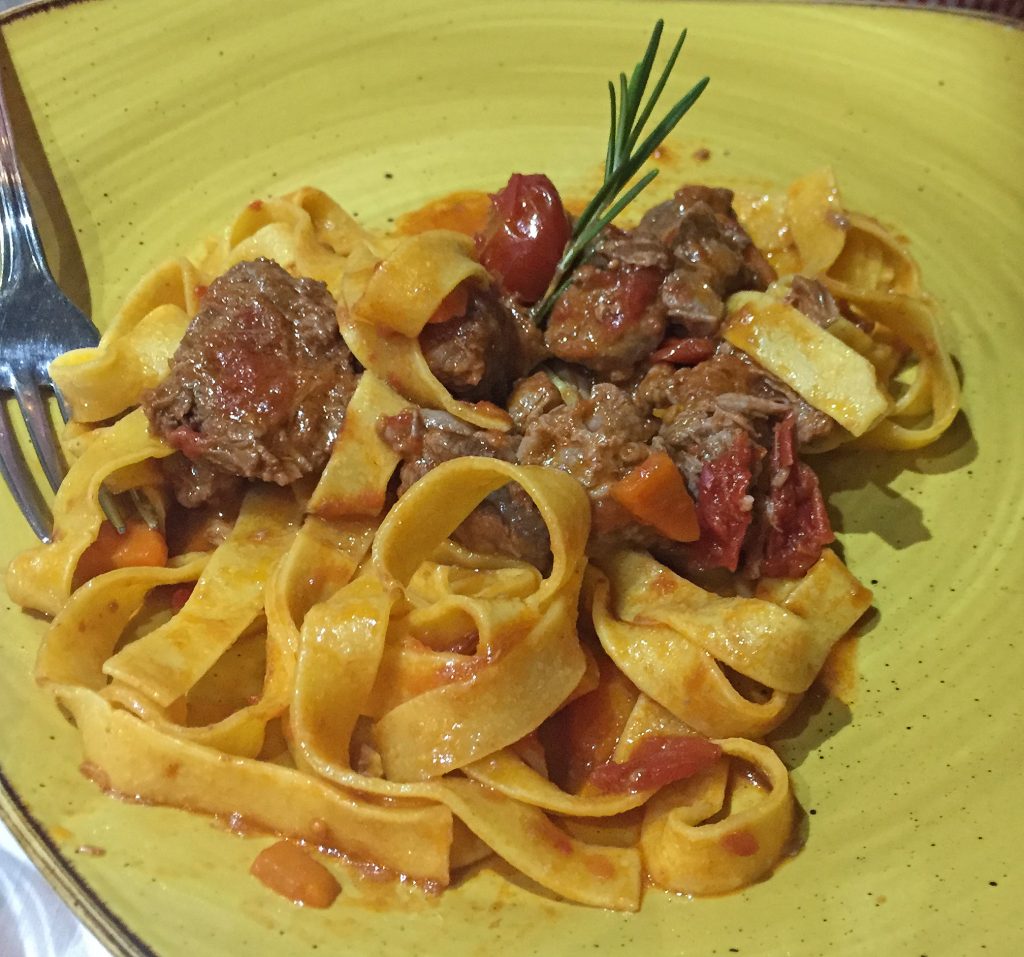 Then there was the Seafood Pasta, steamed in a light white wine and garlic broth with fresh tomatoes served again with fresh spaghetti it was heavenly. So simple and fresh. This will be a good one for date night.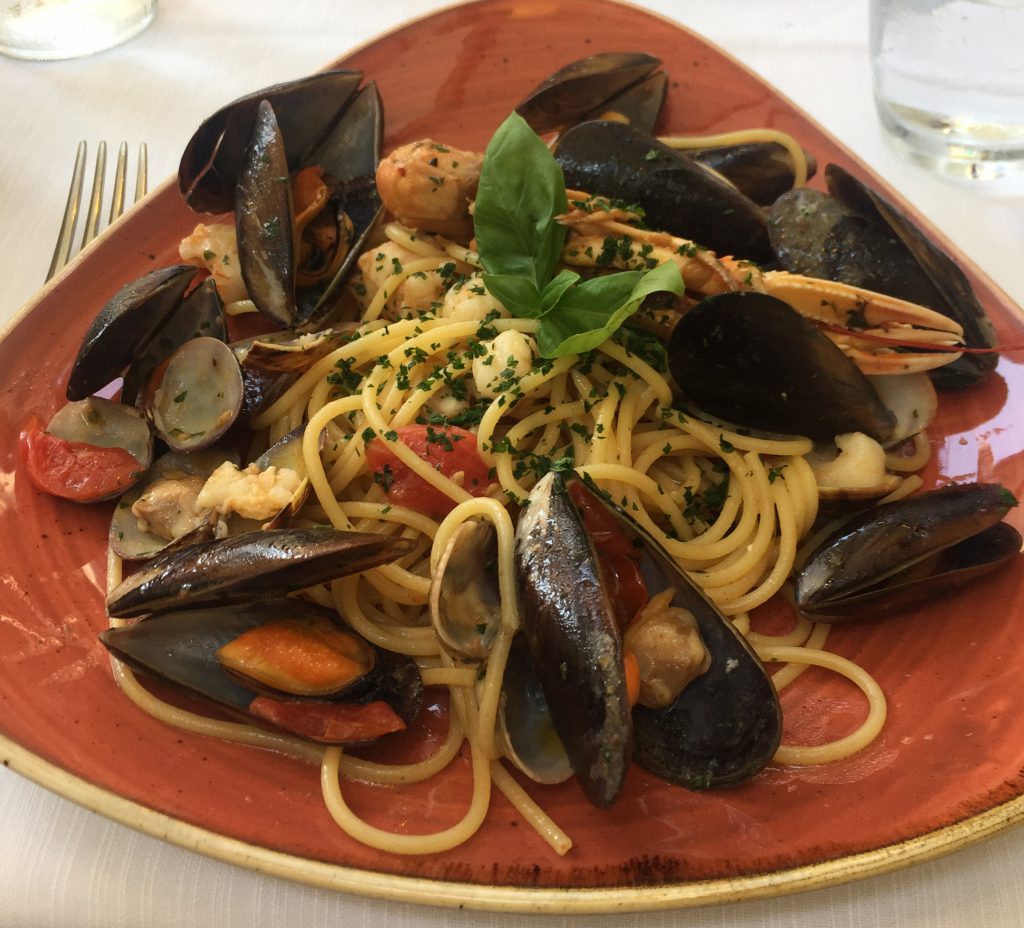 From Stresa we traveled on to the south of France. Driving through Monaco and the Riviera was crazy. Nothing at all like I thought it would be, eight lane highways, huge big apartment complexes, the traffic was crazy. If I didn't know better I would have thought I was in Southern California. We finally got through that mess to our planned destination Aix-de-Provence. Aix is a small city of about 140,000 steeped in history and lots of good food. I was surprised to see the Irish Pub on the main drag and found it interesting that there were more Italian restaurants there than French. One night we found a lovely little sidewalk cafe out side a small restaurant that had a wood oven and we enjoyed some of the best Pizza I have ever had, in France no less Who would have thought it possible.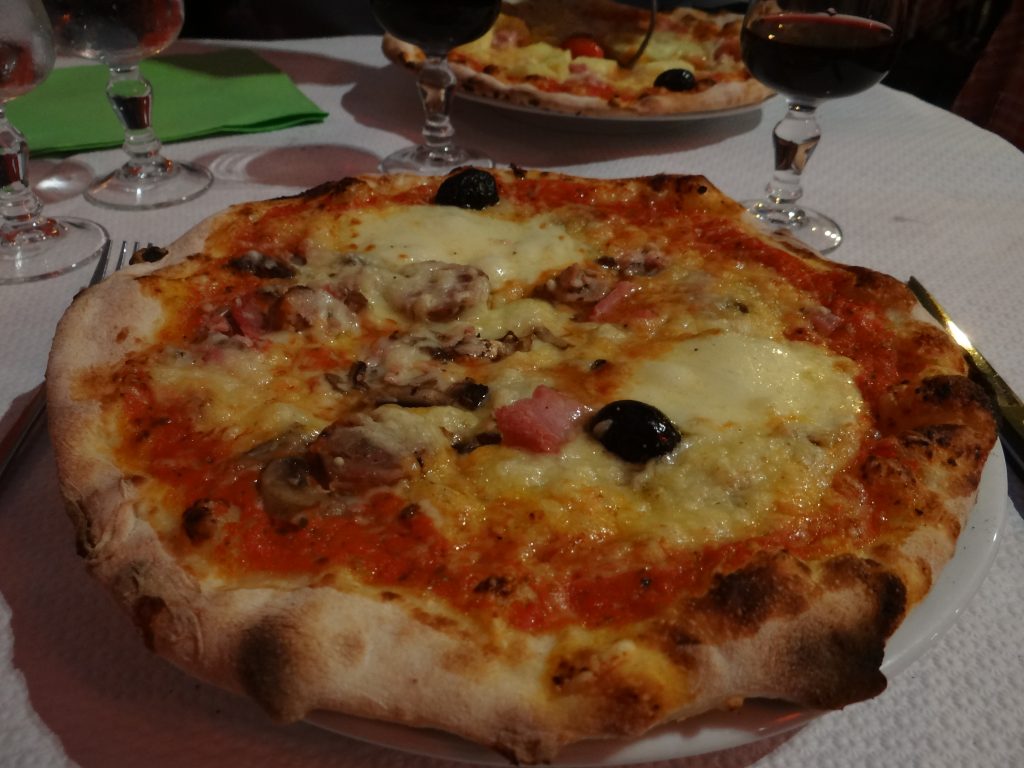 The next day we did find a little French restaurant for lunch and had the duck. Once again it was a simple presentation just really good duck and some mashed potatoes, with a light dusting of a really good finishing salt. I have to admit that I have seen chefs talk about finishing salt on some of the food shows that I watch, but never really got it until now. The salt was the finishing touch and gave a bright burst of flavor that paired perfectly with the richness of the duck. I'm going to have to invest in some good salt.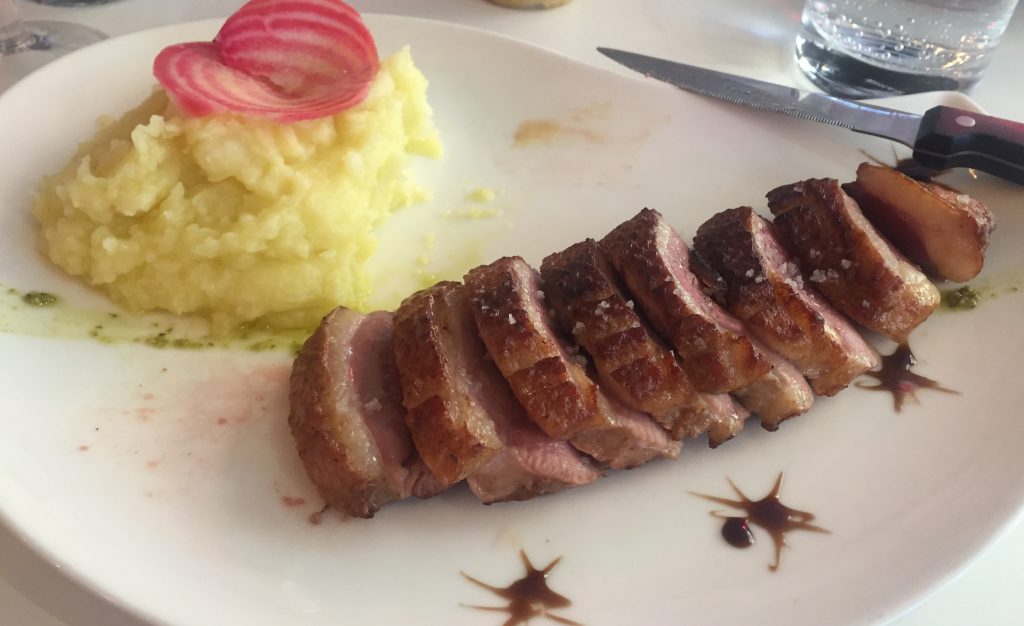 After 4 days in Provence it was time to head back to Frankfurt, return the rental car and head home. It was a great trip, and now that I'm home I can't wait to start replicating some of these dishes and sharing them with you on my blog. So, stay tuned for some really good stuff coming your way in the next few months.