What do you do when you love Shrimp & Grits but your husband hates Grits. You make Shrimp & Rice instead. After all the best part of Shrimp & Grits is all the good stuff you put on top of the Grits.
We were off for another road trip last month, this time we traveled through the Southeastern US. We left St Louis and headed out for Chattanooga followed by Savannah, Charleston, Asheville and finally Lexington before heading back home. I got to cross several things off my bucket list and as usual we had some really great food. Boy, those Southerners sure do know how to cook don't they?
On our first night out we stayed at a lovely B&B in Chattanooga overlooking the river and the restaurant across the street (The Back Inn) had the most wonderful Shrimp & Grits. I ordered them the first night and much to my surprise when we went back the next night my husband ordered it. I had given him a taste of mine the night before and it was so good he decided he just had to have it. I promised him that when we got home I would recreate it but use rice instead.
This is a quick and easy dinner that is perfect for a weeknight but also suitable for company. The sausage and shrimp are cooked up in a cream sauce with with onion, peppers, garlic and sweet corn. The corn is what really makes this dish stand out. Its sweetness counteracts the spice from the sausage perfectly, then comes the flavorful cream sauce that just pushes it right over the top.
I used Aidells Cajun Andouille Smoked Sausage for this dish. Don't skimp on the sausage use the good stuff. You can find this in most grocery stores and it is just wonderful.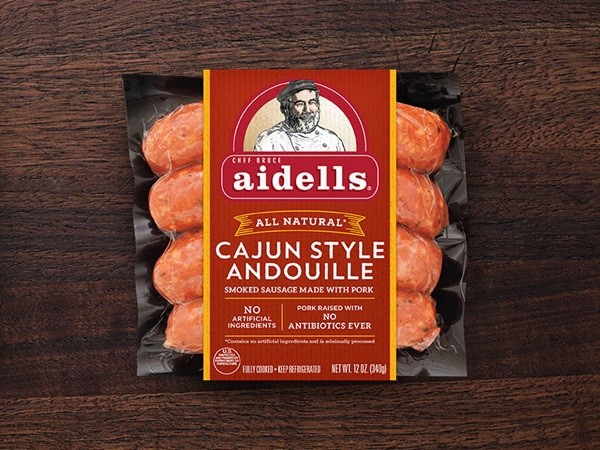 So, the next time your in the mood for some Shrimp & Grits, try Shrimp & Rice instead. The grit haters will love you for it.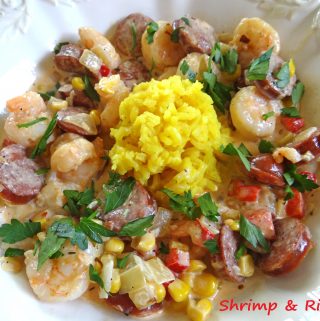 Shrimp & Rice
Ingredients
8

oz

Cajun Style Andouille Sausage

3 links

1/2

lb

Raw Shrimp

16-20 count

1/2

Onion Chopped

1/2

Red Bell Pepper Chopped

2

Cloves

Garlic Minced

1/2

Cup

Frozen Corn

1

tsp

Paul Prudhomme Seafood Magic

1

cup

Heavy Cream

1

pinch

Crushed Red Pepper

Optional

1 small

package

Yellow Rice Mix
Instructions
Follow the package instructions and get the rice on the stove. While it's cooking brown the sausage in a bit of oil, let it get a nice crust. This is going to help flavor your sauce so give it a few minutes. When the sausage is brown add the peppers and onion and saute until they start to get soft, about 5 minutes. Then add the garlic and let it cook for a minute or two. Add the shrimp and season with the Seafood Magic, cook until just cooked through, you don't want to over cook them. They only take about 6-8 minutes. When the shrimp is starting to get pink add the corn and cream and heat through. By now the rice is done. Serve over the rice in a shallow bowl.