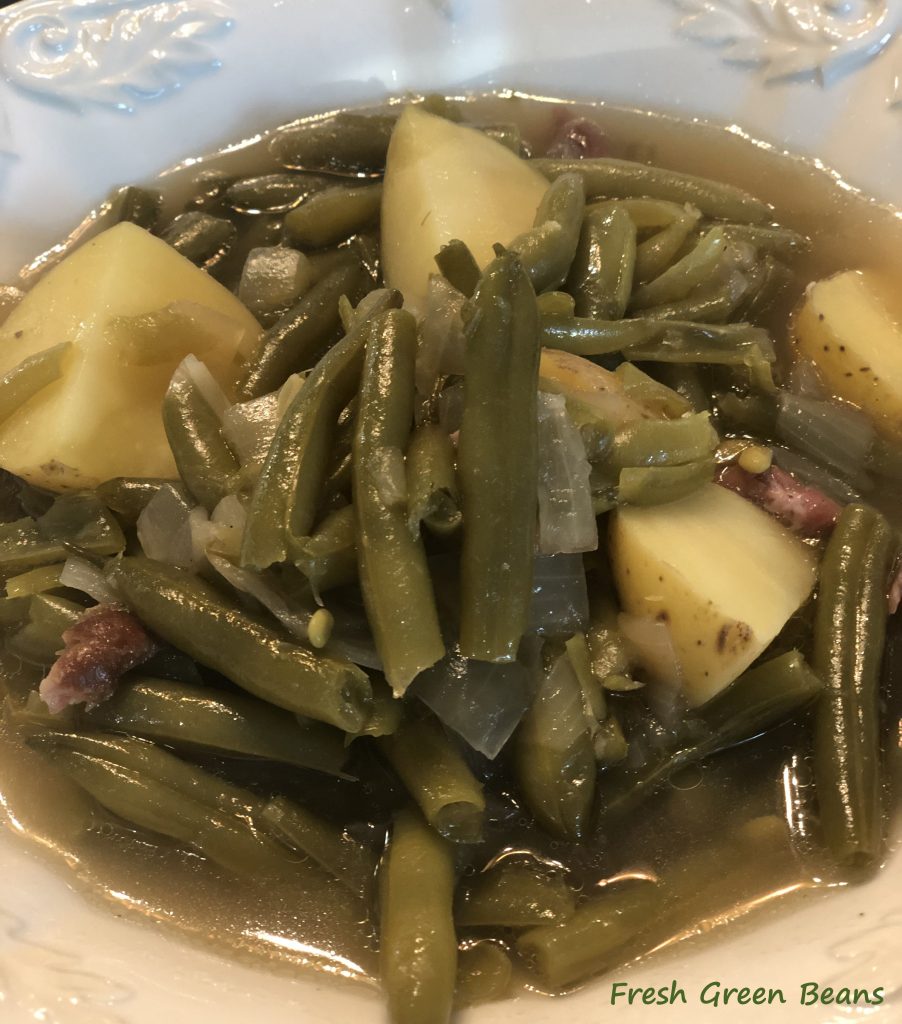 This is one of my all time favorite meals, usually reserved for mid summer when the fresh beans are available, but when you have connections you can enjoy them most any time of the year.
When Tony Tomato sent me a text and said he had fresh green beans by the bushel, did I want any, I didn't have to think twice. You better believe I did. I emailed the cookbook club and we put together an order of Green Beans, Leeks, Berries and Fresh Herbs to split up.
You must admit that's quite a haul of goodness laying all over my garage floor. This has really been fun, with everyone under lock-down this has given us a way to stay connected and have some really great food. Before you know it I may have a vegetable stand in my driveway.
This is a no recipe, recipe. Meaning that all you really have to do is throw all of the ingredients in the crock pot and let it do it's thing for several hours and before you know it you have dinner. Serve this up with sliced fresh tomatoes, and cornbread and you have the perfect mid-west summer dinner. Just like Mom used to make.
There really is nothing quite like fresh green beans and new potatoes that have simmered all day in a broth of ham hock and onions. The juice, or Pot Liquor, as they say in the south is beyond words and you won't want to miss a drop, so grab a big spoon and dig in.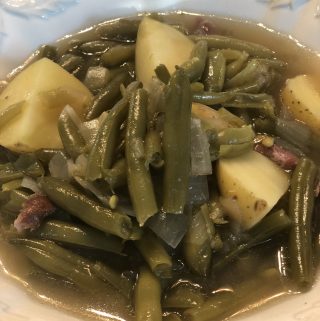 Fresh Green Beans
Ingredients
Fresh Green Beans

Chopped Onion

Ham Hock

New Potatoes

Salt & Pepper to Taste
Instructions
This is a no recipe, recipe. You can make this with any amount of beans, onions and potaotes you like or happen to have on hand and it will turn out beautifully. Just clean and half your green beans, chop up some onion and put them in a crock pot with the biggest juicest ham hock you can find. (If you can't find a ham hock you can use a ham bone or simply cut up some big pieces of ham from a ham steak and that will work as well.) Add enough water to just cover the beans and cook on high for 4-6 hours until the beans are soft and the ham is falling apart tender. About an hour before you want to serve wash and quarter several new potatoes, use as many as you like and add to the crock pot with salt and pepper. Wait to salt until you add the potatoes as the salt will cause the beans to break down too fast if you add it at the begining.

Serve in a shallow bowl with lots of fresh corn bread.