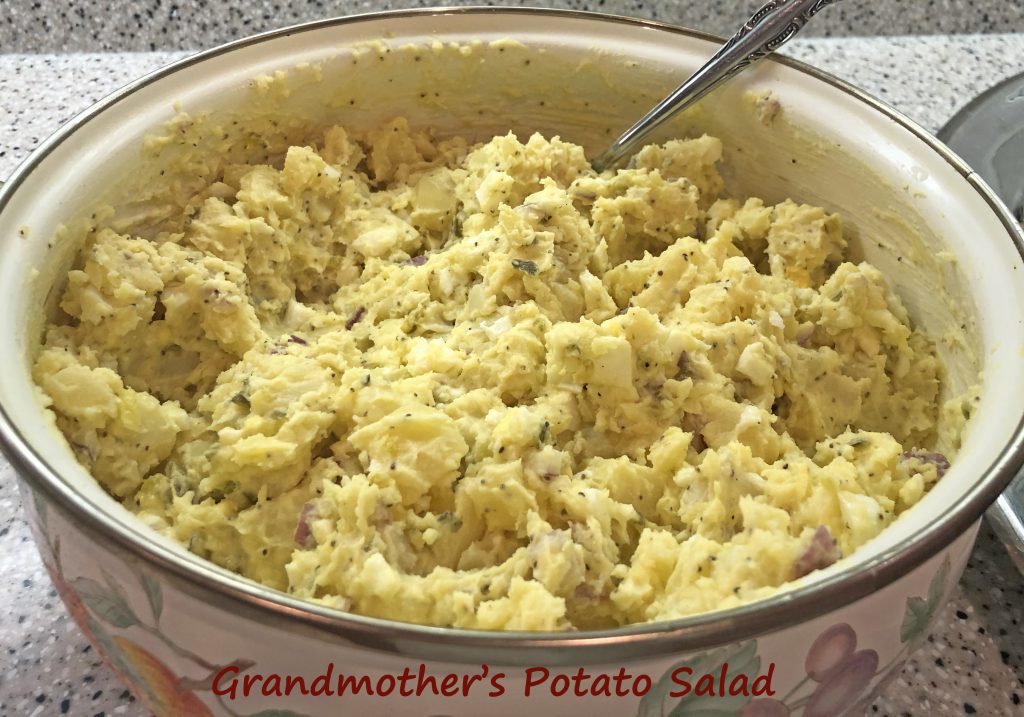 Summer is upon us and it's time to dig out all those wonderful summer time recipes and this is one of my favorites.
My Grandmother was not know for her cooking abilities. In fact, I distinctly remember her telling me that after she and my Grandfather returned from their honeymoon and settled into their first apartment she made her first dinner of their married life. They sat down, my Grandfather took a bite and quietly said, "Helen dear, would you mind terribly if I just scrambled myself an egg?" She said she burst into tears and never cooked again.
Now I know for a fact that this was an exaggeration, for my uncles have told me that she cooked all the time when they were growing up. Having said that, I have also heard story's of under cooked turkeys at Thanksgiving and lots of TV dinners.
However, she could make Potato Salad, and as far as I'm concerned it's the best in the world. She taught my Mom, and my Mom taught me. I remember as a kid when Mom would make Potato Salad I was always the taster. Did it need more salt? More pickle juice? She would add a little and we would taste and maybe add a bit more until we got it just right. After all the recipe was taught not written down.
Today I took the time to write it down as I was making it. There were a lot of adjustment to the recipe as I tasted and add a bit more of this or that until I got it right. The secret to this Potato Salad is………. drum role please, you melt a stick of butter and pour it over the cut up potatoes before you add anything else to it. It soaks into the potatoes and really what more do I need to say, how can a full stick of butter not make potato anything better.
This recipe is a labor of love as it takes time to make it and peeling those potatoes is a chore, but oh so worth it. I hope the next time you are in the mood for Potato Salad you'll give this one a try.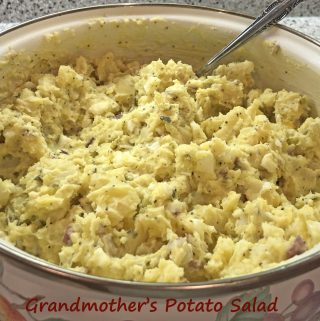 Grandmother's Potato Salad
Ingredients
8

Medium

Yukon Gold Potoes

6

Eggs

1/2

Red Onion

Finley Chopped

1/4

Cup

Chopped Sweet Pickles

1

Stick

Butter

Melted

2 1/2

Cups

Mayonaise

2

tbsp

Yellow Mustard

1

Tbsp

Celery Seed
Instructions
In a large pot boil the potatoes whole until they give when poked with a fork. About 45 minutes. You want them to have some give, but not to be mushy, you want them to hold their shape when cut up. When the water starts to boil I gently place the eggs on top of the potatoes for 10 minutes until they are hard boiled and then remove them with a slotted spoon. This way you don't dirty up 2 pans. When the potatoes are cooked remove from the heat, drain and set aside to cool. When the potatoes are cool enough to handle gently peel them and cut into cubes and place in a large bowl. Melt the butter and pour over the potatoes and gently stir to coat. Now chop up your eggs, onion and pickles and add to the potatoes. Add the mustard, mayonnaise, celery seed and about 1 tablespoon of pickle juice and stir to incorporate. Salt and pepper to taste. I used about 1 Tablespoon of salt, I know that sounds like a lot but there are a lot of potatoes here and you want it to be flavorful. Refrigerate couple of hours before serving.
Notes
After refrigerating and before serving taste again and adjust the salt as needed. Cold food doesn't taste as salty as warm food for some reason.
If you want to be lazy, you can use sweet pickle relish instead of chopping sweet pickles.