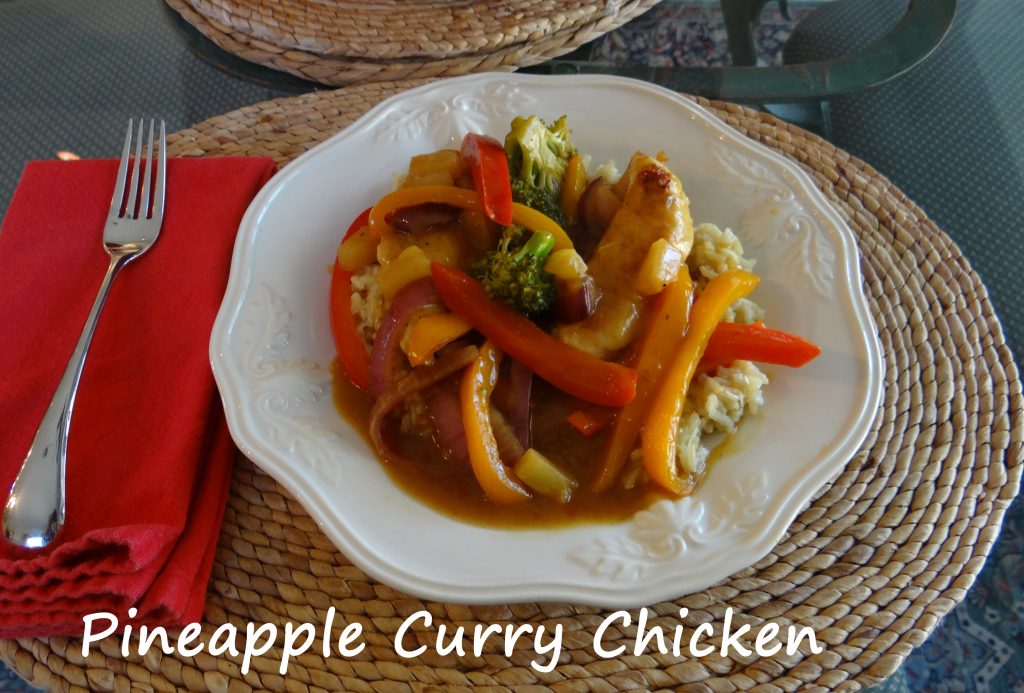 A month or so ago I met up with a friend of mine for lunch at one of my favorite Thai restaurants. One quick glace at the menu and we both knew what we were having, Pineapple Curry Duck, and it was amazing. As we all but licked our plates clean I thought, I bet I can make this, or at least a version of it. Today she came to lunch and I gave it a try. Because Duck is expensive and difficult to cook well, I decided to try it with chicken. That is how Pineapple Curry Chicken was born.  It wasn't exactly the same as what we had at the restaurant, I used brown rice which takes an hour to cook, so I recommend using a quick cooking minute rice for a busy week night. Add a little bakers coconut to the rice while it cooks to give it a little extra punch.  I must say it turned out pretty good. I will defiantly be making this one again.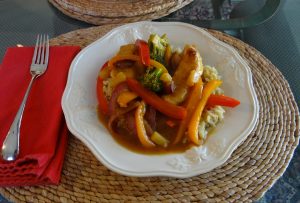 Print
Pineapple Curry Chicken
Yield 4 Servings
Ingredients
8 chicken tenders
1 red bell pepper
1 orange bell pepper
8 broccoli florets
1/2 red onion
1 8oz can pineapple chunks
1 13 oz can coconut milk
1T brown sugar
1t curry powder
2t ground chili paste
1t salt
1T corn starch
Instructions
Season your chicken tenders with Lemon Pepper and saute in a bit of oil until just cooked through, about 10 minutes. Remove from the pan and set aside. While the chicken is cooking cut  your peppers and onion in 1/4" strips. You may need to add a bit more oil to the pan, then add the peppers, onion and broccoli. Saute for about 5 minutes. You don't want to over cook your veggies, you want them to still have a bit of crunch to them and they will cook some more while  you finish this up. After 5 minutes add the can of pineapple (juice and all) to the skillet. In a measuring cup add 1T corn starch to the coconut milk and stir well then add to the pan along with the brown sugar, salt and chili paste. Return the chicken to the pan and heat through while the sauce thickens up. Serve over rice.
Notes
I cooked my rice in chicken broth and and added 1/4 cup of bakers coconut to it while it was cooking. This gave it great flavor and a nice added crunch. I used brown rice and it takes about an hour to cook, but for a busy week night you could always use Minute Rice.