Well, Sunday was Cinco De Mayo and along with the rest of the US we CELEBRATE! This year I decided to mix it up a bit and go a little bit Tex-Mex and a little bit Argentinian with a Chili Rubbed Flank Steak with Chimichurri. Pair that with some Black Beans and Confetti Corn and you have a great South of the Border treat.
I found this recipe for Chili Rubbed Steak twenty five years or so ago in some magazine or another and I've made it off and on over the years. It's really simple; so simple I never bothered to write it down, I just remember it and gives the steak a wonderful smokey, garlicky flavor. You can use this marinade on any cut of steak and it would even be good on pork or chicken.
Then comes the Chimichurri. It originates from Argentina where meat lovers really know how to prepare and eat meat. If you've never had Chimichurri before you're in for a treat. It's the perfect compliment to the Chili Rub. The Parsley, Cilantro, and Garlic brighten up the rich flavors of the meat for an explosion of flavor. It is strong however, so a little drizzle is all you need.
Chimichurri is typically made with just Parsley but I add Cilantro to mine to give a bit more of a Southwest flair. If you find you are among the Cilantro haters of this world just leave it out and use only Parsley, either way it's a great way to finish off a piece of meat. It can be kept in the fridge for a week and what you don't use for your steak makes a great dressing for a salad.
So, the next time you decide to go South of the Border, try Chili Rubbed Flank Steak with Chimichurri.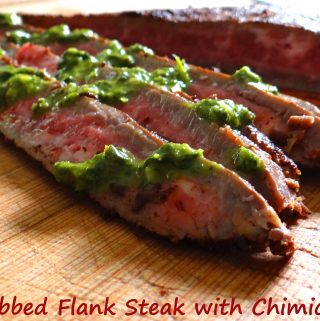 Chili Rubbed Flank Steak
Ingredients
2

Cloves

Garlic

2

tbsp

Williams Chili Seasoning

1

tsp

Salt

2

Tbsp

Worcestershire Sauce

1.25

lb

Flank Steak
Instructions
Grate your garlic into a fine paste, I use my Micro-plane, but if you don't have one, run the garlic along the tines of a fork so that it becomes finely grated. In a small bowl mix the garlic with the Williams Chili Seasoning, salt and Worcestershire Sauce until it become a paste. Spread the paste all over the meat on both sides, cover and refrigerate for 4 hours or over night.

Get your grill smokin' hot and grill for 5 minutes per side for medium rare. Let rest for 15 minutes before slicing. Slice thinly against the grain and serve.


Chimichurri
Ingredients
1

cup

Parsley

Loosely Packed

2

cups

Cilantro

Loosely Packed

2

Cloves

Garlic

2

tbsp

Red Wine Vinegar

1

tsp

Salt

1/4

cup

Olive Oil

1/4

tsp

Crushed Red Pepper
Instructions
Lightly chop your garlic and add it to a food processor or blender with the Parsley, Cilantro, Vinegar, Salt, Oil and Red Pepper, Blend until smooth. Serve at room temperature.

Notes
You can make this ahead and store it in the fridge for up to a week. Take it out and let it come to room temperature before serving.