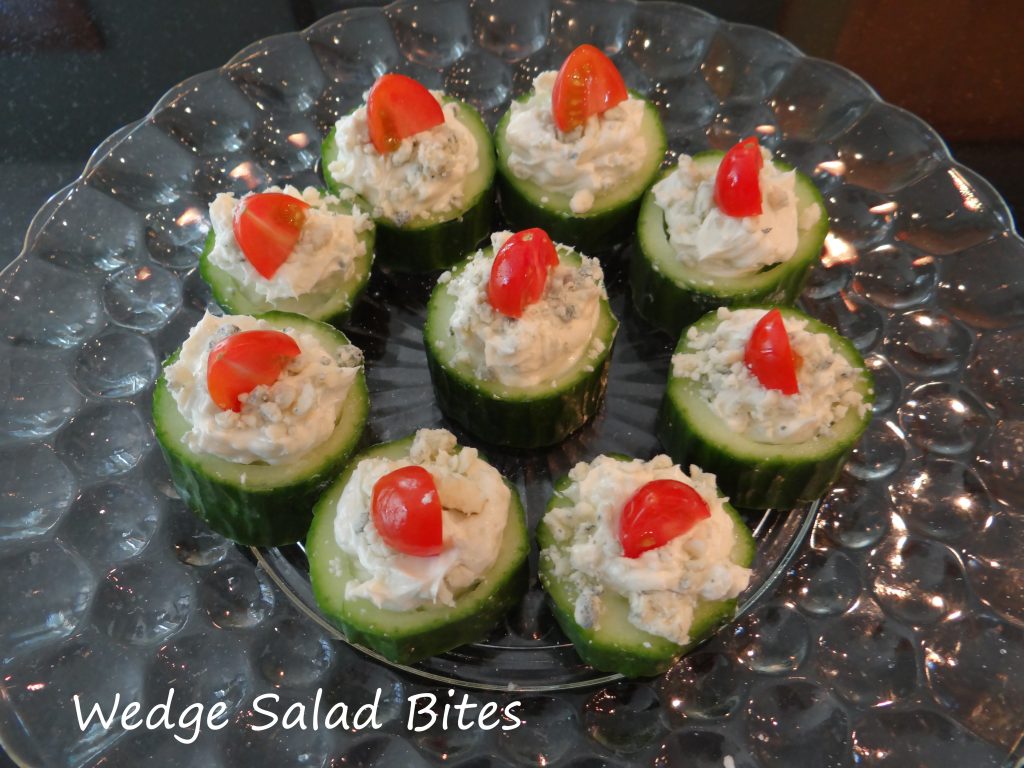 This is another one from the wine tasting. I was trying to think of something that would be easy to make to go along with the Cheddar Biscuits and as I was flipping through recipes online for inspiration I found a lot of different things that were done with cucumbers. I had blue cheese, bacon and cream cheese in the fridge and thought, Hum…. Wedge Salad, everyone likes Wedge Salad. So I came up with these Wedge Salad Bites.  I don't have a pastry bag so I just spooned the cheese mixture in the cucumber slices but I have to admit they would be prettier piped in, I may have to invest in one. They were just perfect for the wine tasting, a one bite appetizer full of flavor and crunch. They're super easy to make and taste just like a bite of Wedge Salad.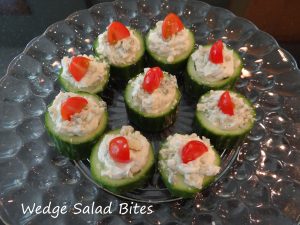 Print
Wedge Salad Bites
Yield 30
Ingredients
8oz spreadable cream cheese
4oz blue cheese
5 slices bacon
2 English cucumbers
8 grape tomatoes
Instructions
Slice your bacon in 1/4" strips and saute until crispy. Crispy is important here, when you blend it with the cheese it will get a bit soft and if it is not crispy it will be limp and soggy. When the bacon has crisped up remove it from the pan and drain on a paper towel. While the bacon is cooking slice your cucumbers in 1" slices and scoop out the middle with a melon baller, be careful not to go all the way through. Let your cucumber slices sit for a few minutes as they will release moisture after you scoop them out, then take a paper towel and blot them dry. Crumble the bacon up into really small pieces and stir together with the cream cheese and blue cheese until slightly smooth, you want there to be chunks of the blue cheese in the mixture. Then either pipe or spoon the cheese mixture into the cucumbers and top with a quarter of a grape tomato.
Courses Appetizer